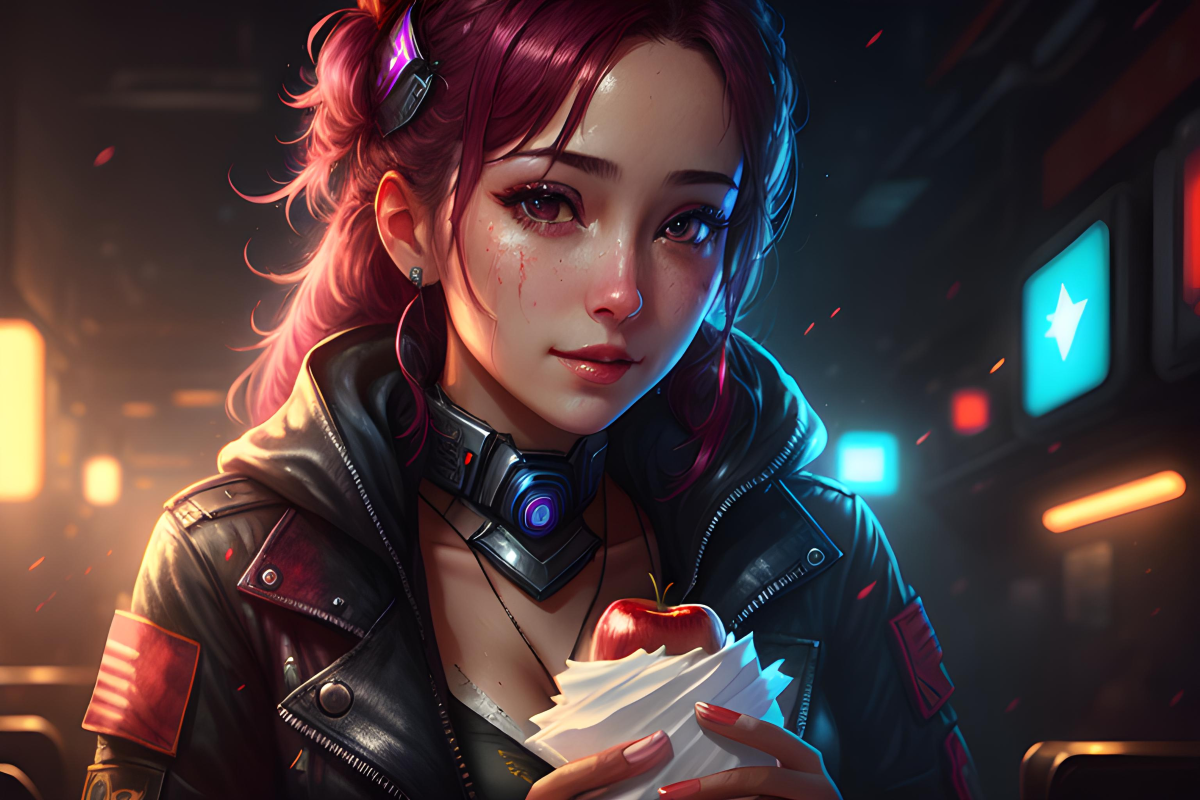 [Sale] BuhoCleaner: How to Clean Junk Files on Mac
I often hear that various system cleaners and optimizers are not vital and only make things worse. My experience is that this is true in most cases.
It is hard to find a genuinely helpful utility for cleaning the system. And it won't work if you are all thumbs. But if you approach this issue wisely, such tools will help you save time and keep the system in good shape.
What BuhoCleaner Can Do
BuhoCleaner is a macOS utility that can free up disk space, detect large files, sort out duplicates, help uninstall apps, and more.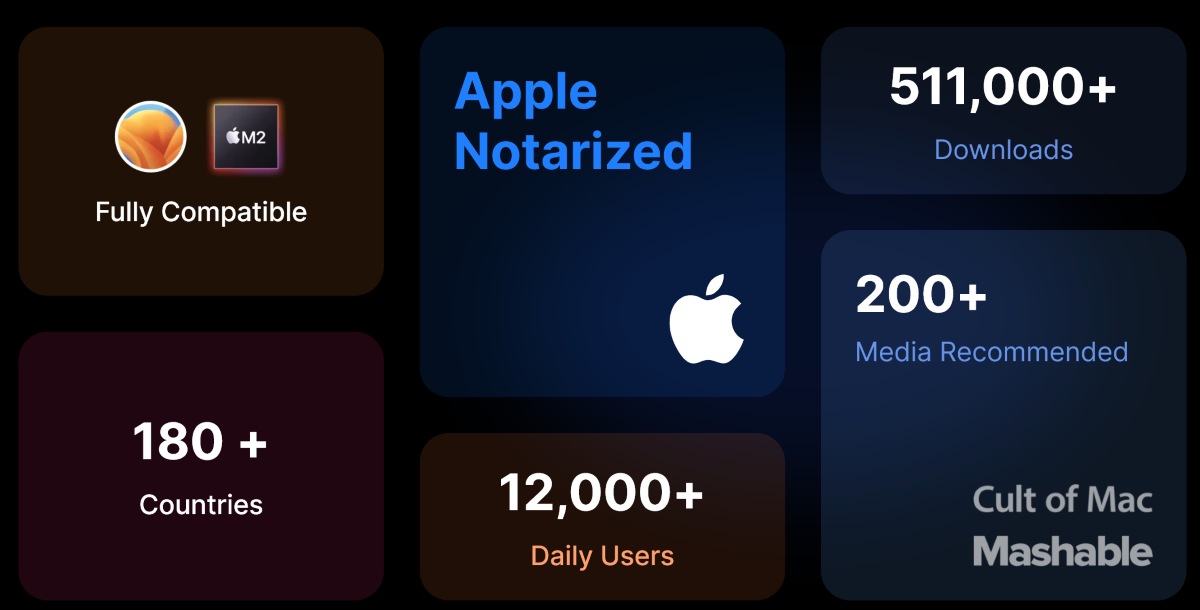 The application is fully compatible with the Ventura OS and the Apple M2 processor. Even on modern Macs, it will work perfectly. But let's consider everything in practice.
First Start
After installation, you can access BuhoCleaner directly from the system tray. By clicking on the icon, you can check the status of your PC:
CPU load;
CPU temperature;
Fan speed;
Information about RAM;
Network status;
information about the hard disk.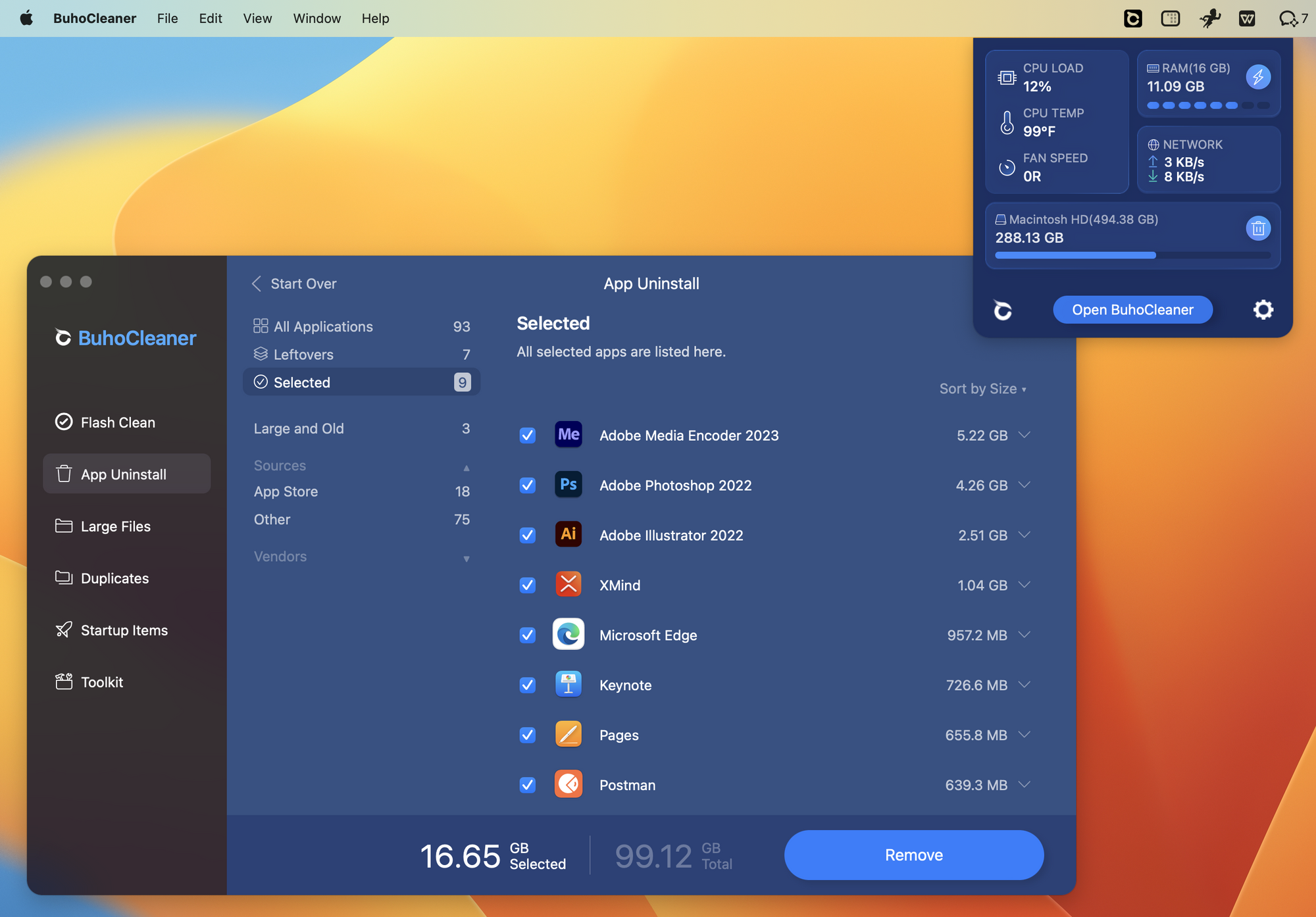 You can change the appearance of the drop-down menu in the settings, which are surprisingly flexible and allow you to change almost any parameter.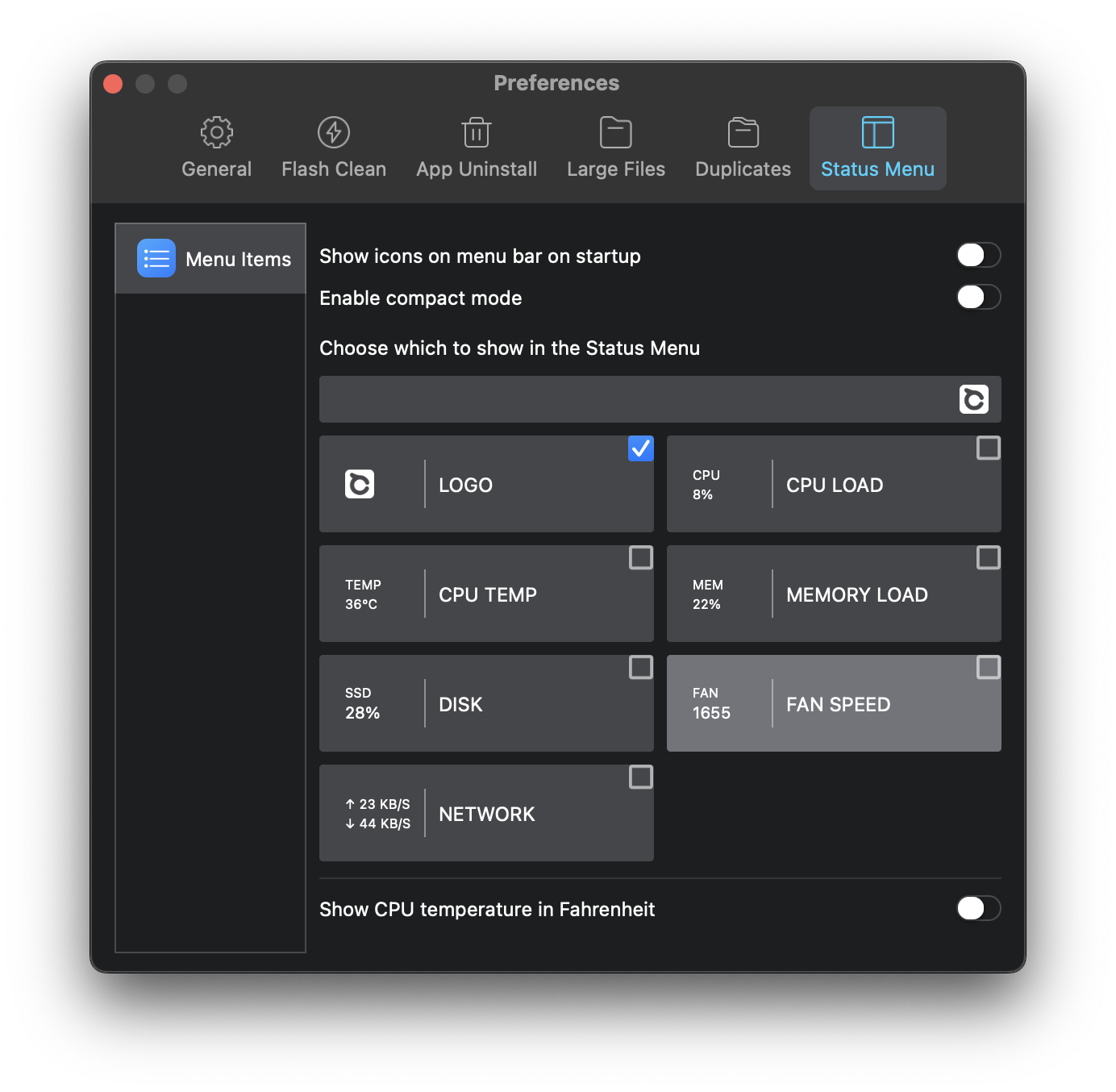 You can use the same menu to configure other application parameters, for example, schedules, file filters, etc.
By clicking on the Open BuhoCleaner button, you can launch the full version of the application.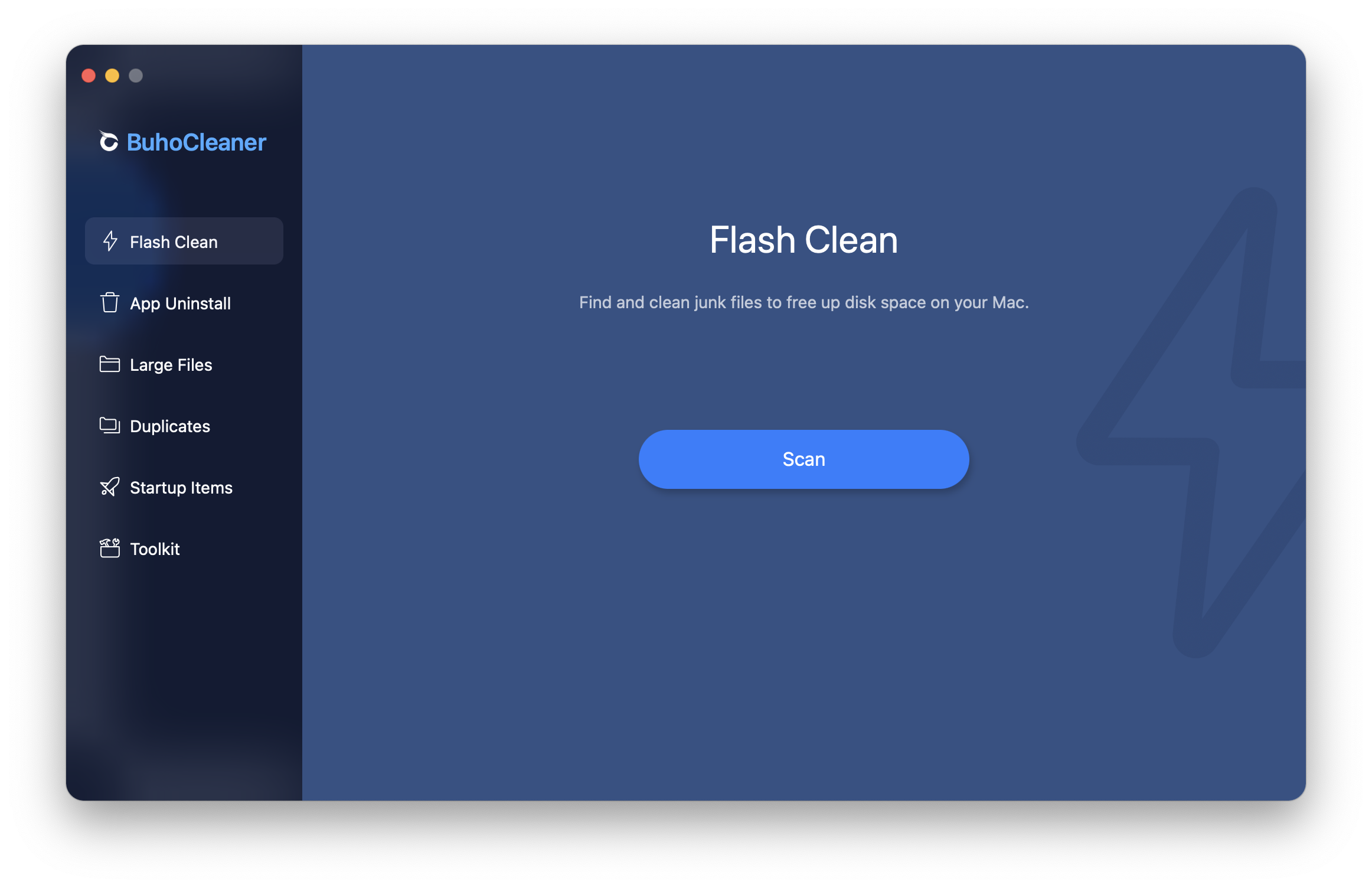 The design of BuhoCleaner is minimalistic. There is support for the Russian language. All menus have a short description, which helps even inexperienced users figure out where to click and why.
Application Features
Cleaning Junk Files
As the name suggests, this tool can help you remove unnecessary files. By default, these files are:
System log files;
User log files;
Recycle bin;
User cache;
System cache.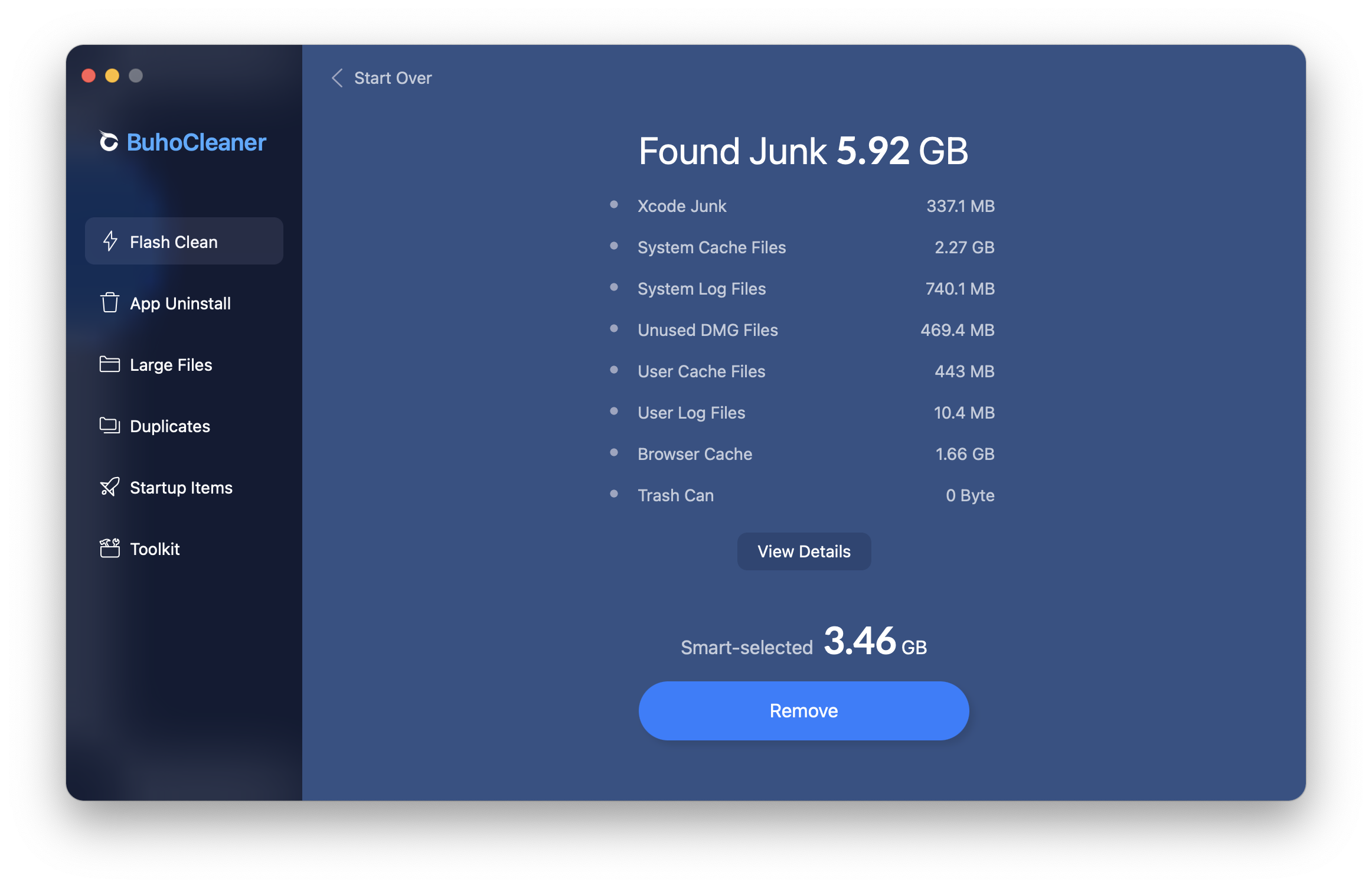 Additionally, they can include the browser cache, Xcode junk files, and unused DMG files. You can also add file exceptions.
Upon scanning, it remains only to click on the Delete button to remove the junk files detected.
Removing Apps
As a Windows user, I think the system for installing and removing applications on macOS is quite incomprehensible and inconvenient. Therefore, the Uninstaller section seems to be the most interesting.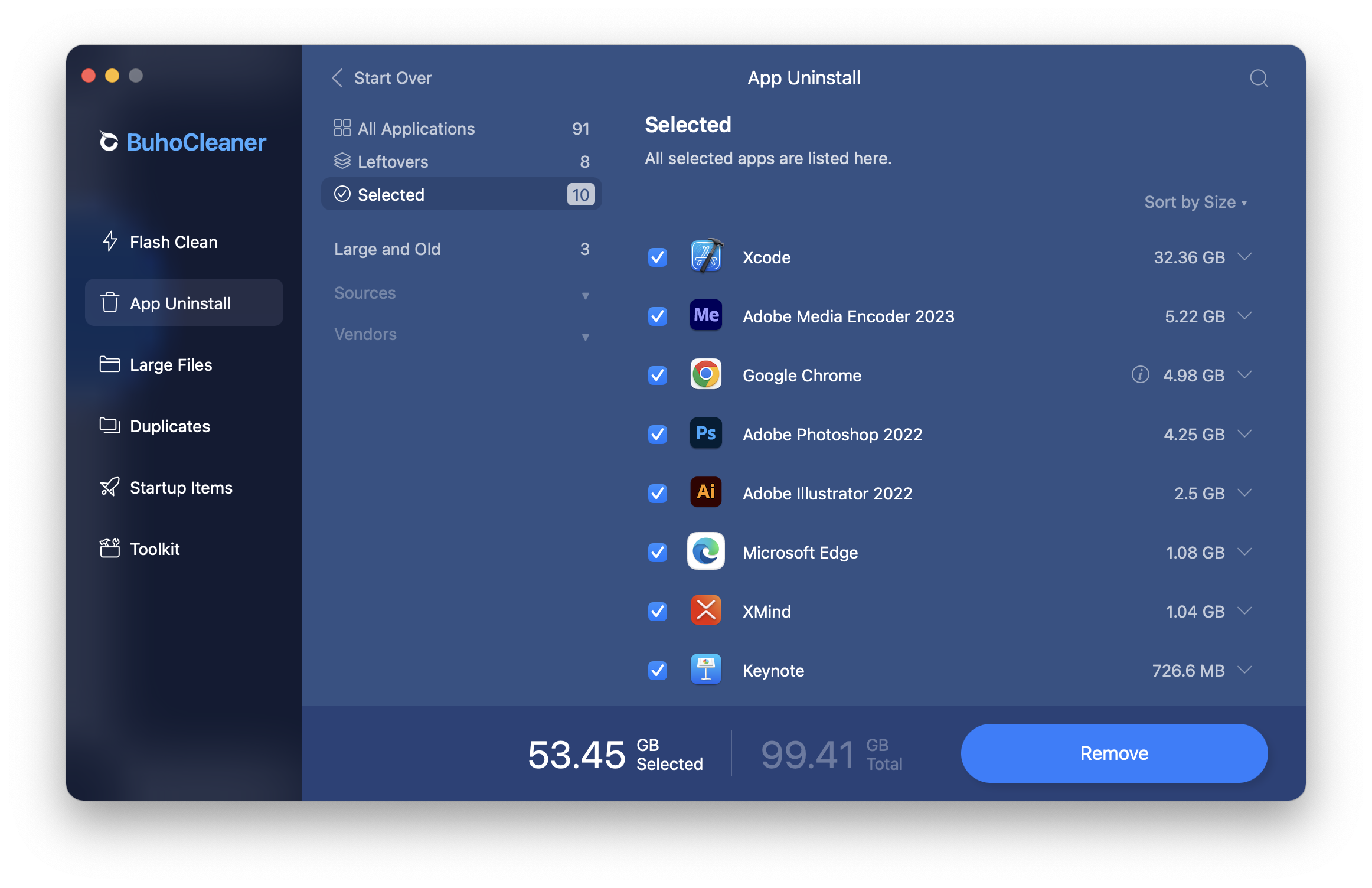 With it, you can quickly uninstall applications in batches. In addition, you can remove files that remain after deletion. Moreover, you can find large or unused apps and also delete them.
In the settings, you can exclude some applications or specify the size and age parameters by which they will be considered heavy or old.
Large Files
In this section, you can find all the heavy extra files. By default, we are talking about more than 50 MB, but you can change this parameter if you need.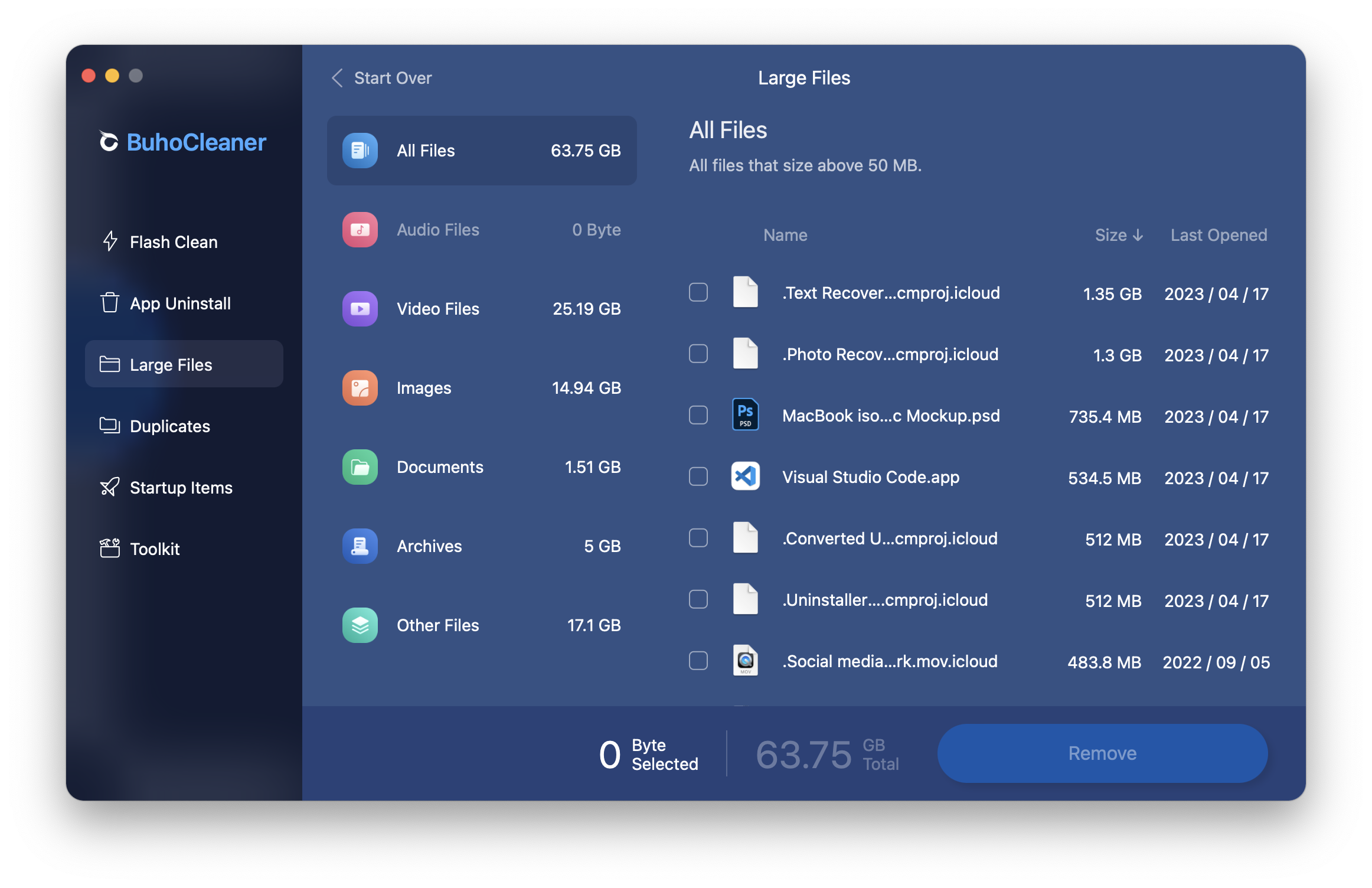 The found files, in turn, are divided into types: audio, video, images, documents, archives, and other files.
Search for Duplicates
The Duplicate Files section will help you find duplicate files in the specified folder. After that, you can easily decide which duplicate to delete.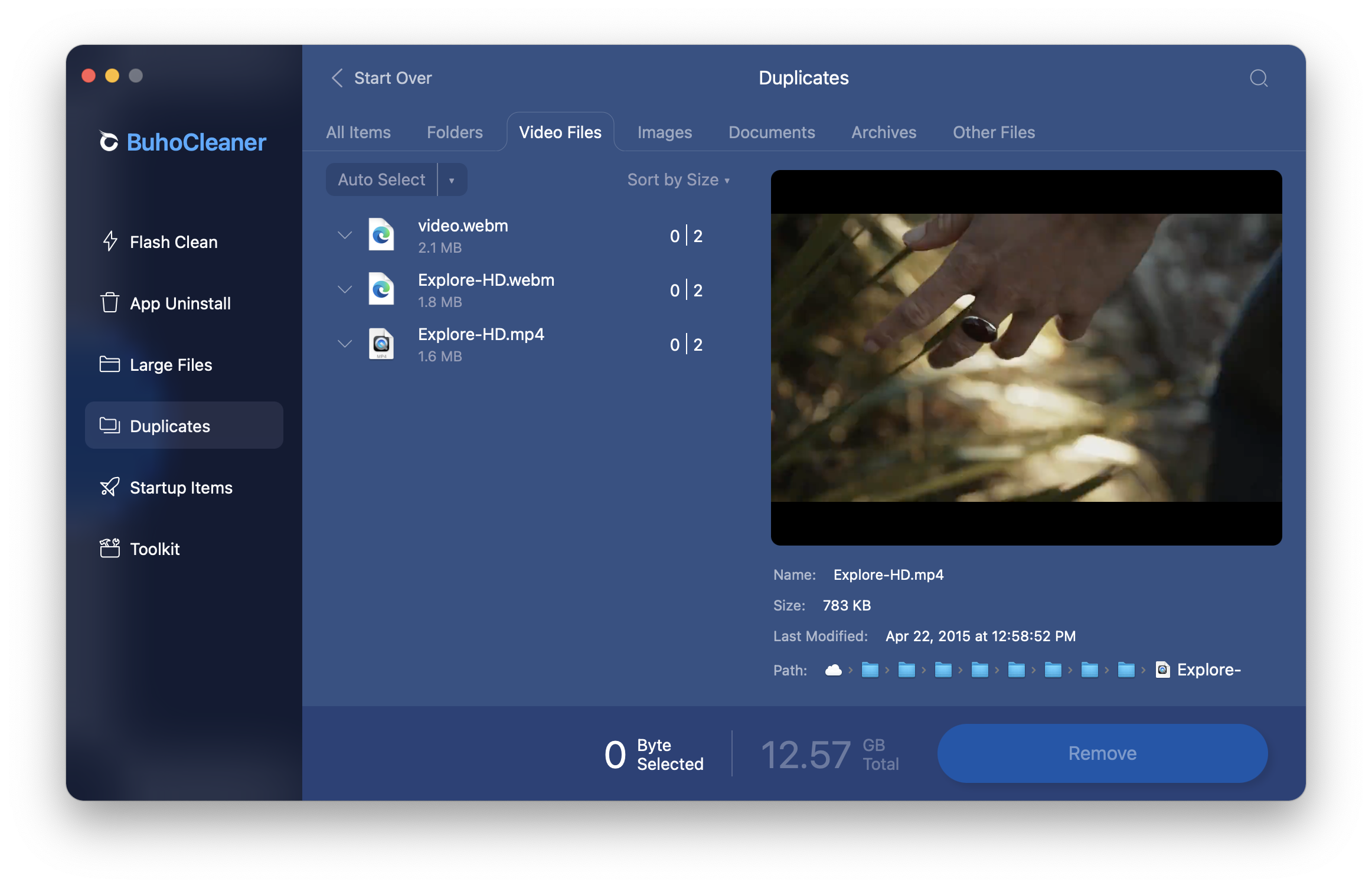 This section also has settings to help you eliminate false positives and speed up the search.
Launch Items
In this section, you can see applications and services that start with the system. Use the switch to disable unnecessary applications and speed up the cold start of the OS.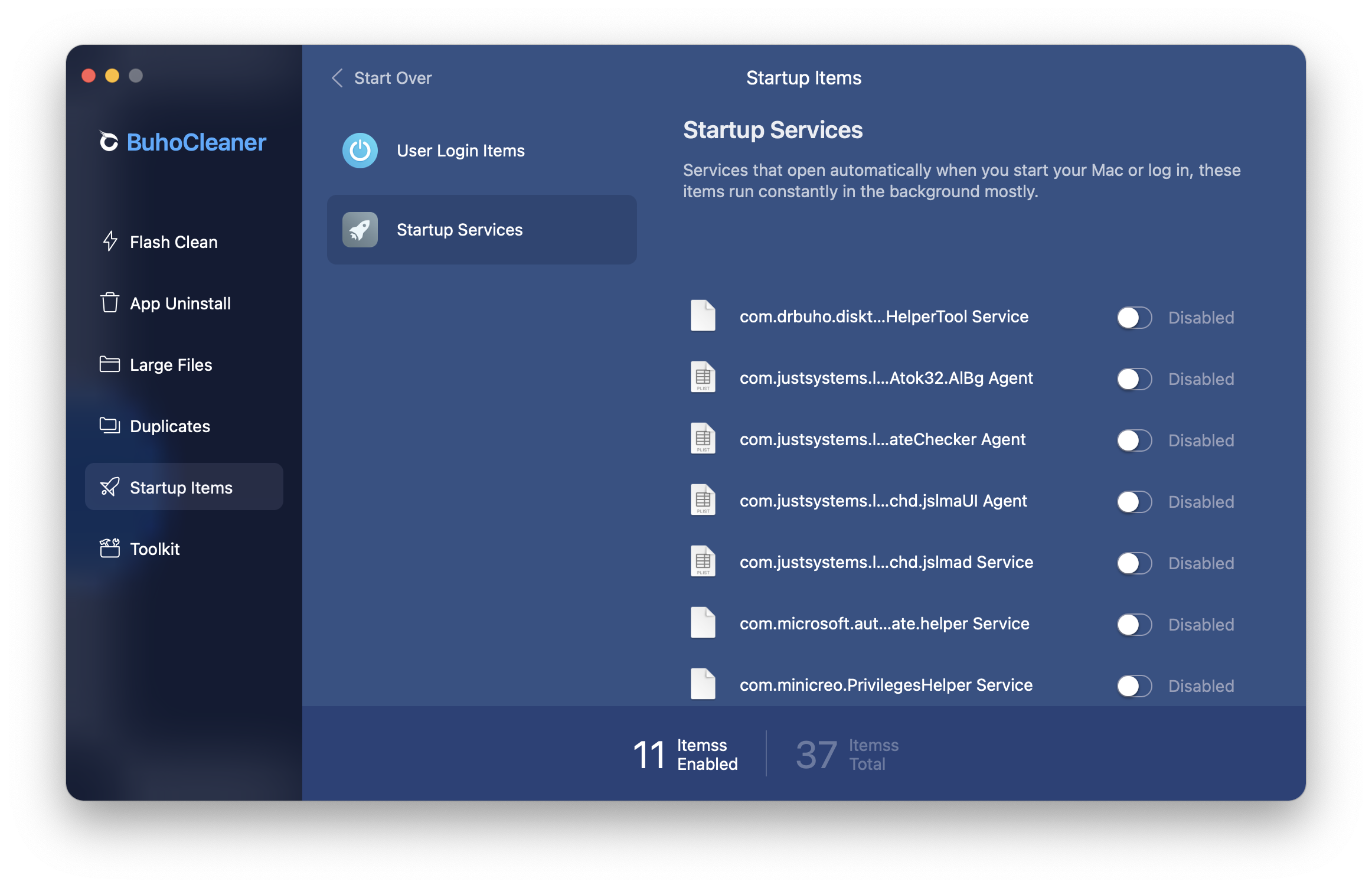 Other Useful Features
The tools section provides a small set of several helpful tools:
Disk space analyzer;
File shredder;
RAM cleaner;
Spotlight reindex function;
DNS cache cleaner.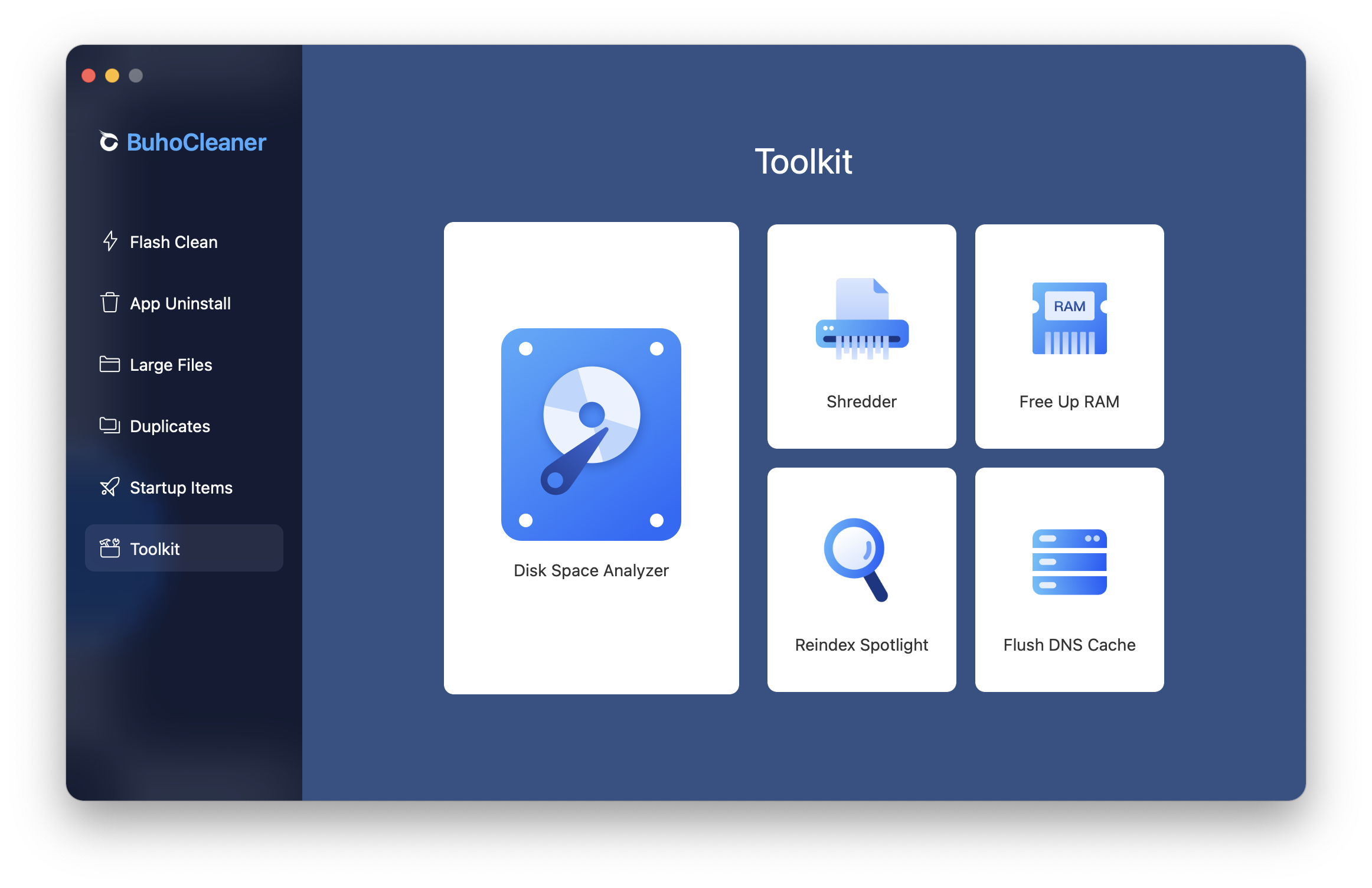 Price
There is a free version for review, but you need to buy one of the licenses for full-fledged work.

As of this writing, prices start at €19.99 for an individual license that includes installation on one Mac. There is also a family license for three PCs and a business license for 10 PCs. The payment is one-time.
You can get 20% discount with TMF05RU23 code.
---
If you don't like utilities of this kind, my article will hardly make you change your mind and bring money to developers. However, if you are looking for a CCleaner analog for macOS or just a good application for cleaning the system, I advise you to pay attention to BuhoCleaner.
While working with the utility, I did not notice any dangerous actions on its part, such as the accidental deletion of necessary files. So, breaking the system with excessive cleaning will not bother you. Besides, it is a one-button app, which makes it problematic to click the wrong place.