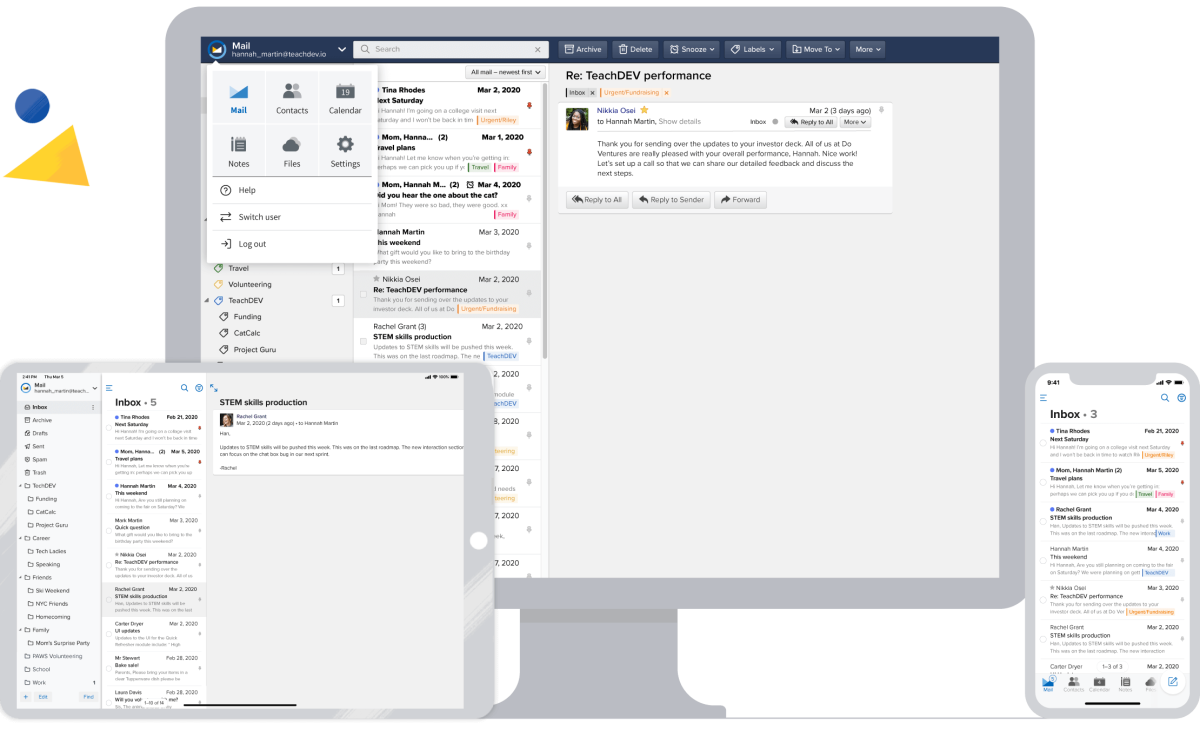 Fastmail Review. A mail provider for those who value privacy
Free email services, like other free things, actually charge you more than the $ 5 per month conditional. They buy your data, your privacy, and then sell it to advertisers, and you see ads everywhere that are aimed specifically at you.
And for many of these services, there are alternatives that seek to protect your personal information. In the case of mail providers, this is Fastmail.
Fastmail is an email service that does not collect data about your work and supports linking to your own domain.
Configuring Fastmail
Connecting your own domain is available immediately during registration in the service, and I will not dwell on this part separately. The main thing is that there is such an opportunity.
Fastmail is available as a web app on Android and iOS. And the family of applications includes not only the mail itself, but also the address book, calendar, notes and file storage.
Of course, you can use Fastmail in any email client you are used to. Data import and export is located in a special section. In general, the first thing I recommend is to go to the application settings, there are many interesting parameters available.
For example, in the payment section, you can enable GDPR compliance. And in the user management section, you can configure the separation of rights, add aliases or disclaimers to letters.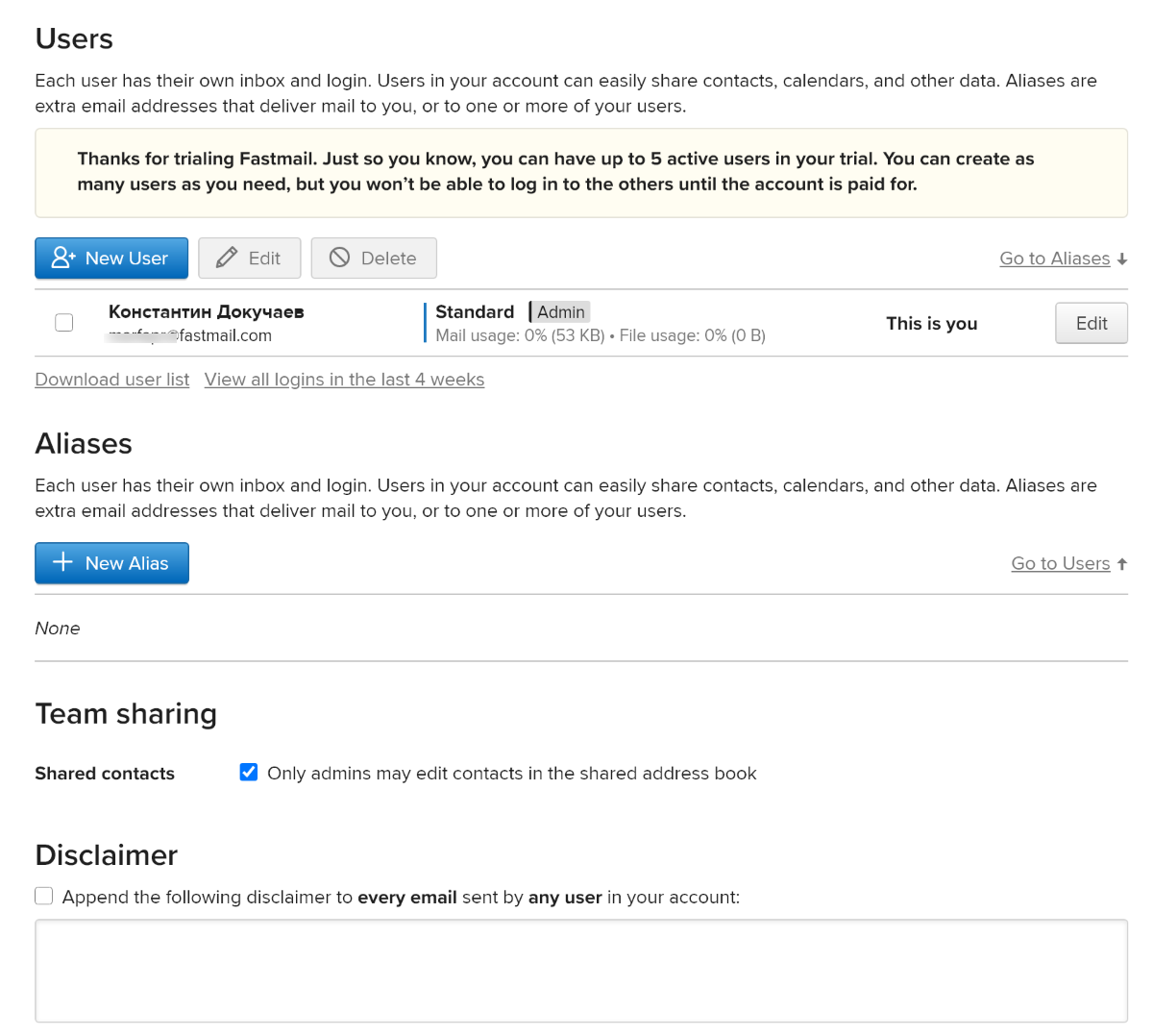 Separately, you can customize the appearance of mail: change the default folder structure, customize the theme and appearance. There is also a setting for filters, reminders and more.
Working with Fastmail
Switching between applications occurs through a special menu. You can also change the user through it.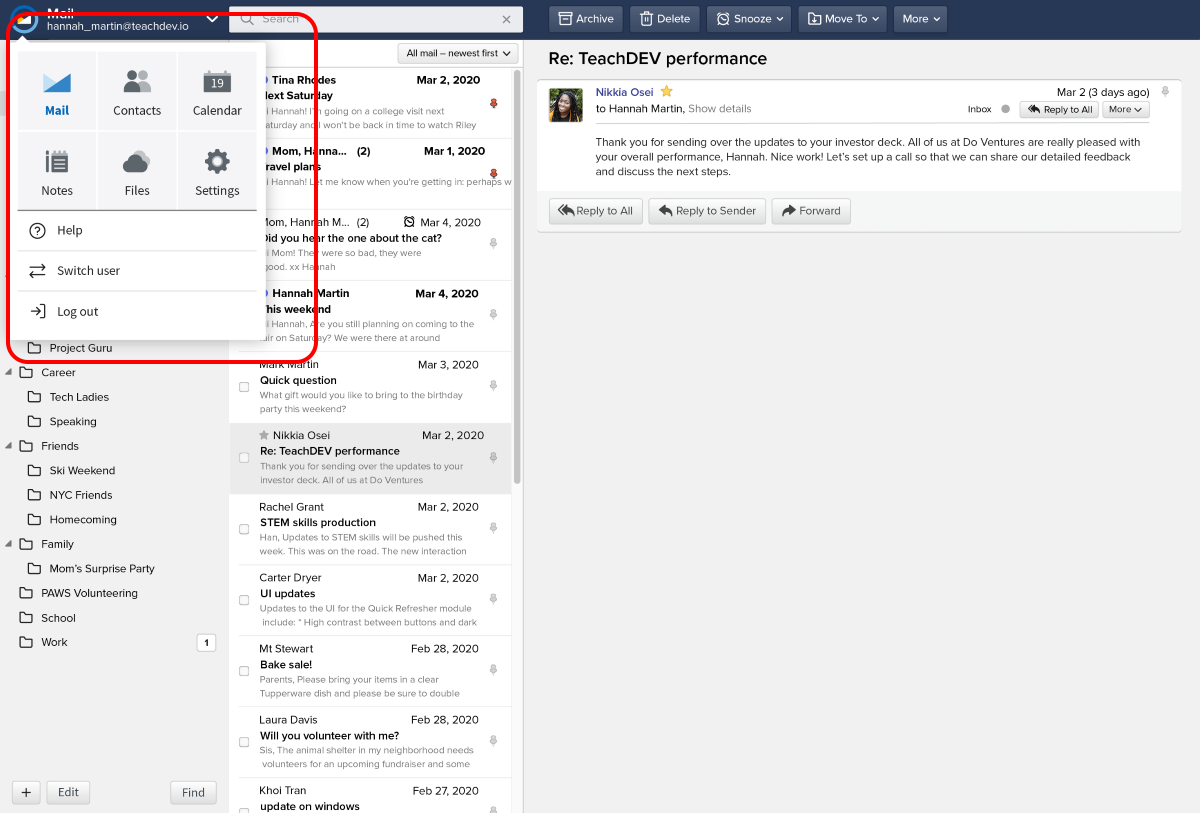 mail
As for the operation of the mail application, it is difficult to single out any features here. All the chips that you are used to seeing from competitors are here.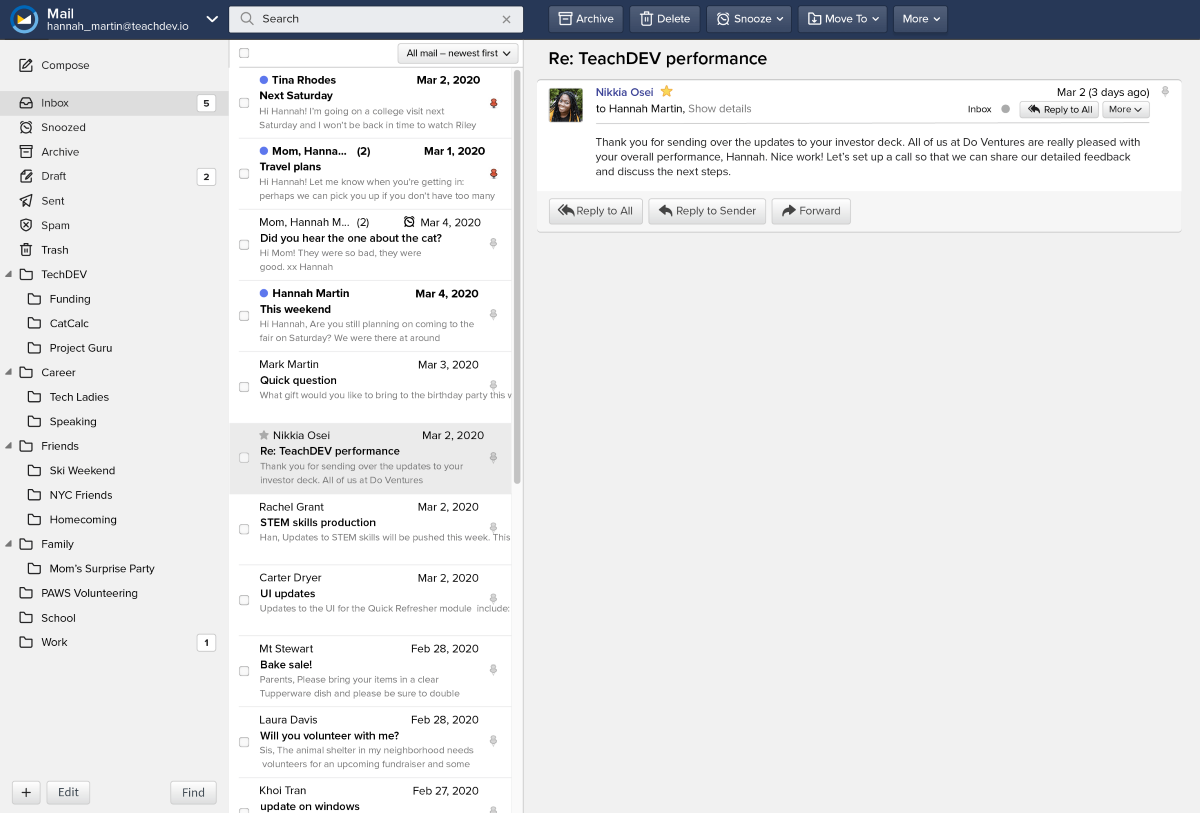 Search by letters, including addressees and attachment types. Folder with deferred letters, own folders, filters, archive, antispam.
The only complaint is the design for an amateur. On the other hand, there is nothing stopping you from connecting Fastmail to your favorite email client.
The address book
Address book management is also quite common. Contacts contain all the necessary fields, and data can be stored in various groups.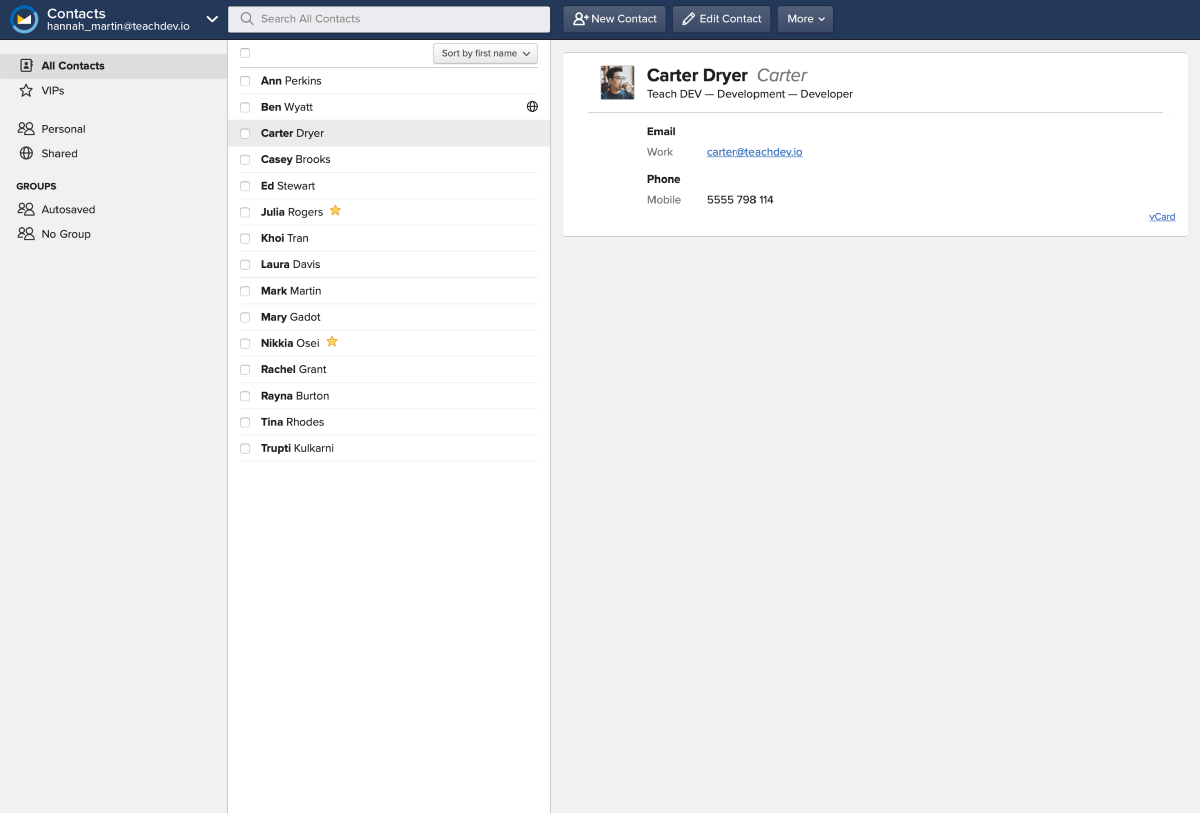 The calendar
Perhaps, the situation with the calendar is a little worse. If you are used to powerful case management apps or even regular calendars from Apple or Google, you will miss many of the features you are used to.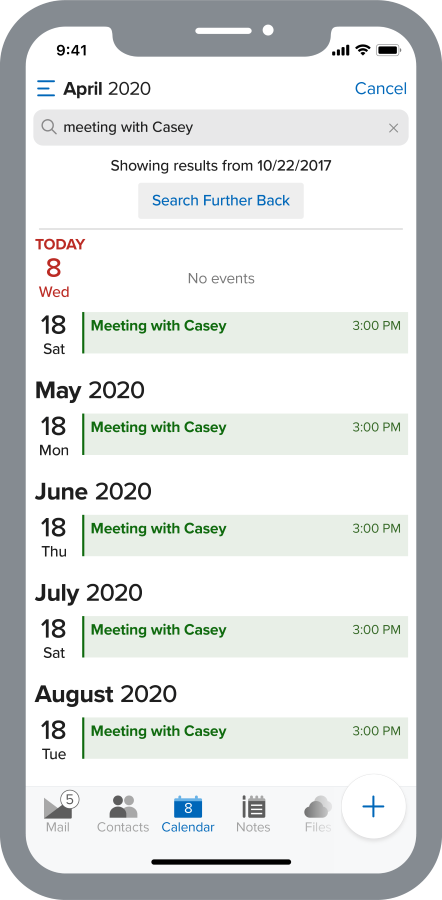 On the other hand, this is the most common calendar that performs the required minimum tasks.
Notes
A similar claim can be made for notes. The editor itself is powerful, but doesn't support inserting images or files.
Therefore, the notes here are more likely to quickly record some kind of temporary information. You won't be able to use them as a full-fledged service.
File storage
Perhaps the most interesting section is file storage. Any files can be stored here. The place is limited by the amount of the fare paid. You can quickly search for files, split them into folders. All files will be available on other devices.

But this is not the main thing here. Based on the data from your storage, you can create a site by restricting access to it with a password. The site address is fully customizable.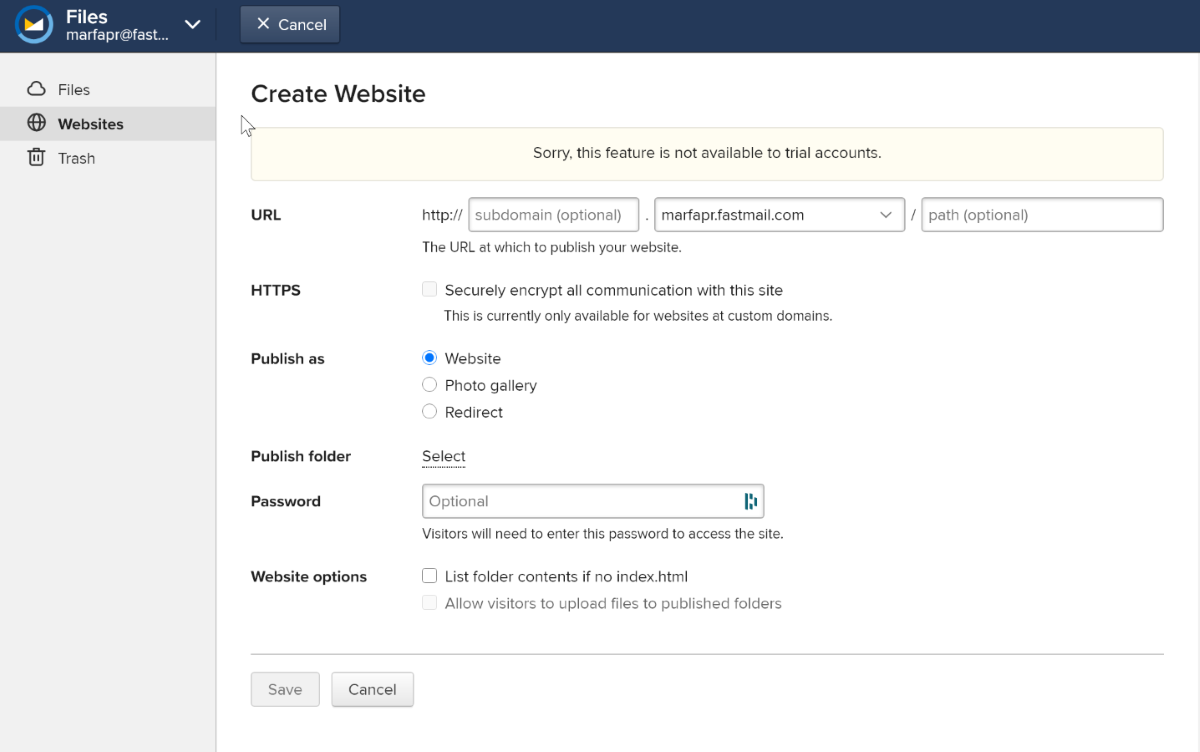 That is, files can be shared through a simple web interface.
Prices
Since the developers do not collect data about you, they are forced to collect money for using the service.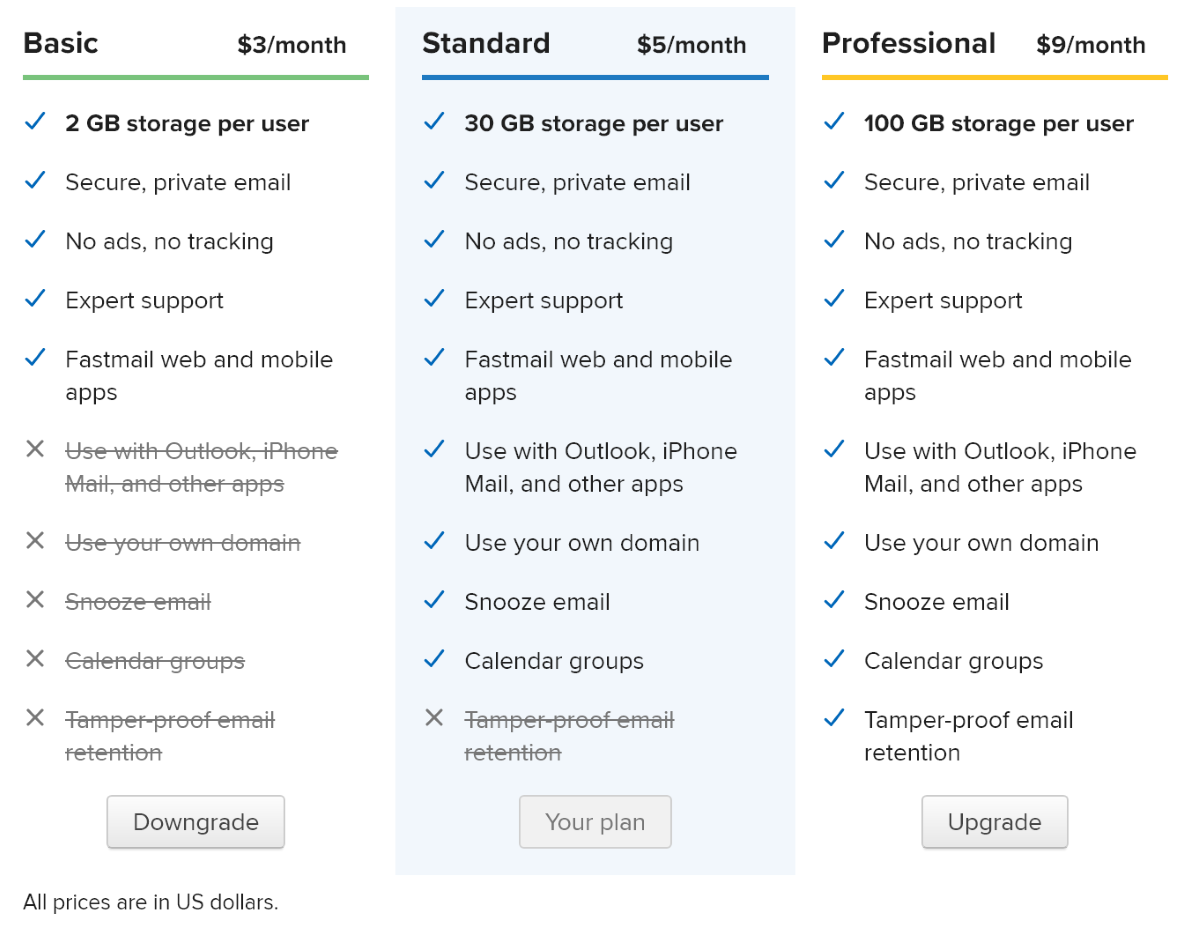 The pricing policy is quite democratic - even the most expensive tariff will cost no more than $ 9 per month. The cost depends not only on the amount of storage, but also on the available options.
The simplest and cheapest base rate, I would not even consider. In addition to the small volume of 2 GB, it is very much reduced in terms of capabilities, you cannot use Fastmail with other applications.
But the standard $ 5 tariff is ideal for most users.
---
Fastmail is a middle ground between public email services (like Gmail) and super secure ones (like Proton). It is suitable for those who do not want to sacrifice personal convenience for the sake of privacy.
Here you will find all the options you need without selling your soul to the devil.