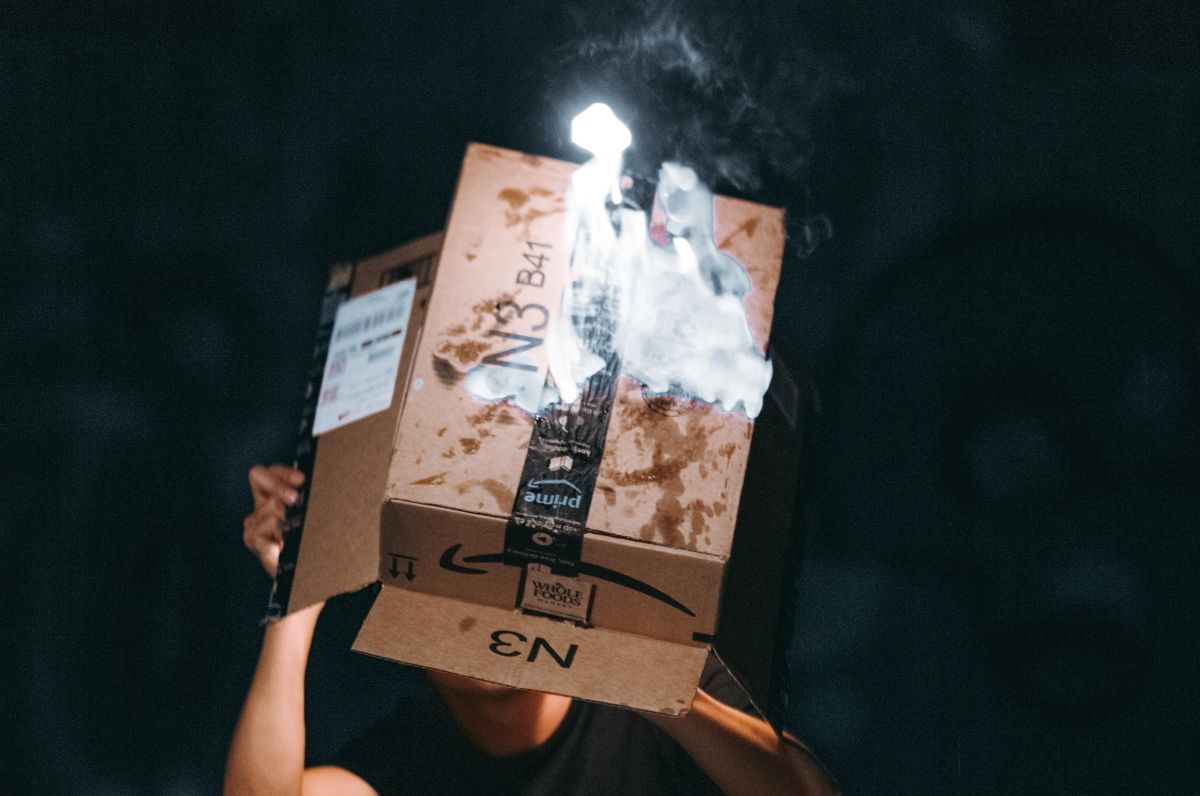 Helium 10 Review. How to start selling products on Amazon
Amazon is one of the largest marketplaces in the world. In this post, I will not talk about how to register on Amazon as a seller. But I will talk about a service called Helium 10, which will help manage all aspects of trading on this site.
What kind of animal is this?
Helium 10 is an online service and mobile application that combines all the necessary tools for successful trading on Amazon. With it, you can conduct product research, study key queries, work with inventory and sales, collect analytics, and much more.
What's what and why
I want to note right away that in this review, I will briefly talk about all the tools available in Helium 10. For a more detailed analysis, you need to have an Amazon seller account or at least experience with trading platforms, which I do not have.
Therefore, I recommend that you register yourself in the service (it's free) and see all the sections. The developers in each of them added a short video in which they show all the features of the service using real examples.
Main page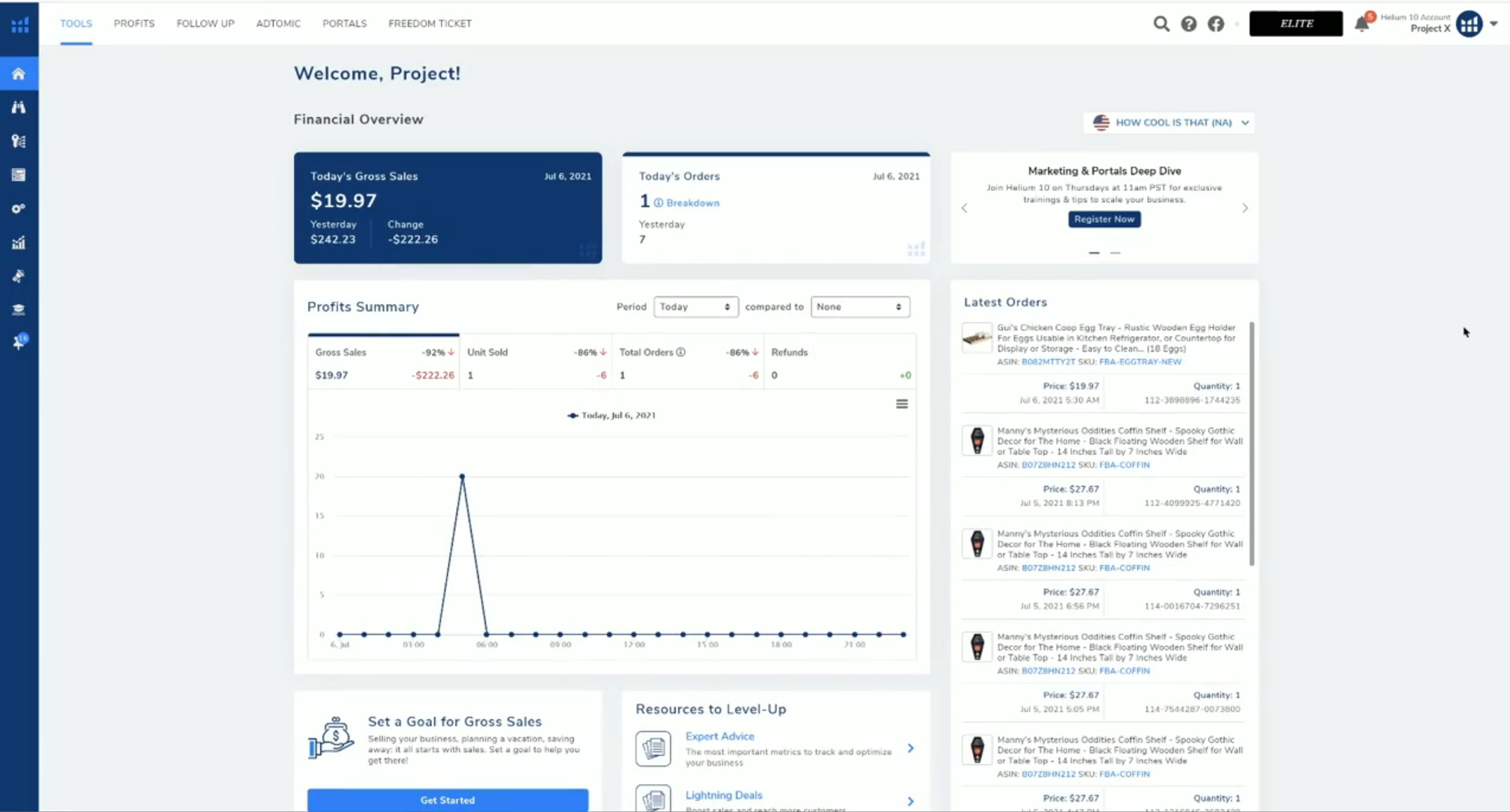 Immediately after authorization in the service, you will be taken to the Dashboard page, which contains the main metrics of your store. Of course, at the start it will be empty here.
But after connecting your Amazon account, here you can see financial statistics, data on current returns and orders, a feed of recent orders, and much more.
Tools
Product Research
This set of tools includes three sections: Black Box, Trendster and My List. With their help, you can quickly search and analyze various products on the site and use the results to your advantage.
In the Black Box section, using various filters, you can explore current offers from various sellers. You can use a variety of parameters to get data about the desired categories of products or sellers. So, you can understand what is popular with buyers now, what competitors offer and, accordingly, take the necessary measures on your part.
If you added any products to your favorites in the previous section, they will be displayed in the My List. Thus, you can quickly receive all the necessary information about such products. By the way, these and all Helium 10 data in general can be exported to CSV format for independent analysis in a tool convenient for you.

To work with the Trendster section, you will need to install a plugin for Google Chrome. Here you can specify the ASIN numbers of specific products and search queries to Amazon. Thereafter, Helium 10 will create charts with the dynamics of the popularity of the specified products and requests in the store.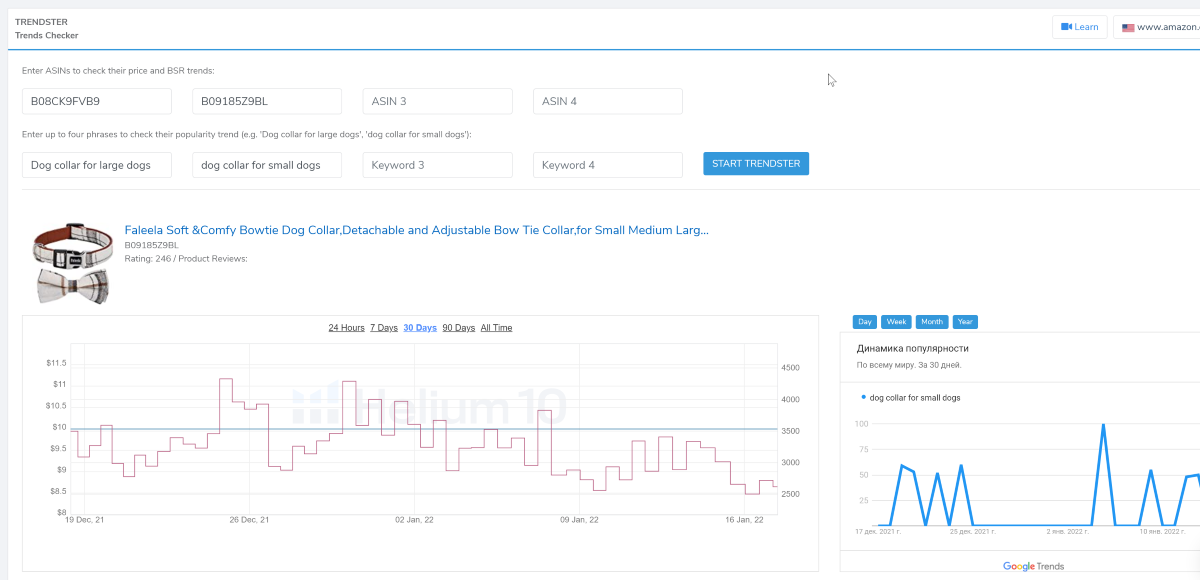 Similar data will also appear in the search results on Amazon itself.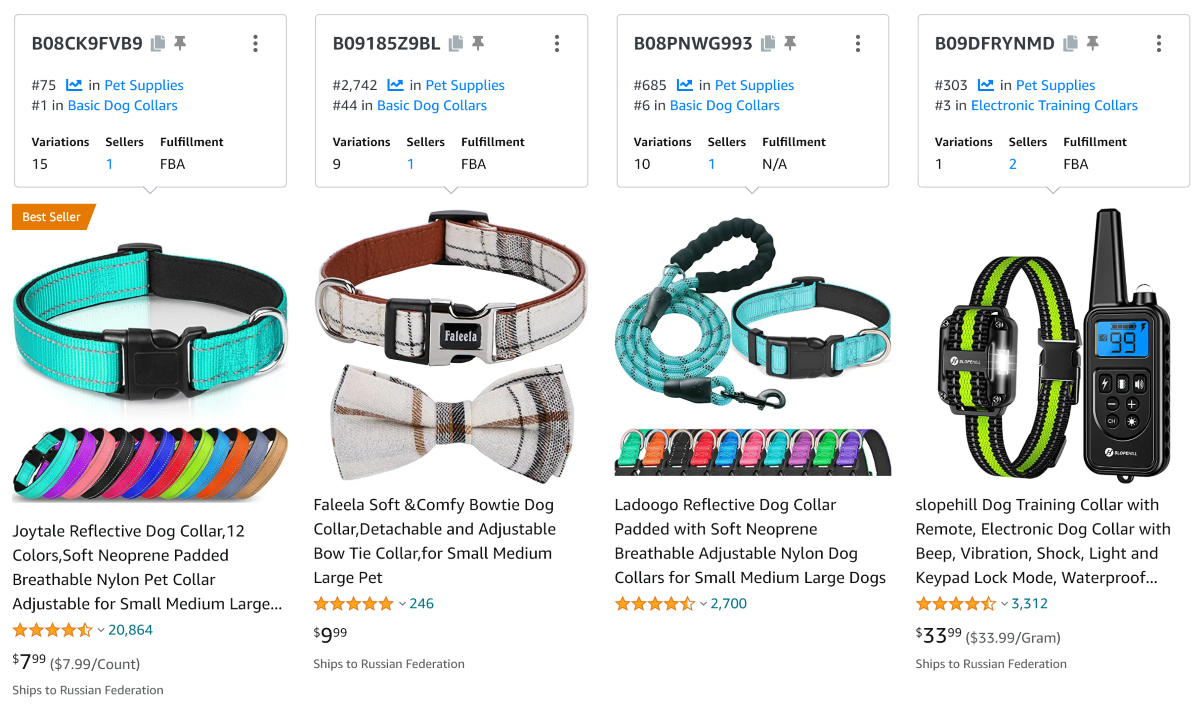 Listing optimization
In this tool, you can analyze the quality of, let's say, your virtual product display on Amazon. And there are several sections available for this.
Using the Frankenstein section, you can upload a list of phrases and create sets of keywords for your products from it. The trick is that the original list can be in any format with dots, commas, extra phrases and other garbage. Here you can easily remove such garbage and get the keys ready for use at the output.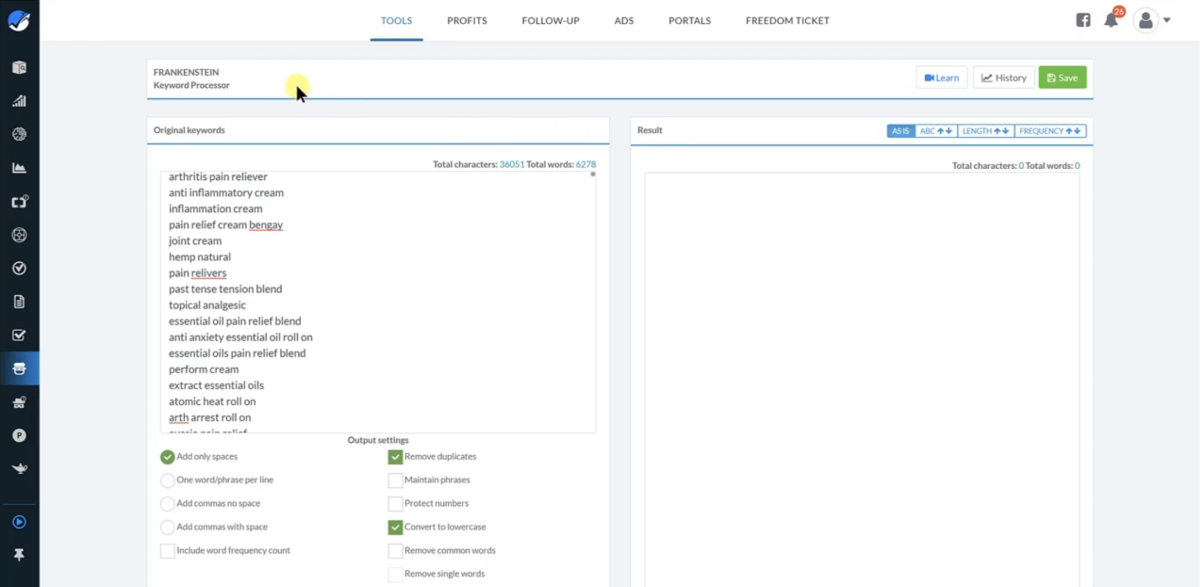 Scribbles, by analogy with the game known in our area as Scrabble, will help you create product descriptions from a list of keywords. You upload keywords and phrases and Helium 10 mixes them up to create unique descriptions.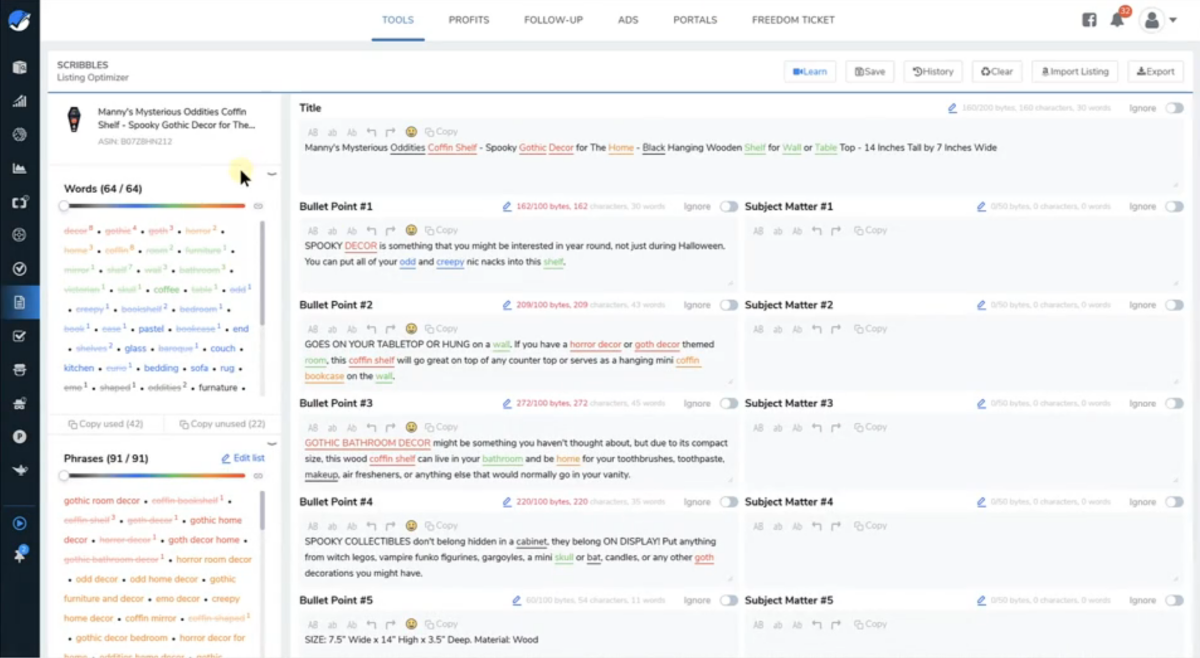 Using the Index Checker, you can easily check the indexation of keywords for a product in various sections of Amazon.
Listing Analyzer is a kind of search by ASIN number of a product to analyze its virtual display on store shelves. You can search multiple numbers at the same time. As a result, you can get such a detailed report.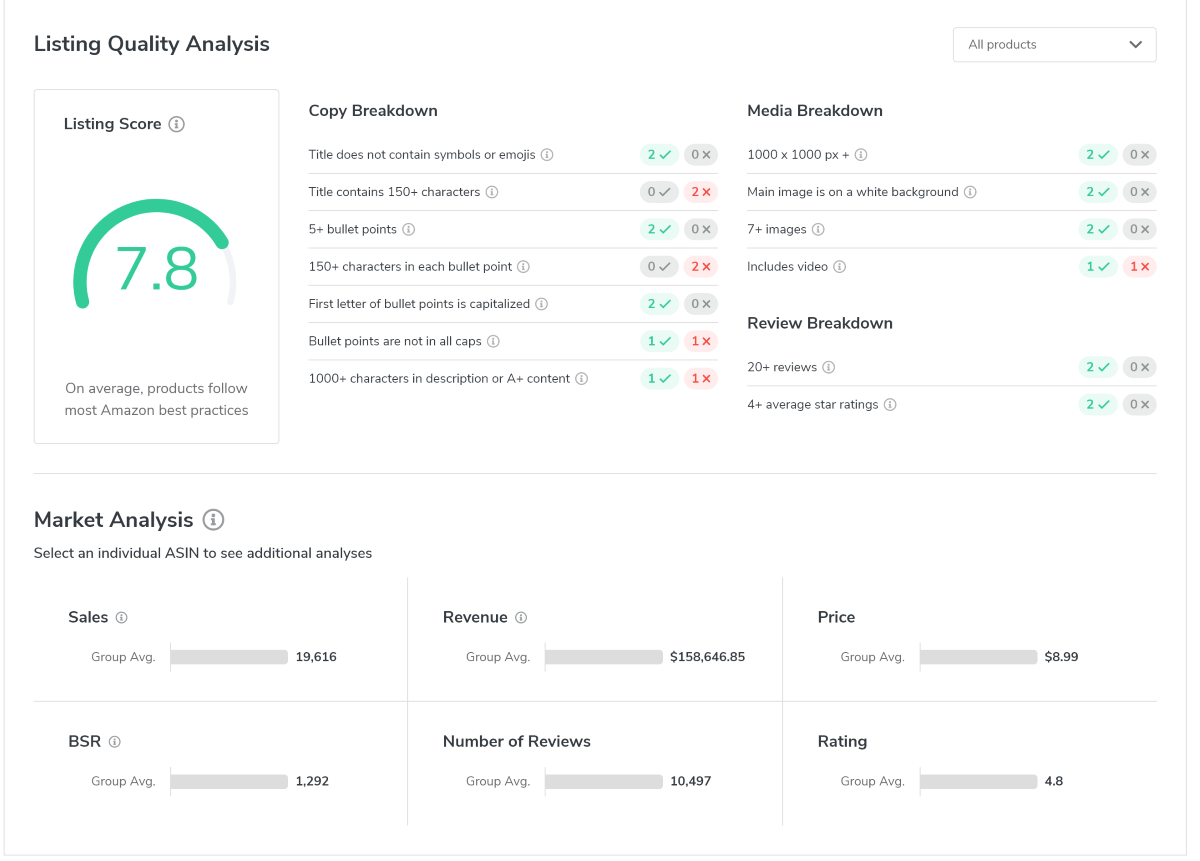 In the Audience section, you can create a variety of surveys for marketing research of your customers. If you have worked with similar tools, then everything will be the same here.
Analytics
There are several sections here too, and the first of them is Keyword Tracker, which partially resembles the Black Box section of the previous tool.

You upload a list of keywords and get the whole analytical picture of them: indexing, promotion, competitors. The report can be expanded to provide more detailed information.

Market Tracker helps you analyze the market you are targeting. You can perform benchmarking, track trends, monitor new competitors, and view many other useful metrics.
Profits, respectively, helps to track sales revenue on the site. All the necessary KPIs are available for analysis, such as sales, revenue, profit, margin, ROI.
Moreover, this section includes various subsections: a report on goods, inventory, expenses, returns, and so on.
Keyword Research
The sections in this tool will help you collect suitable keywords for future work with Helium 10. For example, the Cerebro section will help you collect keywords or competitors for the specified product ASINs.

Magnet helps you collect related keywords based on your list of keywords and also displays their performance against various criteria.

Misspellinator will help you correct typos in your keyword lists.
Other tools
The Operations section contains tools to help you manage your Amazon store more tightly. However, these are rather additional services, and not part of the main Helium 10 application. They require a separate registration within the service, and occasionally an additional payment. Therefore, I will not dwell on them in detail.
For example, Alta helps you manage all the finances of your store. This includes lending, spending, financial management, and more.
Alerts will help you keep track of any changes to your product. If it was a change in the description of the product by Amazon, reviews and stuff like that.
Inventory Protector will help you control the use of coupons when buying your products. With it, you can avoid selling excess goods at too low prices.
Refund Genie allows you to track the status of refunds, their reason, quantity, and more.
Follow-Up automates sending chain letters to your customers with various reminders, surveys and more.
Inventory Management helps to automate work with the inventory of goods left in warehouses and control the delivery network.
Marketing tools help you manage your Amazon ads and create landing pages for your products.
How much is
The cost of working with Helium 10 directly depends on your tasks. The service offers a highly limited free plan. And the most expensive without restrictions will cost $199 per month.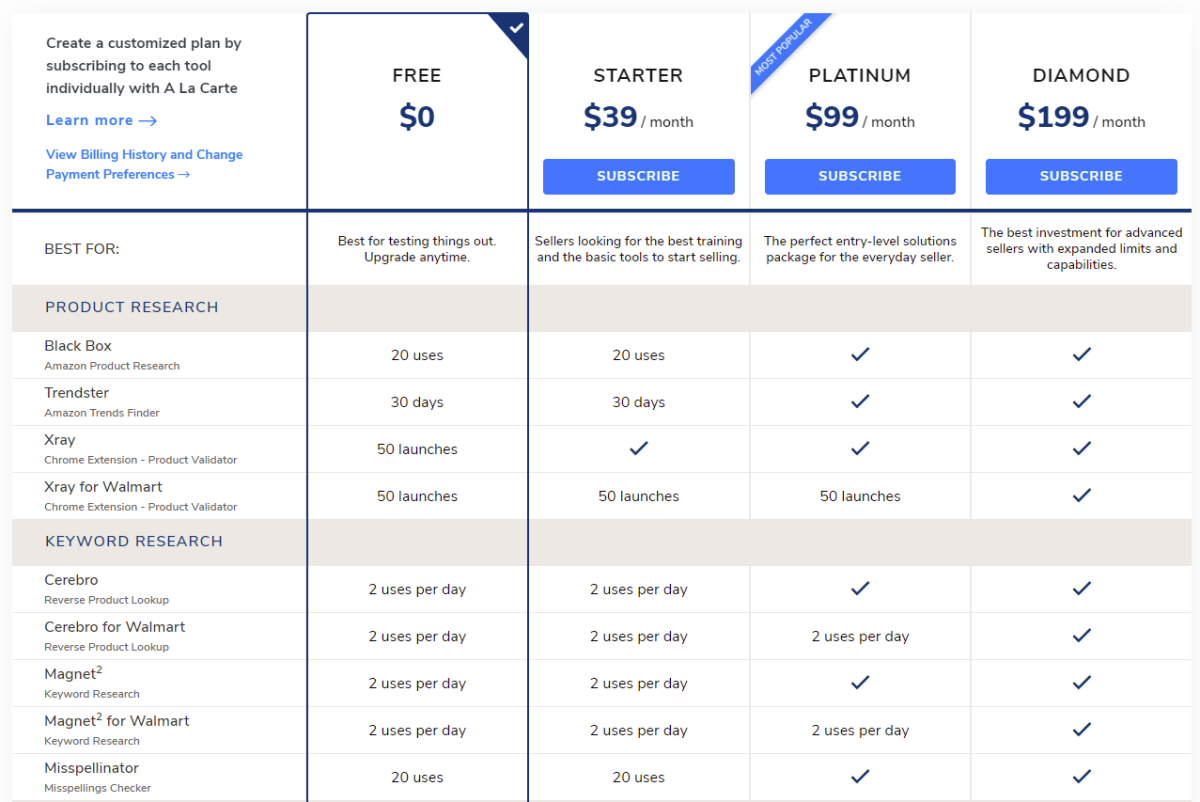 Before paying, you should carefully read the tariff scale to understand which tariff is right for your company.
---
It is difficult for me, as a person completely unrelated to trading, to evaluate the quality of work with Helium 10. Therefore, I leave this part of the review to you.
But I want to highlight three important advantages of this service:
Clear and simple training of all tools;
Availability of a free tariff and simple registration;
Even the top $200 rate seems affordable to me for a regular Amazon seller.