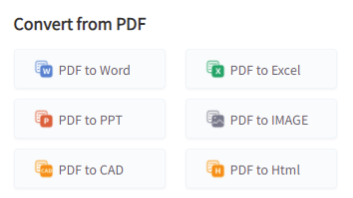 How to Convert PDF Fast and Free
There are an endless number of online PDF conversion services. Unfortunately, even among the paid ones there is no ideal option for any situation, and you have to look for the one.
Therefore, in this article, I want to bring up another service for converting PDF - SwifDoo PDF.
As usual, you need to choose the direction of conversion from PDF or to PDF and the file format. And then just upload the desired document.
SwifDoo PDF supports:
PDF to Word;
PDF to Excel;
PDF to PPT;
PDF to IMAGE;
PDF to CAD;
PDF to Html
Word to PDF;
Excel to PDF;
CAD to PDF;
IMAGE to PDF
You can convert up to two documents within a day, with a maximum file size of 20 MB and 200 pages.