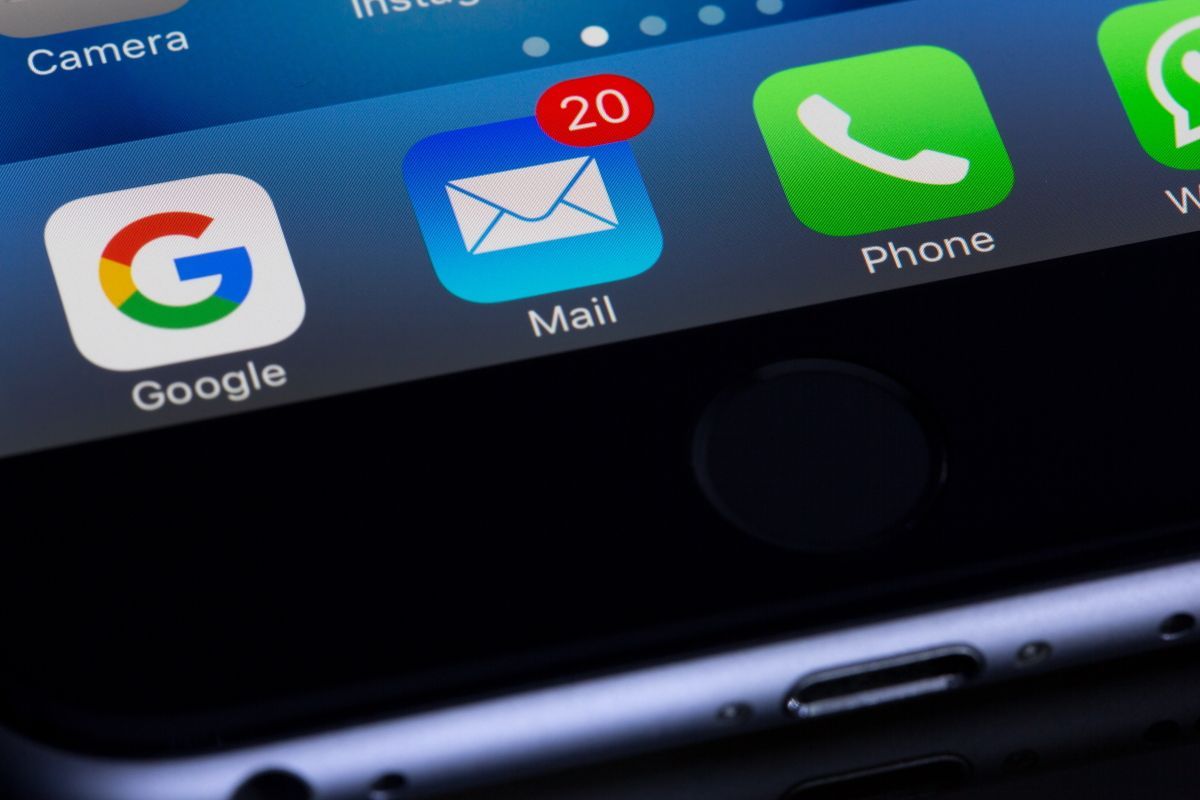 MailerLite review. The easiest way to create a mailing list
When choosing a service for creating mailing lists, many choose MailChimp as the most popular option. This service has a lot of advantages and is really cool. But what if you just want to run a newsletter from your site or something as simple as it gets?
MailerLite is an online service for creating marketing mailings with a minimum set of necessary features.
I used MailChimp myself for a few years and then moved to MailerLite. Therefore, I decided on my own experience to talk about the pros and cons of this service.
What's in the box

Despite the word Lite in the name and a seemingly simple interface, there is a basic set of features for creating various types of mailing lists: a letter layout editor, campaign setup, automation, subscription forms, A / B testing and analytics.
However, compared to the competition, these options are slightly simplified. It is difficult to say at what point this simplification occurs, but if you are a super-mega mailing professional, then you will find it quickly enough.
Another disadvantage of the service is the difficulty of navigating through it. Yes, the interface is simple, and it seems that everything is in plain sight. At the same time, I did not manage to create an automatic mailing list from the site on my own, and I had to go to the help section.
The fact is that getting to the desired section is not always easy, and you have to move from one menu item to another. And only then will you get to the right place.
Service capabilities
Creation of mailings
Every mailing list starts with the design of the letter itself. For this, MailerLite has as many as four editors.

There is a regular visual grag'n'drop editor, an inline editor with Rich-text support, and a full-fledged HTML editor (in the paid version).
You can create a design from scratch or choose one of several dozen templates broken down into categories. The templates are available again only in the paid version.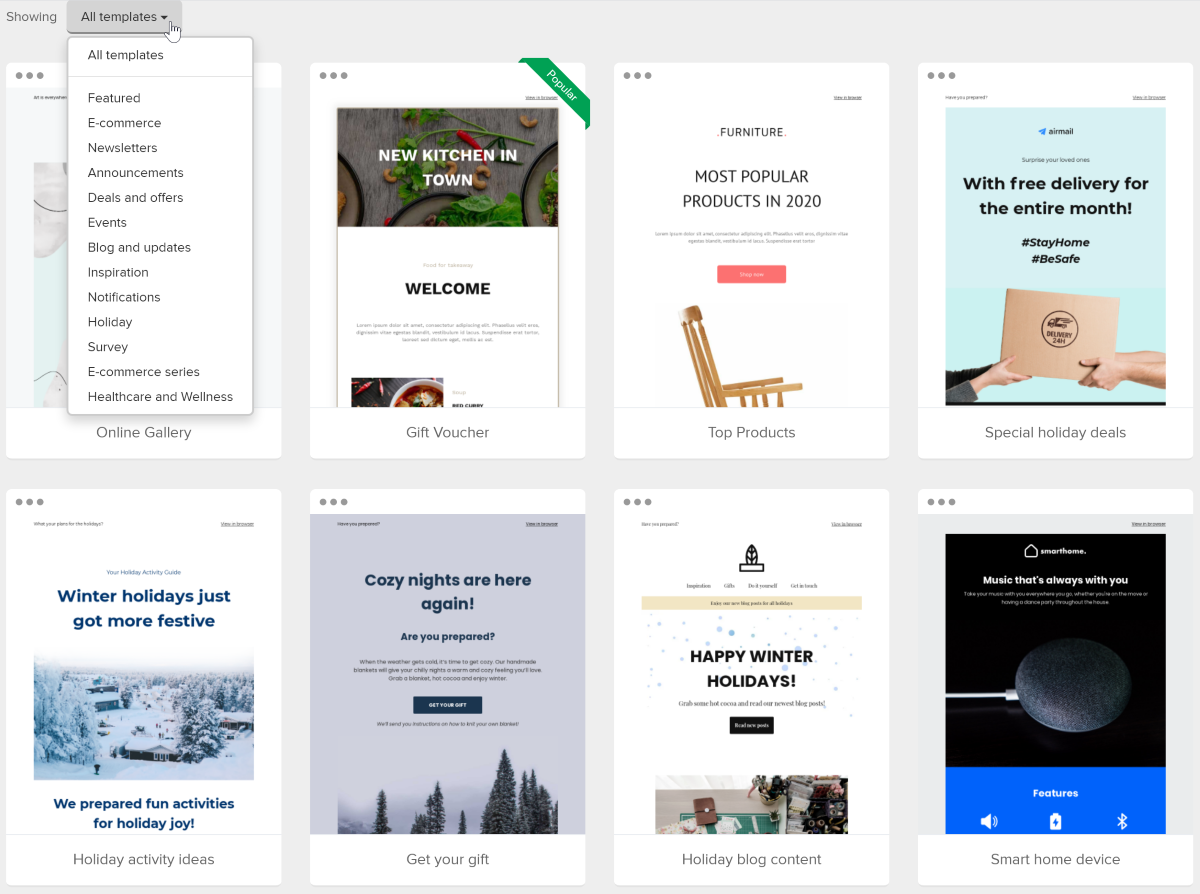 Depending on the selected type of editor, the set of possibilities differs. But in any case, the service does not limit you in your imagination, and you can easily create exactly the design that you need.
The editor also has a built-in image editor, file storage, mobile layout, email preview and creation of transactional mailings.
Collecting mailing addresses for mailing
Any mailing list needs to be sent to someone, and for this you need to collect subscribers' addresses. In MailerLite, such lists can be imported from other services or from a file, and then divided subscribers into different categories.
When managing subscribers, you can view statistics on email activity, segment the audience, and delete inactive ones.
To collect data in real time, there are several forms of subscription to the newsletter.
There are common pop-ups, built-in signup forms, and entire landing pages.
When you create any of the forms, addresses can be immediately assigned to the desired group of subscribers. And for the forms themselves, several templates are provided, divided by the type of display.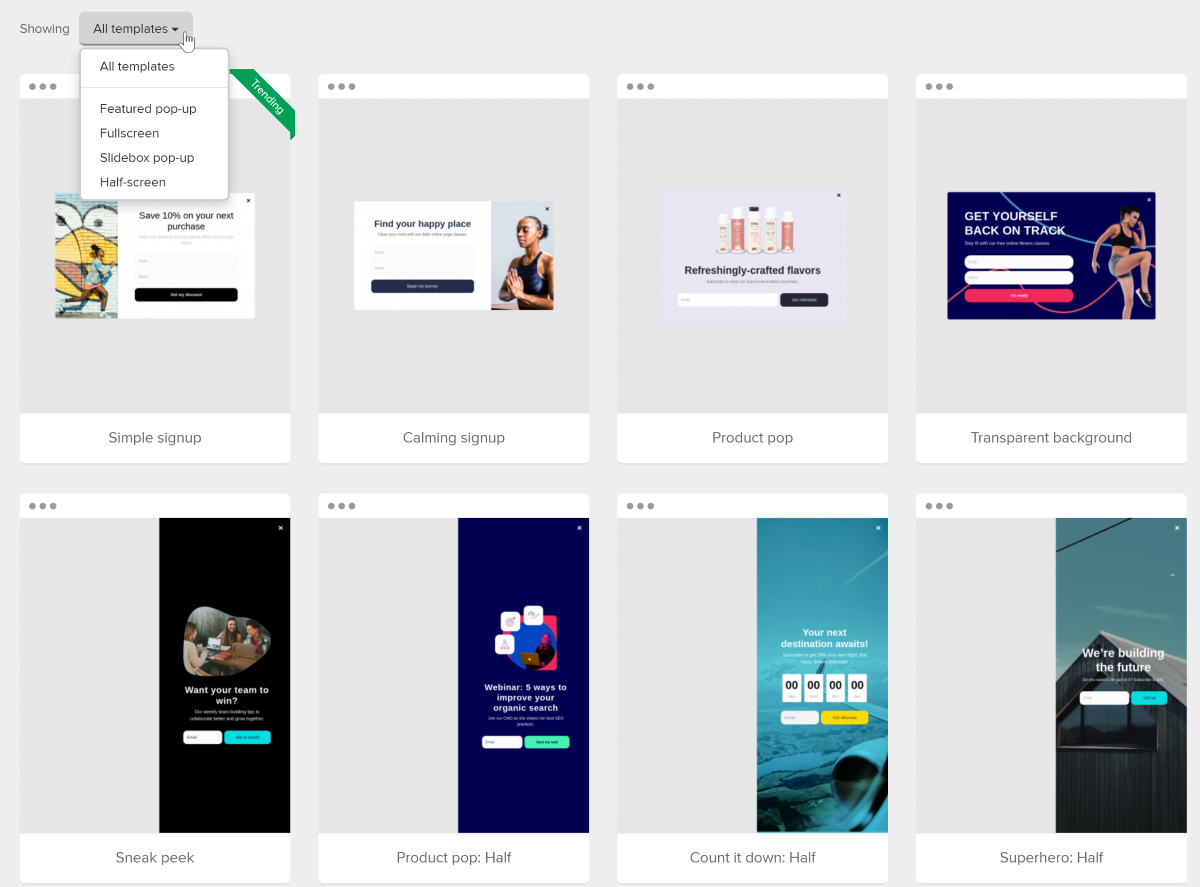 After choosing a shape, you can further edit it and customize each element to your taste and color.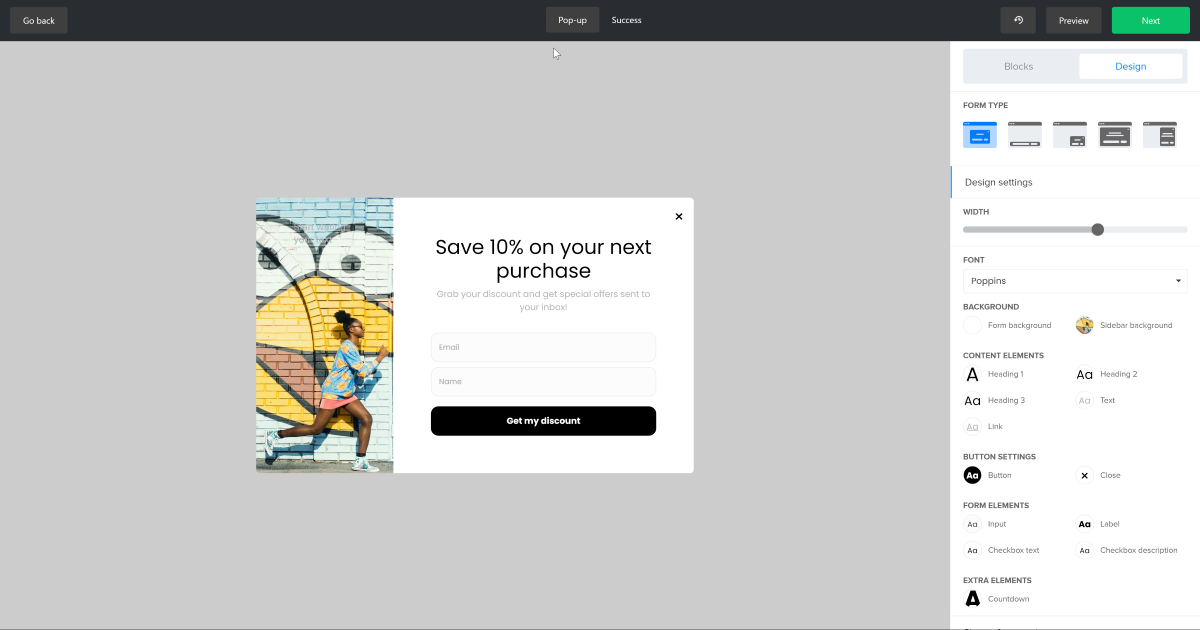 If you have created a pop-up form, then for it you can configure the parameters of displaying to visitors: by time, by the degree of page scrolling, set the frequency of display, and much more.
Forms for unsubscribing from letters are configured in the same way.
Newsletter
Various automation options are provided for sending emails: RSS campaigns, mailing by time zone, mailing by specific triggers and times, reminders, A / B testing, segmentation, personalization, and much more.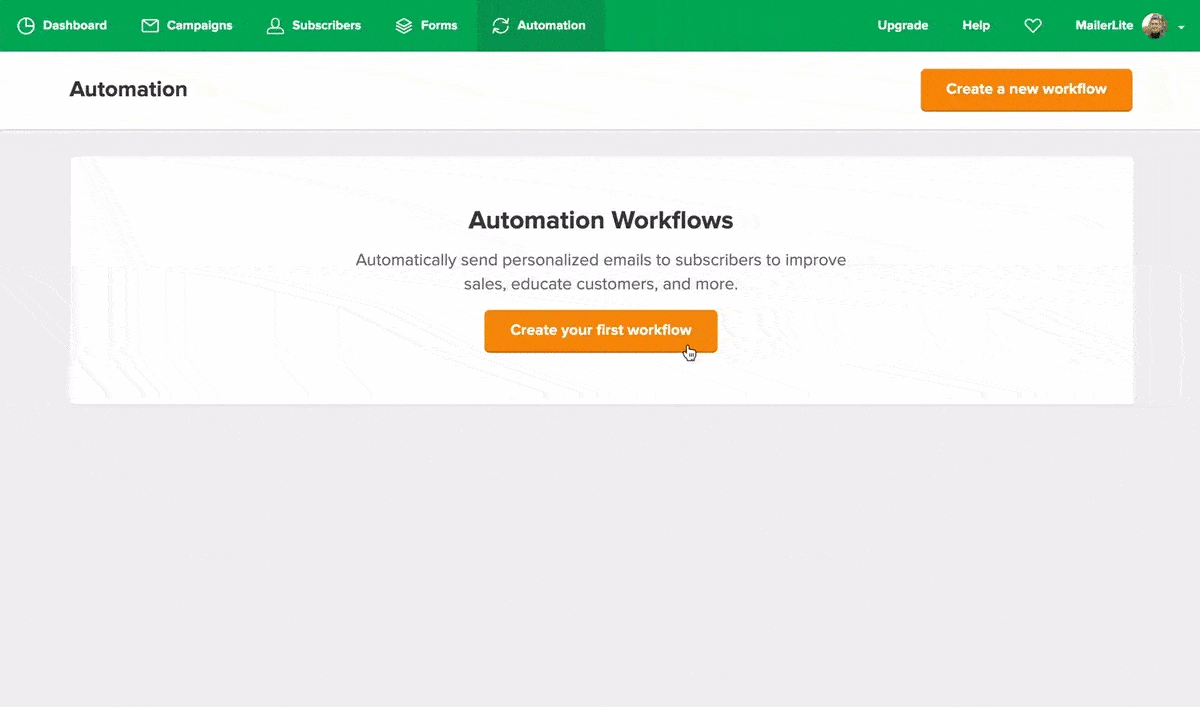 Analytics
The analytics provides standard reports on mailing and opening letters: how many letters were sent, how many open, clicks on links, unsubscribing, sending to spam, etc.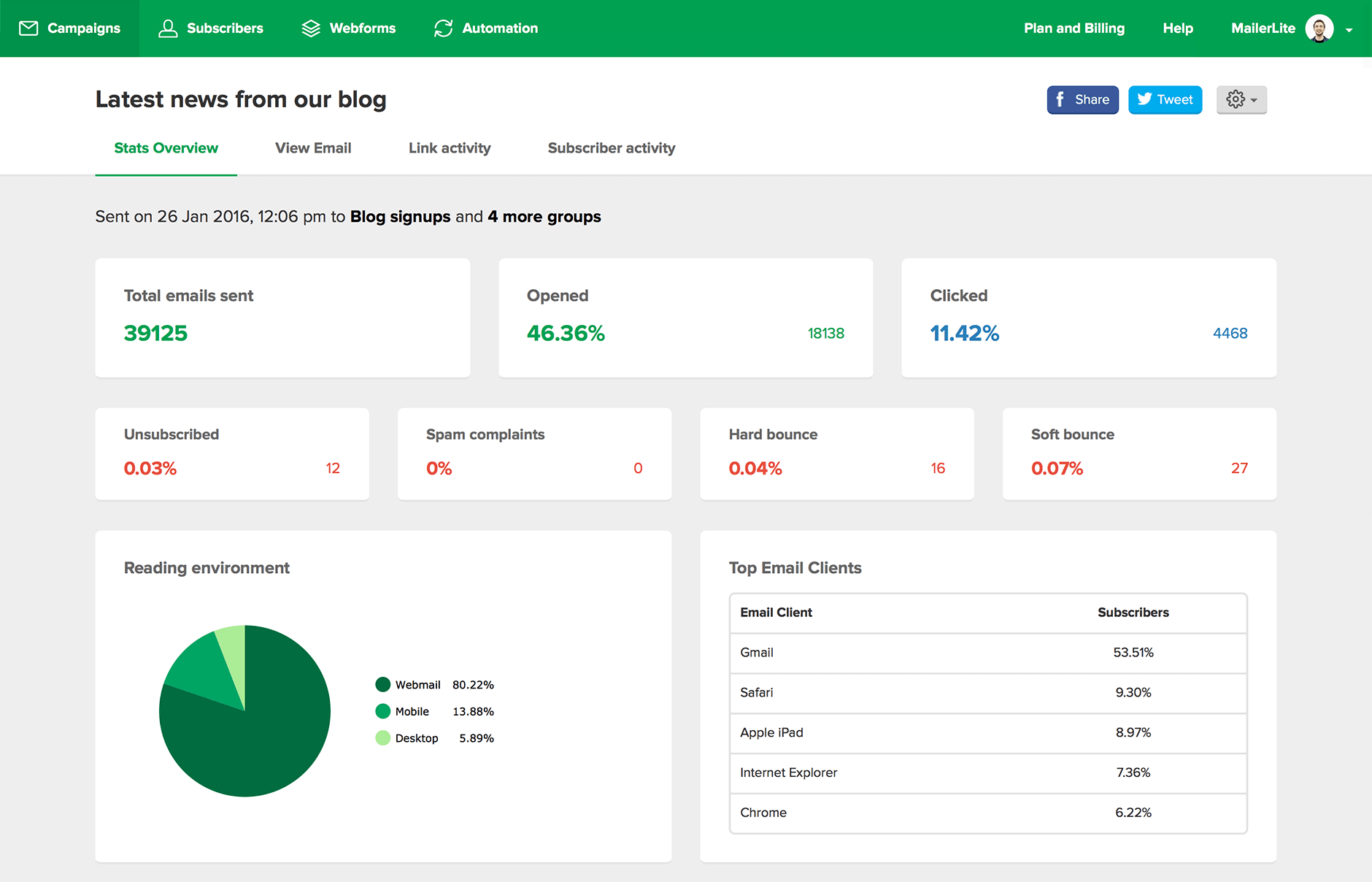 Additionally, you can collect data on which elements of the letter attract the audience more and which less. And also geo-statistics on subscribers.
Additional features
Additional features of MailerLite include an open API for developers and various built-in integrations with external services. In the second case, the famous Zapier service comes to the rescue.
For iOS devices, there are mobile apps for tracking statistics.
The cost
Until the first 1000 subscribers use MailerLite will be free. At the same time, you need to take into account a small limitation in capabilities: there are no letter templates, no HTML editor, you cannot remove the service logo, you cannot use your domain for landing pages, advertising pop-ups are disabled, some automation and analytics capabilities are closed.
After the first 1000 (or if you need access to paid features), the cost of using the service starts at $ 10 per month.
---
When I settled on MailerLite for mailing about new publications on my site, first of all I looked at the possibilities of a free plan.
And the service completely matched my parameters. I was able to set up a weekly RSS feed and create my own layout design. I also created subscription forms that I was able to embed on my site.
As I wrote at the beginning of the post, without reading the help, not everything worked out for me. And when doing more professional tasks, you may stumble upon limitations.
But if you are just starting your journey as a mail mailer or are looking for something simpler than incomprehensible monsters, then MailerLite can help you with this.