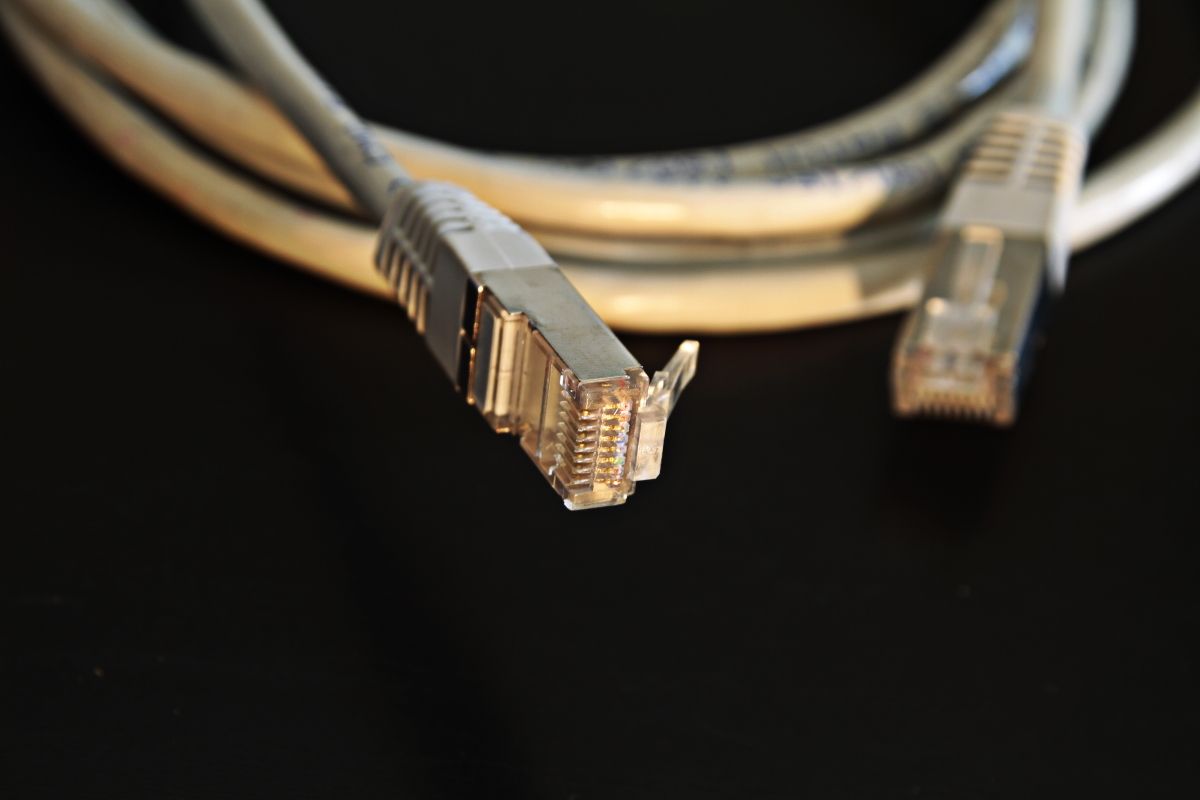 NetAdapter Repair All In One — utility to resolve network issues
The Internet can be lost not only on the provider's fault or high load network. For example, can routes can be broken, DHCP addresses, and much more.
This is autotranslated version of this post.
Independently investigate and discover the source of the problem to a layman can be difficult. And you can make it even worse and to break even what works. It is in this case there is a utility NetAdapter Repair All In One.
NetAdapter Repair All In One — a Windows application that helps to fix popular problems with the network.
The utility consists of two parts: tools for problem solving and information about the current state of the network. By the way, the application does not require installation, but you will need administrator rights to work properly.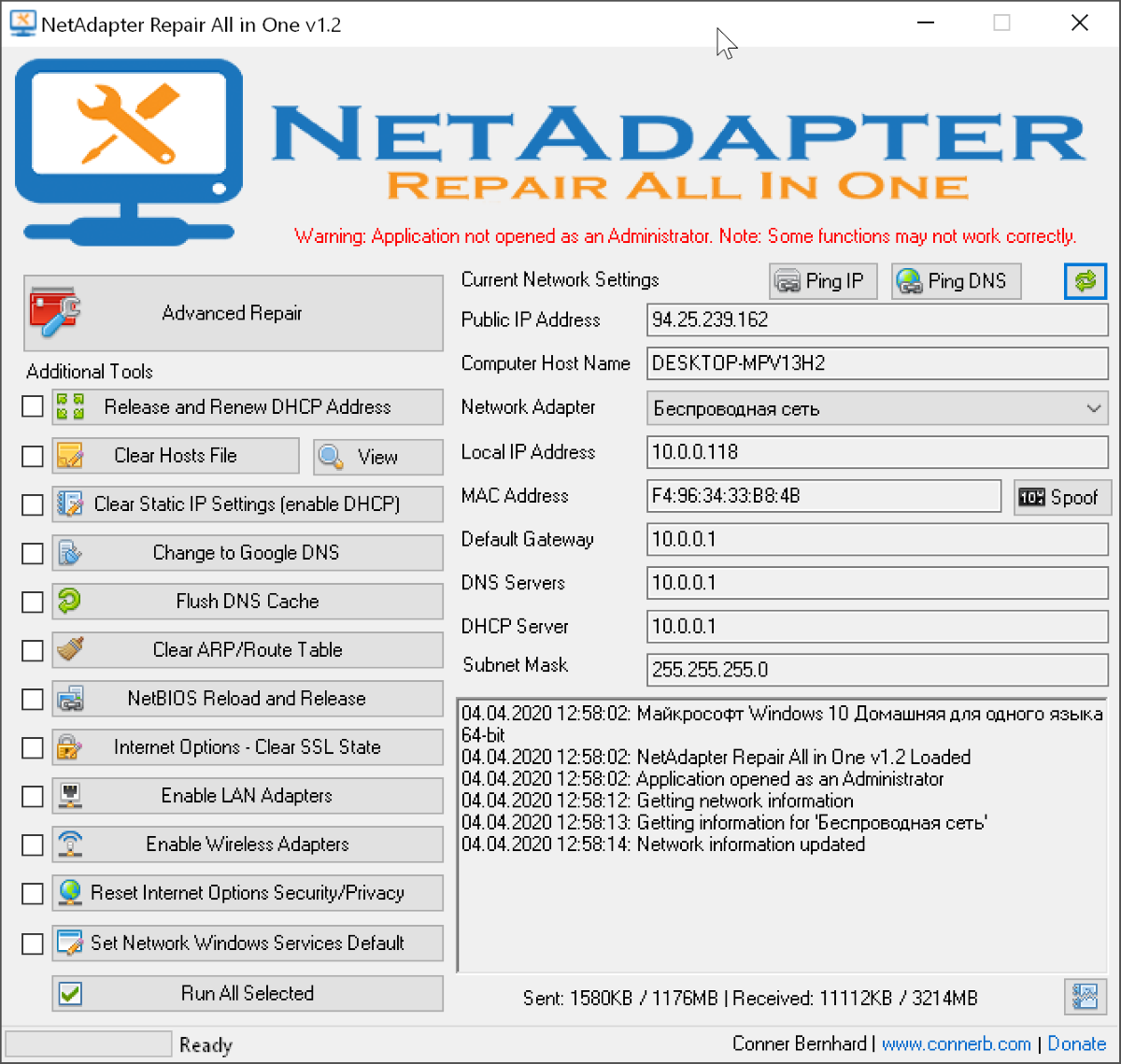 Current network status
With a block of information over a network, I think, and so everything is clear. You can check the availability of IP, DNS, and view the settings of the other network adapters.
In network settings the following values are displayed:
the external IP address (prompted by using dyndns.org);
the name of the computer;
internal IP address;
the current MAC address;
the default gateway;
DNS server;
DHCP server;
subnet mask.
Much more interesting to deal with each tool to repair network.
Available tools
This section NetAdapter Repair All In One is also divided into two parts: advanced tools and additional.
By clicking on the Advanced button Repair will start automatically restore WinSock/TCP IP, resetting the Proxy and VPN restore Windows Firewall.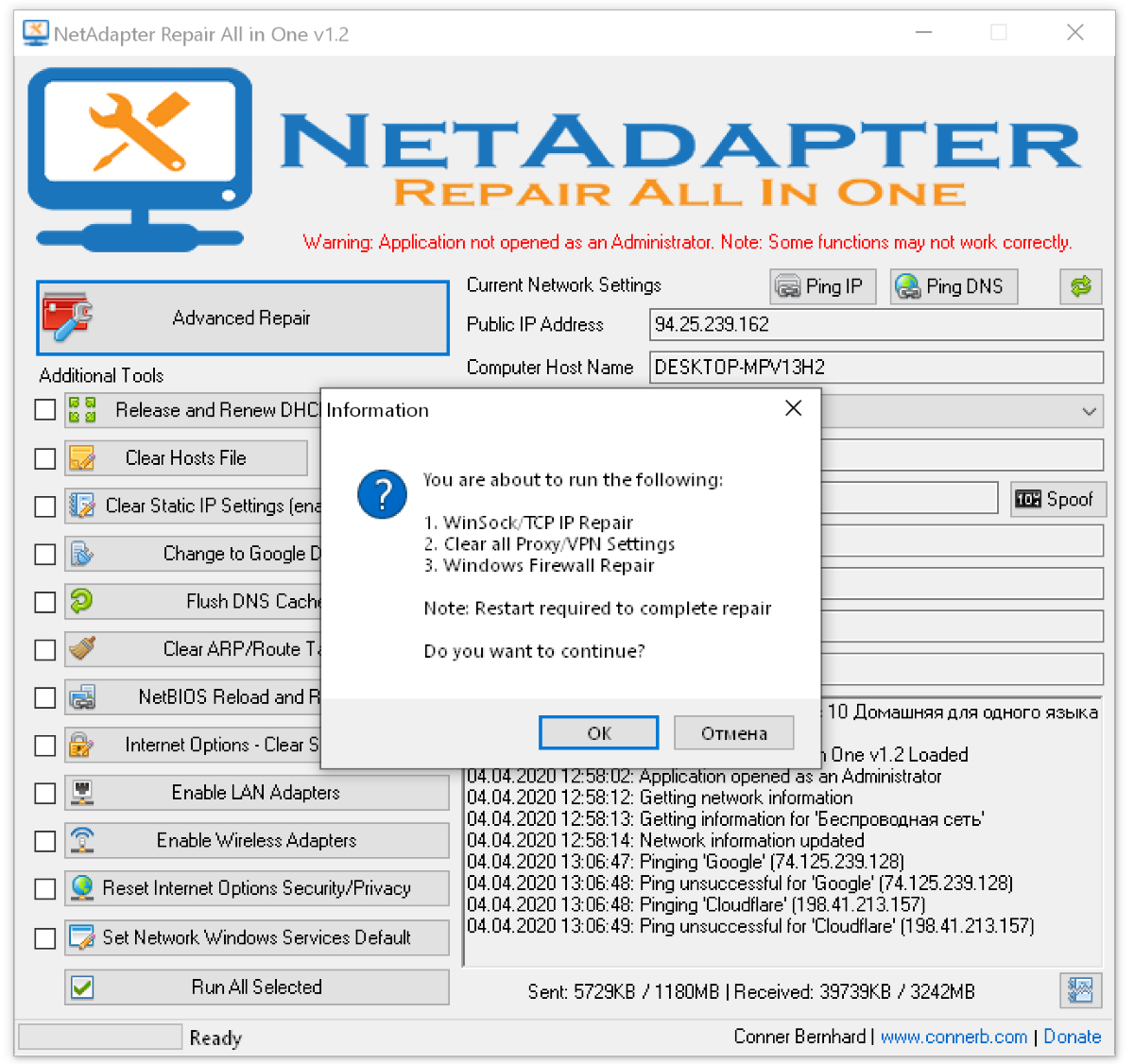 Note that after clicking will be only one warning and will need to reboot the computer.
Additional tools available:
reset and renew a DHCP address;
cleaning or viewing a file Host;
reset static IP address (enable DHCP);
DNS change DNS to Google's;
reset the cache DNS.
Purification of ARP/Route (routes);
Restart and update the NetBIOS;
Reset values SSL certificates;
Enable LAN adapters;
The inclusion of wireless adapters;
Reset network security;
Reset to default settings network services Windows.
Each of the tools can be run individually, or select and start all at once.
---
Although I said in the beginning that using NetAdapter Repair All In One, even an inexperienced user will be able to correct popular network issue, I would recommend a responsible approach to this process.
The utility makes a backup of the important parameters, and the result is written to a separate file. But if the first time you see words like ARP, SSL, LAN, first check that it is. For example, thoughtless reset DHCP settings for many providers to "break" the Internet. Because that way your computer receives the necessary information to access the network.