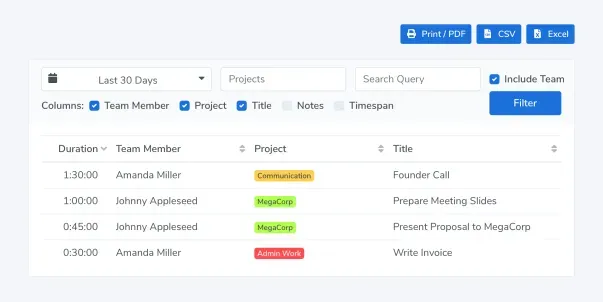 Overview Timing. How to automatically track time to work
Many freelancers have the problem of keeping track of time spent on a particular task. As always, there are utilities to solve such a problem, but choosing the right one for yourself is not so easy. To make it easier to decide, here is my review of one such app.
Timing is a utility for macOS that helps you automatically record the time spent in a particular app or project.
First impression
Even before you start working with the utility, the installation process awaits you. Usually, this is nothing to worry about, but not in the case of Timing. When you first start, you will find seven screens with a story about all the features of the utility. Some screens have video, and until the video ends, you cannot move to the next step.
And in the middle of this entertainment, the application will ask you to log in to it or register. At least, this step can be skipped altogether. An account is needed to synchronize data with the cloud.
But after all the torment, a cool application for tracking time awaits you.
What is what
The main Timing screen has several sections. On the left panel, you manage projects, switch between them, set up tasks, and the like. And on the right, you can see the time spent on the selected parameter.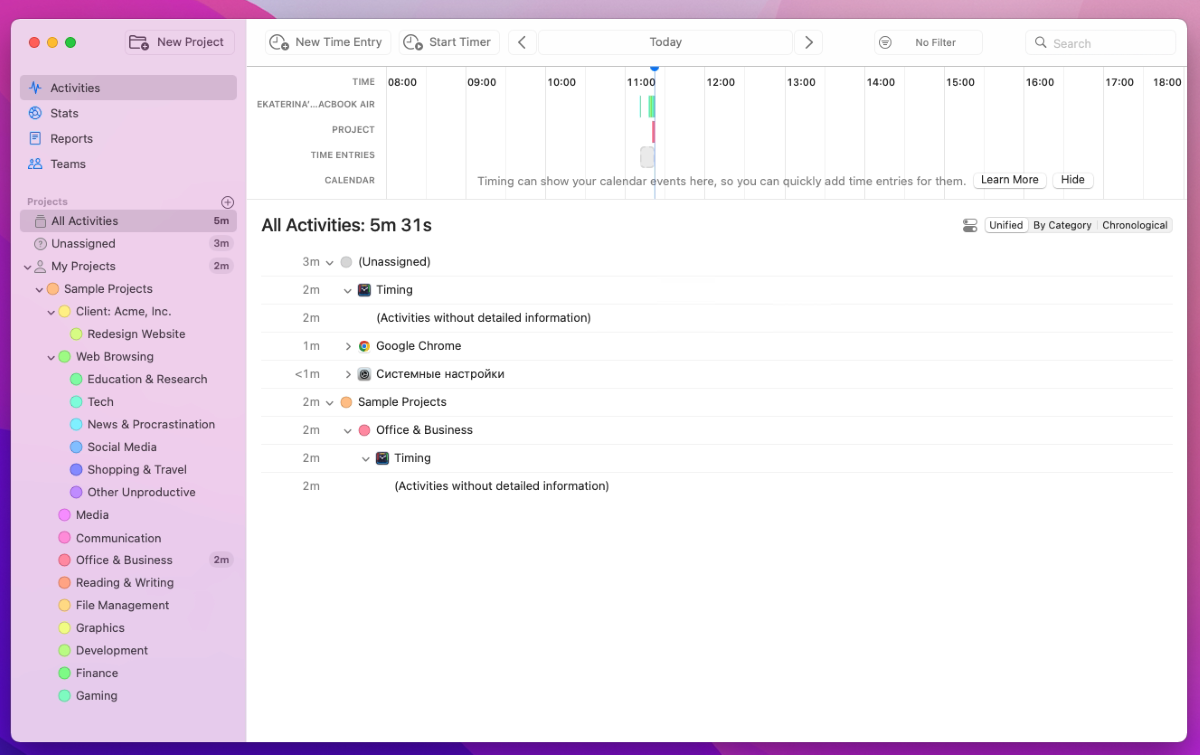 Each of the projects can have a multi-level nesting, a color mark, keywords, and a productivity rating.
Here you can also set up automatic recording of the time spent in certain applications or sites in the project. There is a flexible rules editor for this.
Any of the projects or subprojects can be edited, duplicated, deleted or archived at any time. You can also start tracking time on it.
When you click on a project, you can see a report on the time spent in it. The report parameter can also be customized.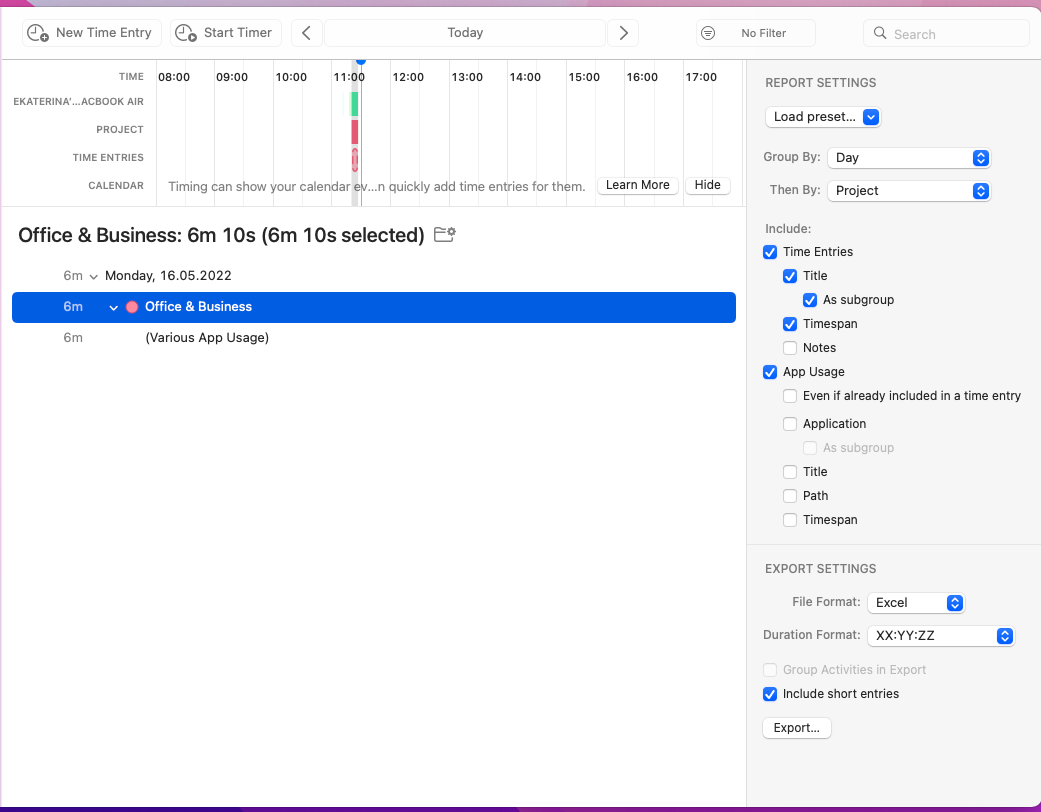 You can change not only the view itself, but also add or remove some parameters from the reporting. The report itself can be exported to other applications, for example, to Excel.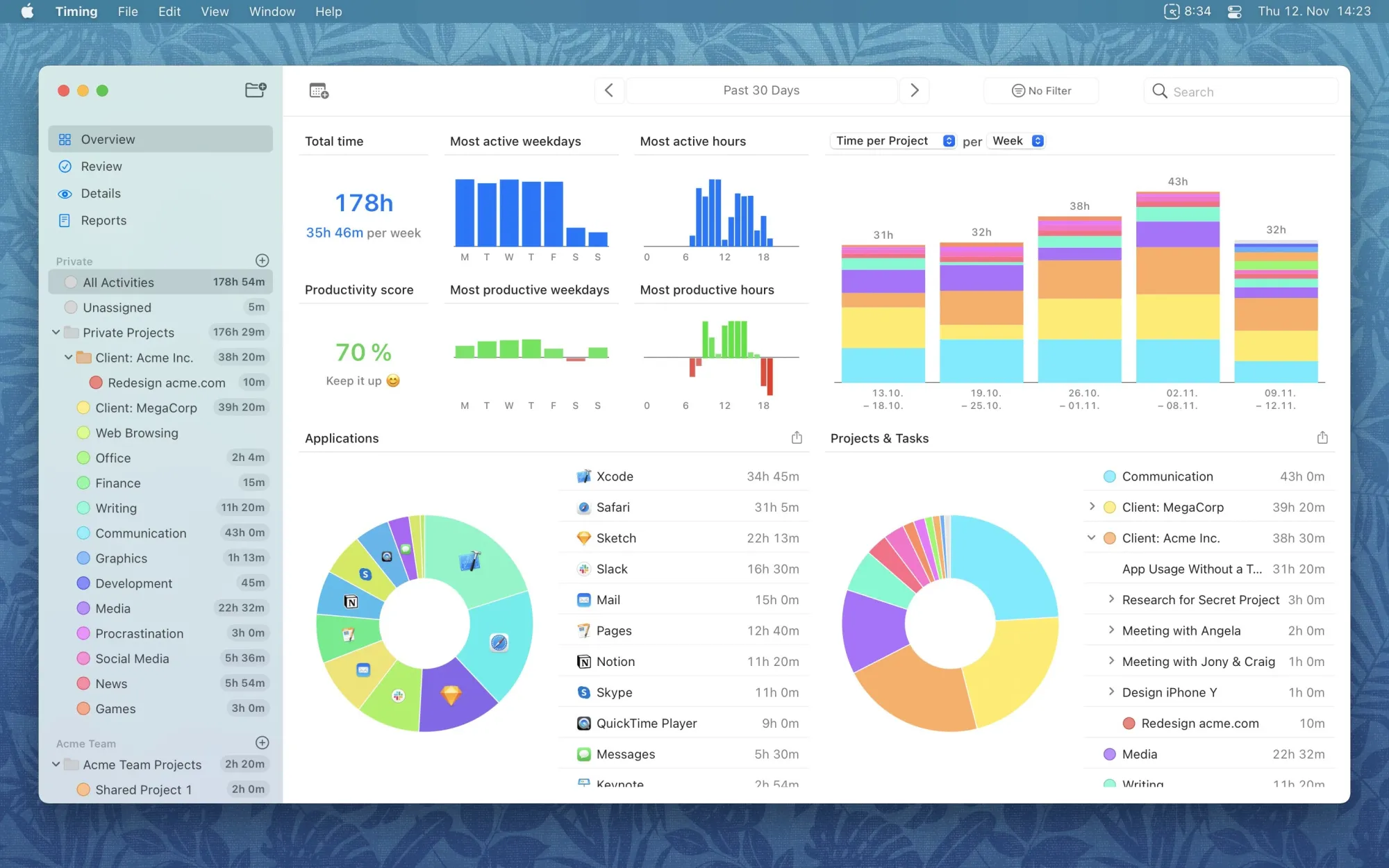 Time tracking
From the tray icon, you can start or pause the time tracking. At the start, you can select a project or subproject, or immediately create a new one.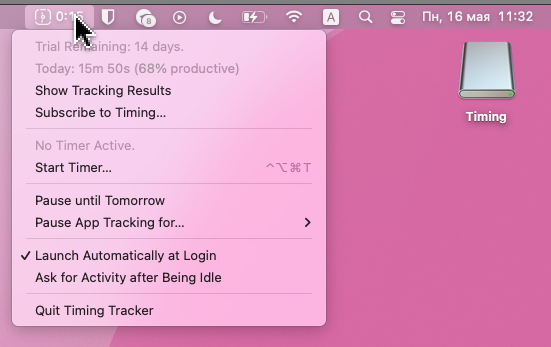 Additionally, you can specify the name of your lesson, add a note, the estimated duration. Interestingly, the timer can be started at a specific time or with a difference of five minutes in any direction.
Accordingly, after launch, the time starts to be tracked in the selected project. As I said above, you can set up automatic time tracking from certain applications in the right projects. The list of supported applications can be found here.
If you started tracking, but forgot to indicate what, later this piece of time can be edited or a new interval can be added to the timeline altogether. Timing simultaneously will try to offer suitable options for writing off time.
More time spent can simply be taken and transferred to another project. Literally.
Other useful features
Timing supports teamwork. Each of your colleagues can have both personal projects and common projects that are visible to all interested parties.
There is support for Google Calendar, Exchange Calendar, and integration with hundreds of other apps and services using Zapier.
Price
You can try Timing for free for two weeks. At this time, the application is not limited in functionality in any way, and you can really try everything.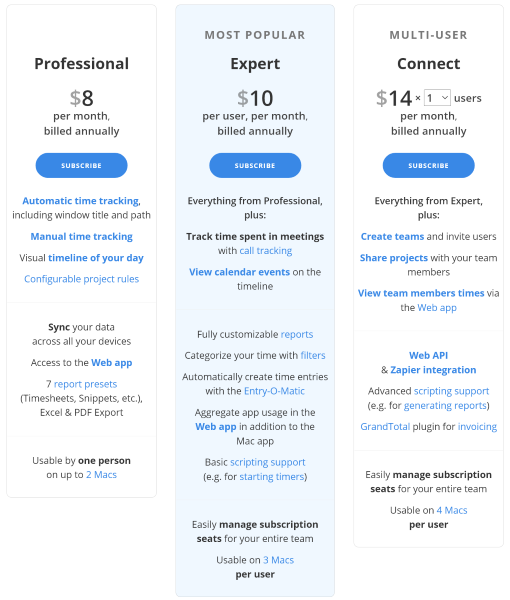 Then the cost starts from $8 per month when billed annually. You will be able to use the application on two devices, get access to seven types of reporting.
The Expert tariff for $10 allows you to automatically write off time for calls, activate integration with the calendar, full access to reporting, and command work.
The most expensive plan for $14 (per user) already covers all the features of Timing, including integration with Web API and Zapier.
---
Apart from the first launch of Timing, I generally liked the application. Perhaps for some, the process of fully customizing and automating time tracking will seem too complicated or long. Nobody cares about manual tracking.
To do this, the application has a long trial, during which you can easily understand how exactly it will be convenient for you to work with it.