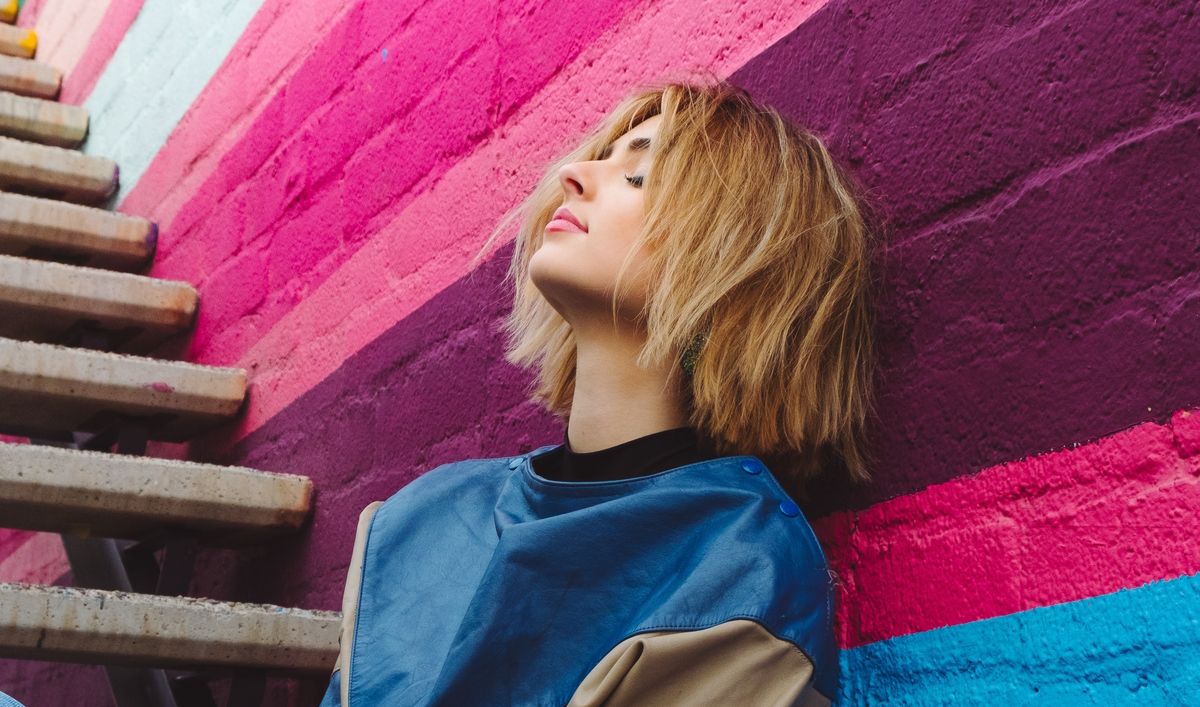 Pink and Purple Hair Romantic Looks for 2023
Who Suits Pink and Purple Hair Color?
Shades of pink and purple hair color are rich in a variety of nuances of the gamut, so girls with any color type can find "their" option. Most of the shades are still cold, but even on golden hair they can look unusual and - importantly - beautiful.
You need to understand that not all purple or pink shades in hair color will be clearly visible on dark hair. But for many, soft coloring with barely noticeable color blotches is rather a plus. Choose what you like best.
Brunette Hair
Girls with this color should choose only neon shades for a noticeable effect. Barely noticeable undertones on dark hair will simply not be visible, and bright colors will create a contrast that brunettes usually go for.
Photo with pink and purple hair in dark colors:
The choice can be made in favor of "acidic" ultramarine, a softer amethyst color or a shade of lavender, which, on a black background, will lose its touching tenderness and become extremely catchy. It remains to mentally prepare for a sharp change in the image that these coloring options guarantee. What other shades will look spectacular on dark hair, we told in this article. Click here to find more pink and purple hair ideas for different hair shadows and styles.
Brown Hair
Same thing with dark brown hair. Brunettes with chocolate-colored curls will suit a variety of shades of pink and purple, and both lilac and lilac will look advantageous. An interesting result will give a plum color: with its help, you will get highlights that will "appear" only in the light, creating an expressive play of shades.
For light brown it is not recommended to choose lilac and lavender; it is better to decide on contrasting staining, in which the colored strands will be clearly visible against the general background and shade it favorably. Or choose a pastel pink and delicate purple shade, close to pink - you get the effect of "strawberries with cream".
Red Hair
Pink or purple highlights do not suit red hair and owners of red-colored hair: a bright primary color "suppresses" lilac and pink so that coloring becomes simply meaningless.
You can only try on an image with a plum color - you need to "stretch" it along the strands, creating an ombre effect. The result is suitable for those who want to refresh an already bright image.
Blond Hair
Blondes can choose almost any of the pink and purple shades.
If you paint a lot of thin strands in lavender, the image will turn out to be gentle and airy. And with large neon pink and purple strands, the blond will become optically "cleaner". This coloring will make the features of fair-haired girls brighter and more expressive. When choosing a color, start from how much you are ready to change.
Pink and Purple shades options
Blue Purple and Pink hair
For blond hair, the contrast that this shade creates may be too strong. But for brunettes (those who are not afraid of bright colors) it will be just right! Dark colors will be on an equal footing with him, but the blond will be clearly "weaker", so the combination will be less harmonious and balanced.
If you dare to experiment, try the shade "Violet Hair" from the Colorista Hair Makeup line from L'Oréal Paris.
Pastel Pink with Lavender Purple Hair
This gentle shade, on the contrary, is very suitable for blondes. If you want to create a romantic image, with it you will get the desired result.
At the same time, brunettes may well make lavender highlights. At the same time, the dye should be based on a white color so that the shade is dense and saturated - this is the only way it can fully manifest itself on dark hair.
Deep Purple and Pink Hair
Deep purple is slightly darker than lavender, but still belongs more to pastel shades. Therefore, it is worth paying attention to it first of all to blondes who want to color the strands. For brunettes, this color mix is suitable only if they are ready for the fact that the contrast will not be too noticeable. Pay attention to the shade "Purple Hair'' Colorista Hair Makeup from L'Oréal Paris.
Pink and Purple dye mixed together
In this color, the addition of pink is noticeable, as in the shade "Plum Hair" from the Colorista Hair Makeup line by L'Oréal Paris. And this is the reason why it suits both blondes and brunettes equally. It is bright enough, so the image with pink and purple strands will attract attention in both cases.
The closeness to pink shades softens the result, making it very feminine. Such coloring always looks very advantageous.
Pink and Purple Neon Hair
A shade with neon "backlighting" will most successfully complement the image of a brunette with dark, almost black hair. And you will definitely like it if you need a daring, bold result with irony and challenge.
On top of the blond, the neon shade will not "glow" and will somewhat lose its brightness, so you may not get the expected effect on blond hair. Fans of experiments can use several neon shades in coloring at once.
Would you like to color you hair with pink and purple? Write what you think about experimenting with color in the comments.