Renderforest review. One service to create everything
I don't like writing reviews of online services for creating videos, web graphics, or logos. Not because they are bad, but because all such services are the same. The only difference is design and cost.
That is why I was interested in the Renderforest service. Its developers did not beat around the bush, but combined all the tools at once in one. After all, thanks to this service you can create a logo, a mockup, edit a video, build a website or draw cool graphics. Renderforest also has mobile apps.
How to create a logo
In Renderforest, you have two options for creating logos. The first is to trust the next AI and let the service do all the work for you.
To achieve this, there is a standard logo wizard for such tasks. Where, with a simple input, your dream logo will be created.
At the end, you will have access to a preview of the proposed logos on various products. As is often the case, not all fonts in such services support the Cyrillic alphabet. This means that some logos go straight to the trash.
On the other hand, the generated logo is not the end point of Renderforest's work. Rather, it is the starting point of inspiration. After all, each logo can then be completely edited as you need, in a convenient and simple editor.
The second option to create a logo is to do everything yourself. To accomplish this, Renderforest offers several templates with a division by subject.
Then you are immediately taken to the editor, which I wrote about above.
Video creation
This time you will have to do everything yourself. The video creation process again starts with choosing a template. This time among the filters there are additionally aspect ratio, duration, 4K templates and more.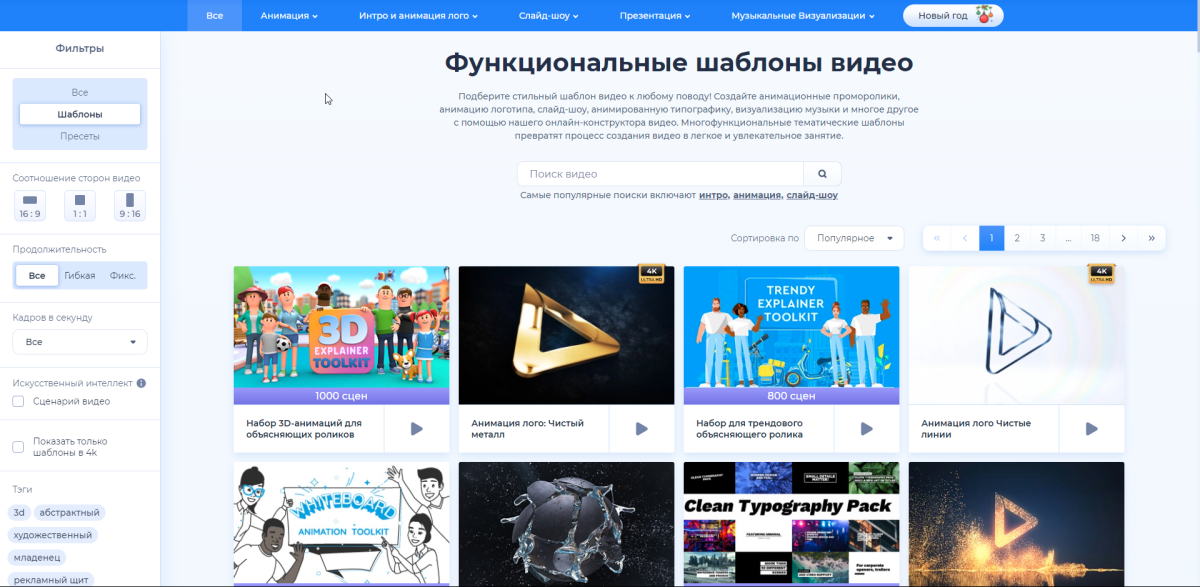 Some templates can generate a video sequence based on text, but this does not work in the case of the Russian language.
After selecting a template, you will be taken to a page with its description and preview of the future video, as well as examples of videos based on it. This immediately helps to understand if it is suitable for your tasks.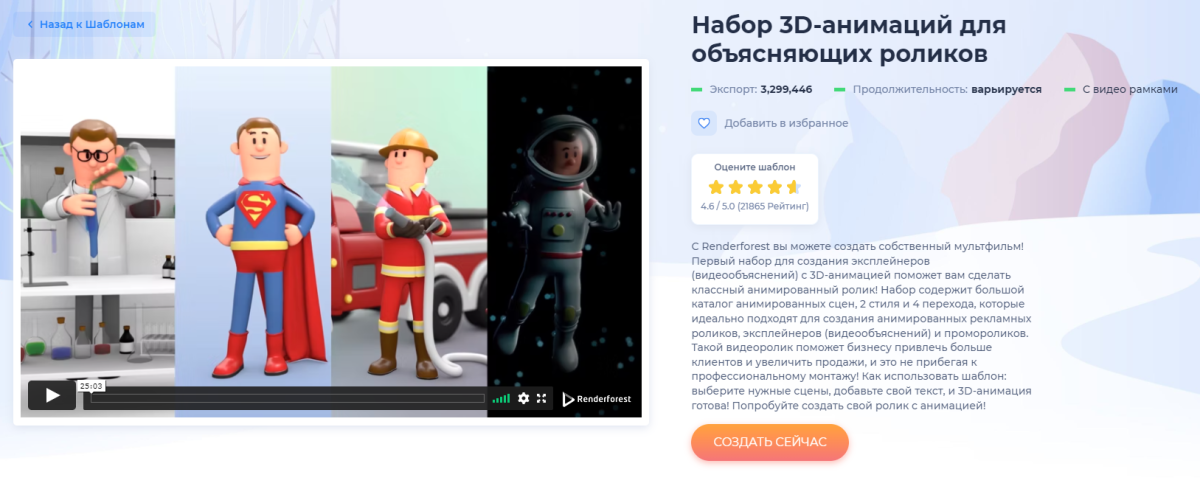 In the next step, you have three options for the development of events.
Add Scene – will take you to the scene editor, composing which you will get the final video based on the template.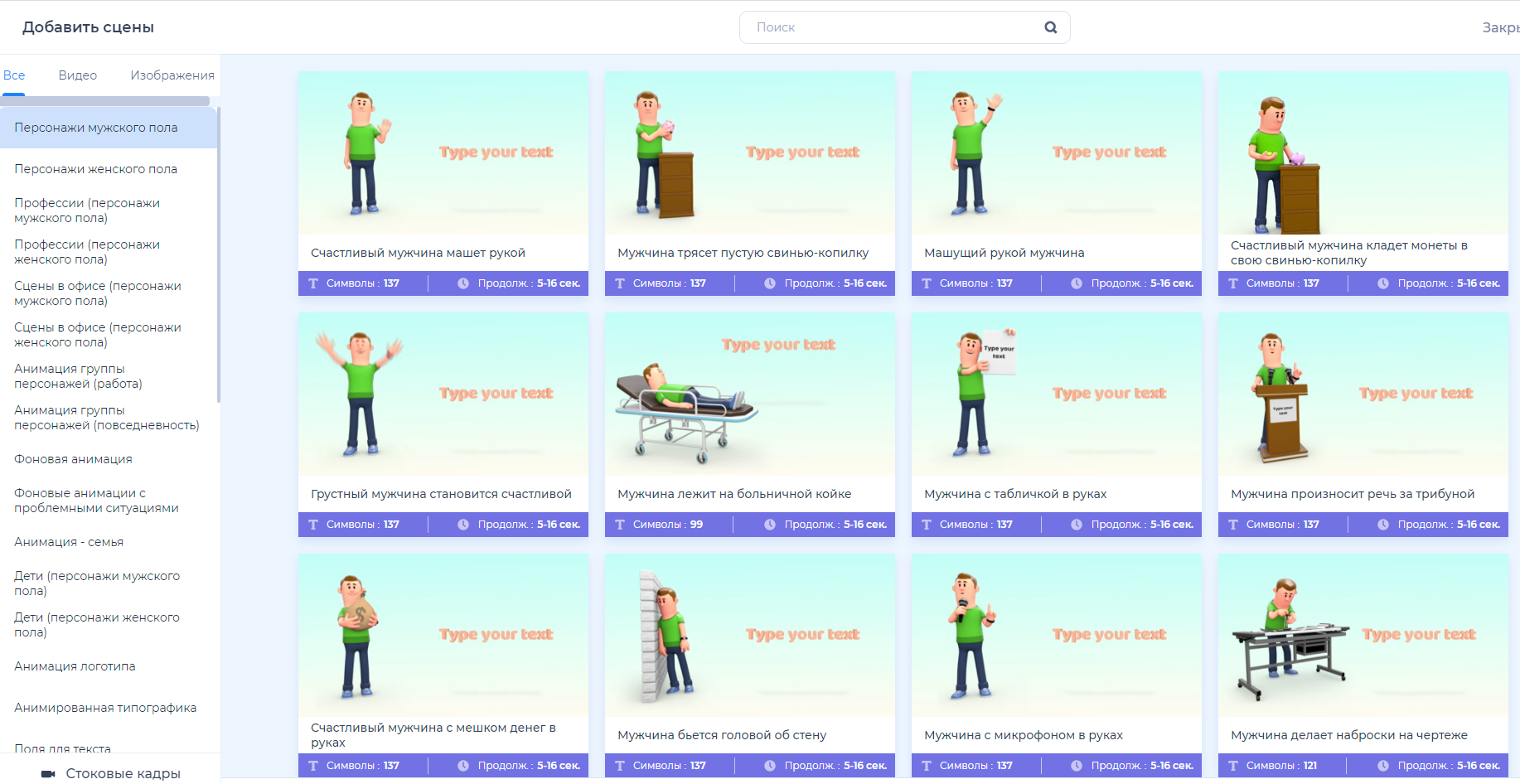 Load a preset – will help you avoid the red tape with manual scene compositing. You simply select a suitable set of scenes, and you get an almost finished video.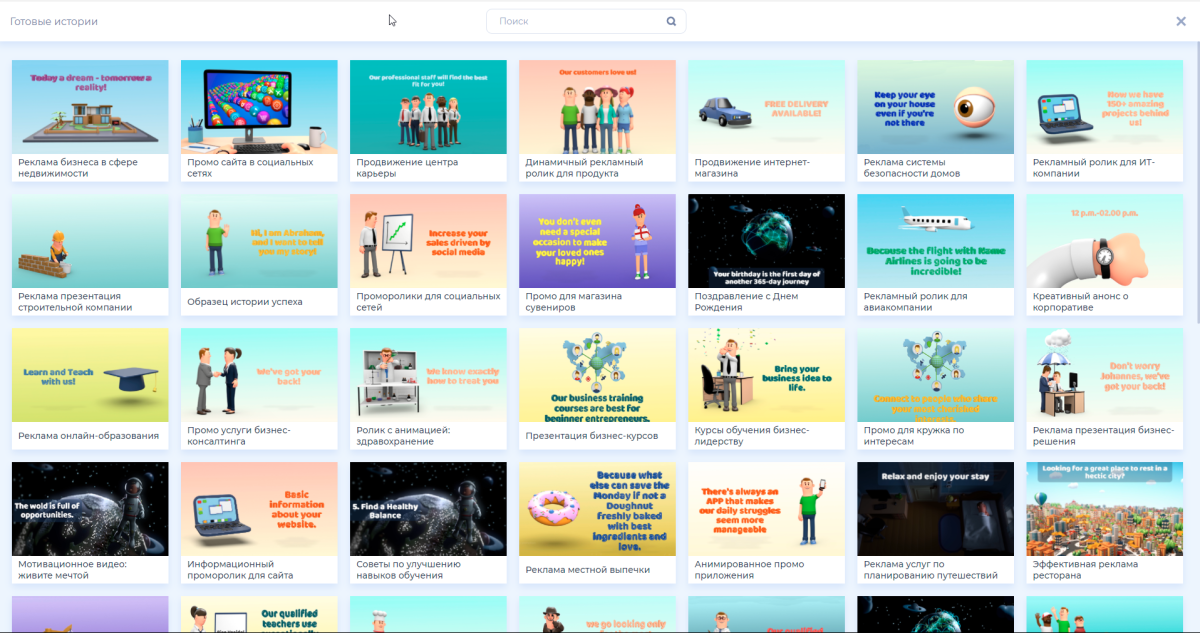 The third option is to create a text-based video. But, as I said above, the result is so-so.
Regardless of the option you choose, you will eventually be taken to the video editor, where you can modify each slide to suit your needs. There are standard options for editing video, and you can also manage transitions, add various effects and music.
At the end of all the manipulations, you get a video ready for use in your projects.
Creating mockups
The creation of a mockup, as in the rest of the sections, begins with the choice of a template suitable for your tasks. This time they are divided only by subject, like "clothes", "appliances", "prints" and so on.
When you select a template, a page opens with a preview of all scenes that will be available for editing.
When you select a scene, you will go directly to the editor itself, where you can upload your images for the mockup, as well as change the background.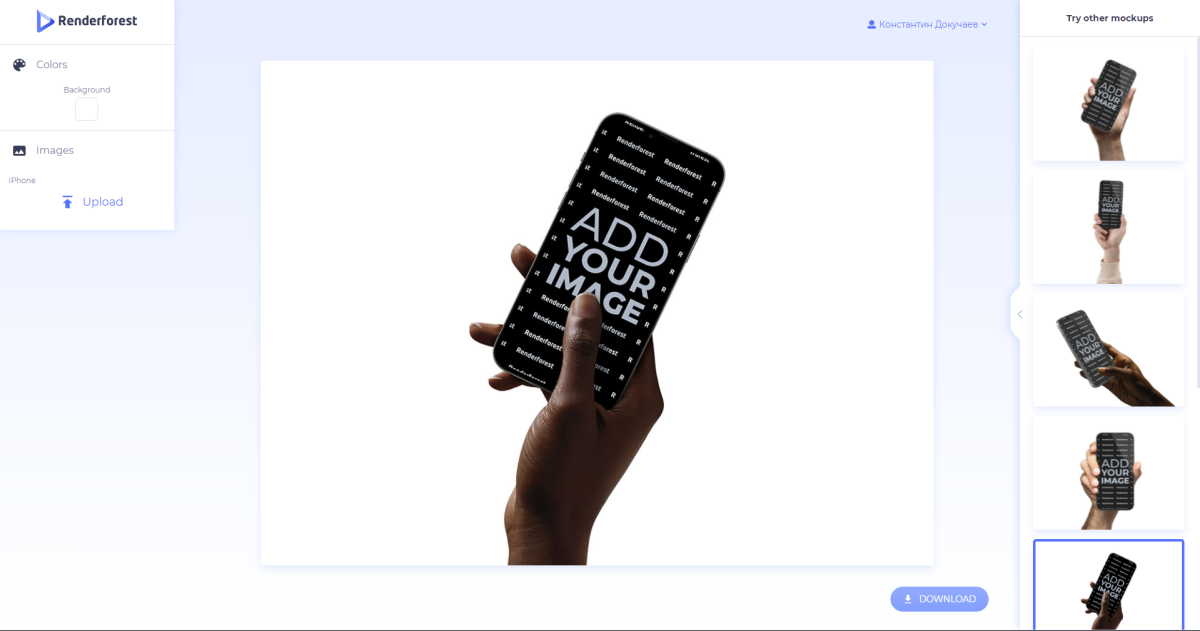 Site creation
Again, when creating a site, you can choose one of the templates or start from scratch and customize each element yourself. When picking a template, there is a preview option.
Then the visual editor of the future site opens. I will not describe in detail all the capabilities of Renderforest in this regard. If you have worked with Tilda, Squarspace and similar services, the same is waiting for you here.
Create graphics
Hello again, templates categorized for social media, print, and presentation.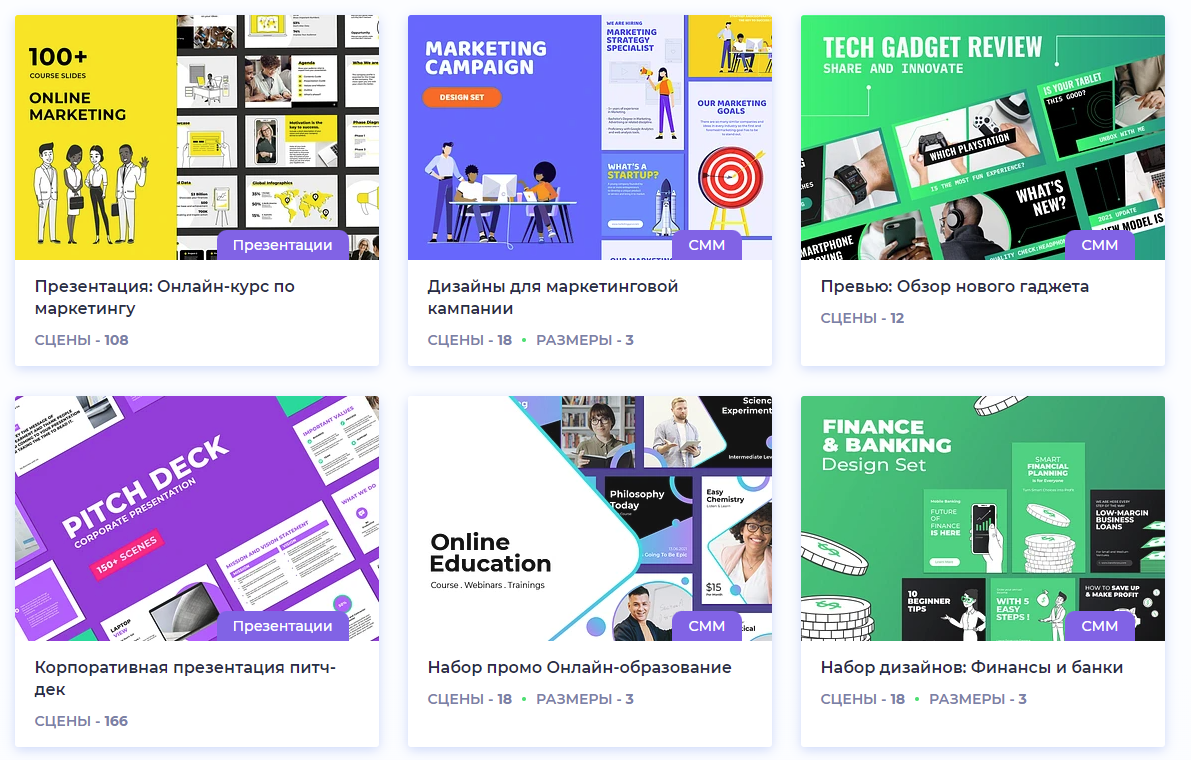 In the template card, you can view all the slides and see the future resolution and aspect ratio of the frame.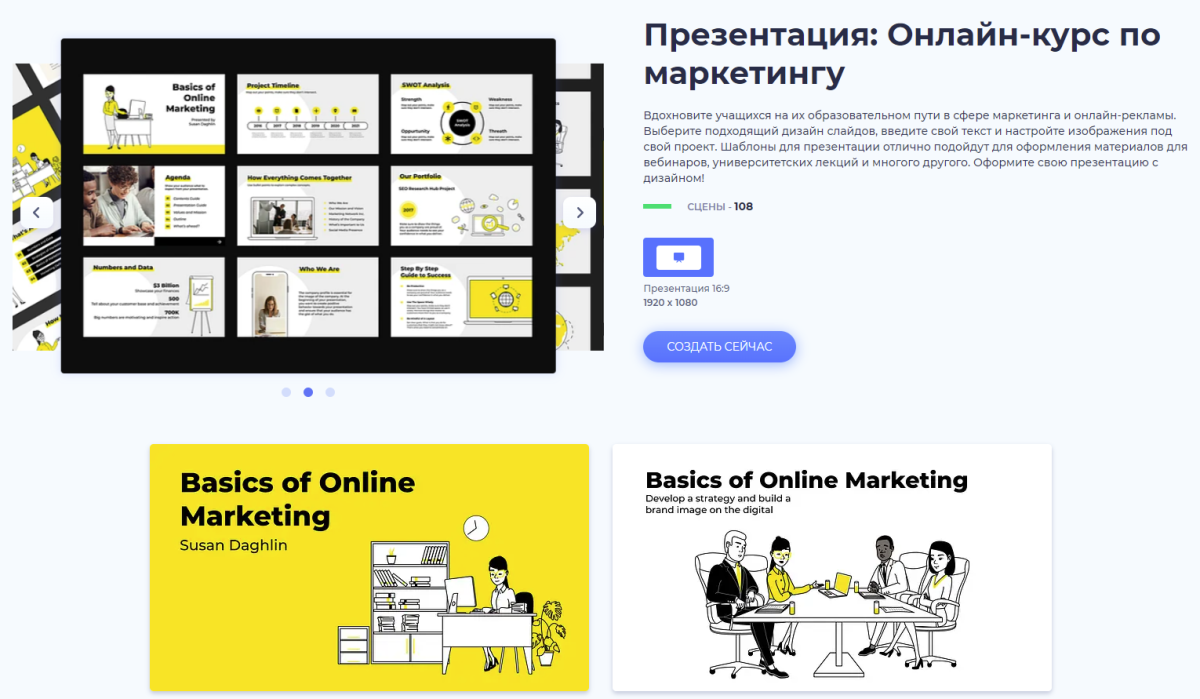 Well, when you go to the editor, you can correct each element of the slide. While editing, you can change or add text elements, effects, icons, images and control the colors of the template.
Mobile applications
Renderforest version for Android and iOS devices is heavily stripped down compared to the web version. From your smartphone, you can manage the created videos, edit them and create new ones.
Price
Renderforest has a free plan, which is great for getting to know the platform's capabilities. Unfortunately, you won't be able to export any of the projects (or it will, but with forceful restrictions).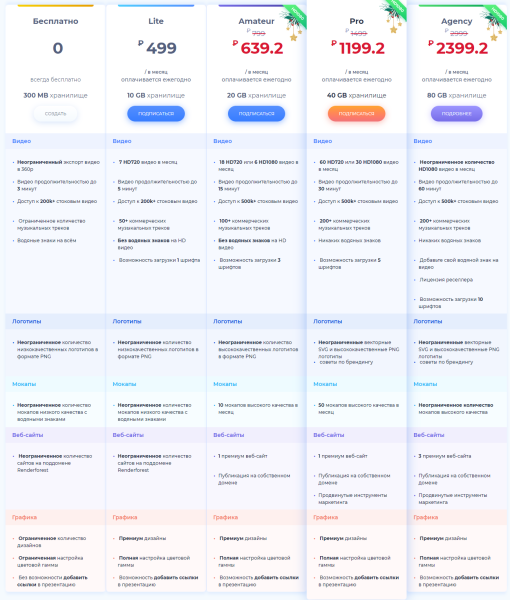 The minimum Lite tariff costs 499 rubles per month, which partially removes export restrictions and increases various volumes of data when editing. The tariff is suitable for non-professional users or for solving some one-time tasks.
The following tariffs – for 639 and 1199 rubles, respectively – further expand the possibilities of working with Renderforest. They are suitable for freelancers to solve work tasks.
The Agency's tariff for 2399 rubles will be of interest only to agencies or to those who work with someone in a team.
---
Renderforest will be of interest to those who need an all-in-one tool. As I wrote above, there are dozens of different tools for each task. I still prefer that an application or service is good at solving one problem, rather than trying to be everything at once.
But among all-in-one services, I have not seen any analogues of Renderforest, and this makes it the only solution to your difficulties. The service does an excellent job with all the described possibilities and can greatly simplify your work.