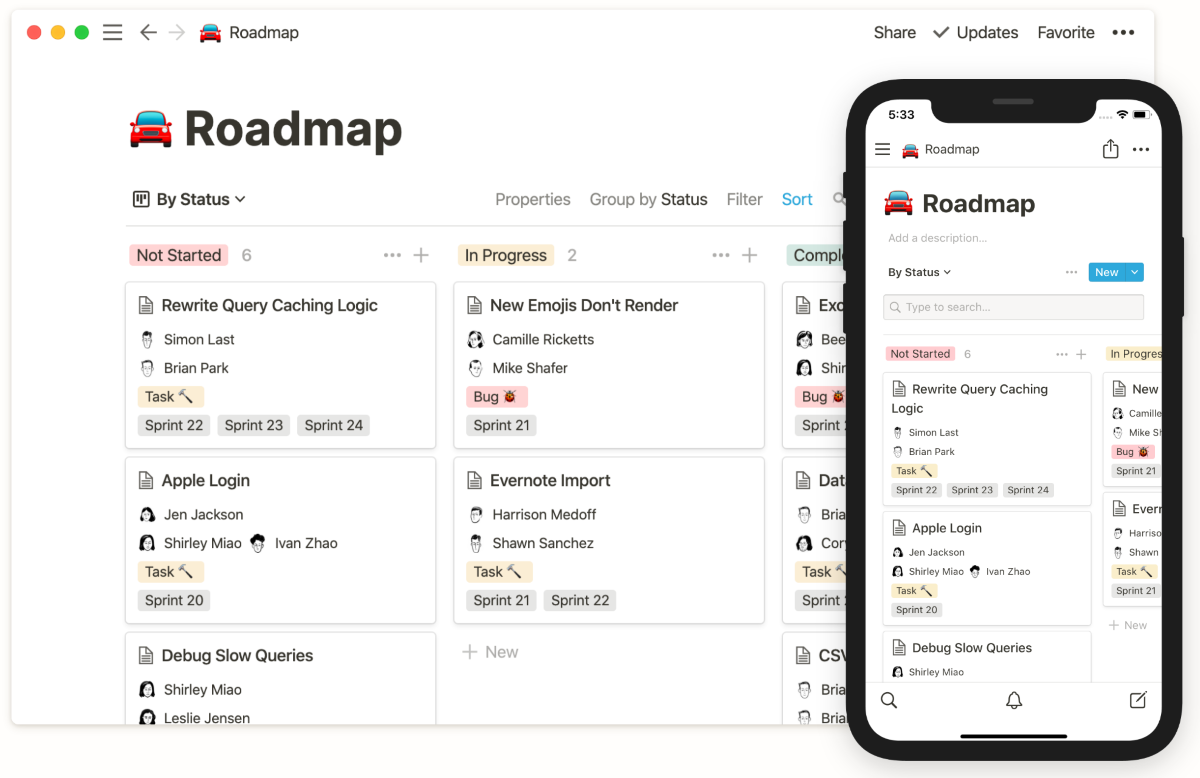 Review of Notion. Advanced knowledge storage tool
Notion developers recently made their app free for personal use, which thrilled all fans of the app. And the rest began to ask, what is this Notion? Let's find out.
This is autotranslated version of this post
Notion is an application for storing knowledge, notes, files, tasks, a wiki, and anything else.
The service is available on Windows, macOS, Android, iOS and in the form of extensions for Chrome and Firefox.
In general, if you used or heard about Evernote, then Notion is the same, only modern and evolving.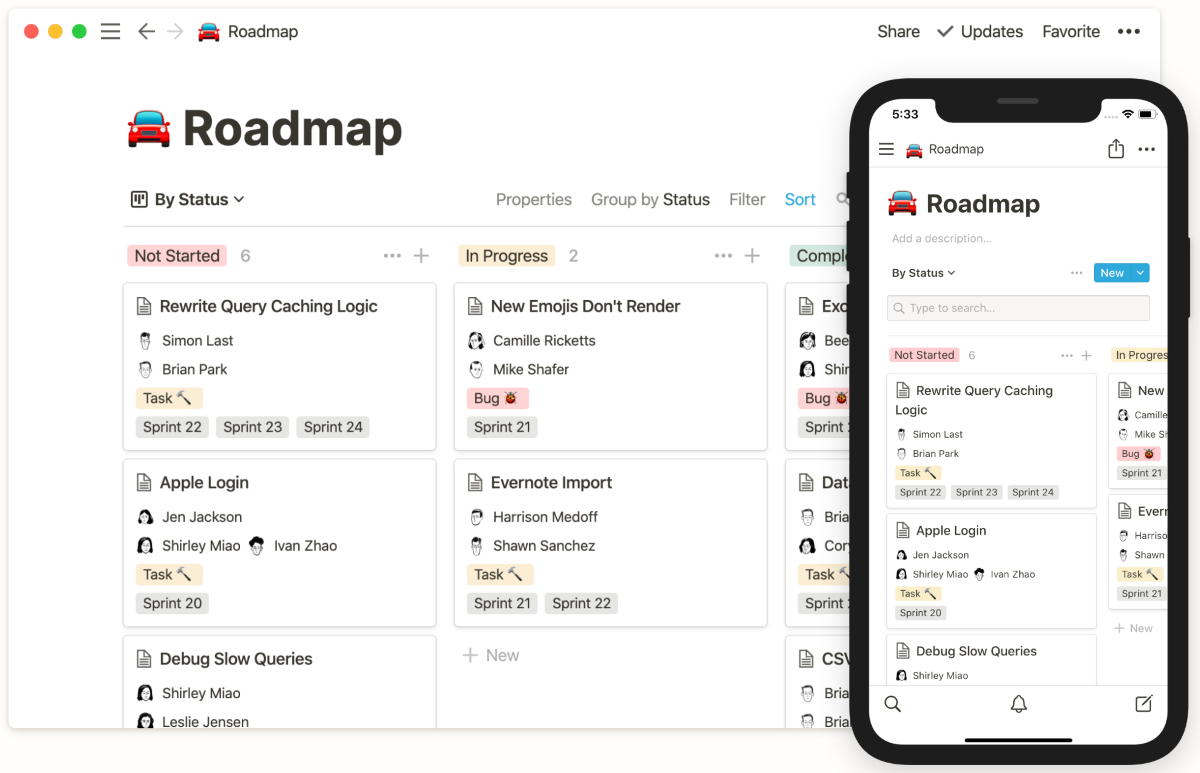 For a long time I did not want to do this review. After all, to tell even about the basic capabilities of such applications is very difficult. Too many of them.
The appearance of all versions of Notion is the same and minimalistic, but to me it seems very confusing at first.
Spaces
Unlike Evernote, where you have a list of folders with notes, there is such a thing as space. Spaces (Workspace) are such general projects in which several people can work at once.
To create space in the Windows version, you need to click not "File". Then click on the name of the current space and find in it the item "Create or join workspace".
Spaces are both personal and team. In the first case, a default partition set is created that introduces you to the main features of Notion.
The first question I had after this was: "How to rename Workspace?". The process was not very obvious.
To do this, open the "Settings and Members" space settings, in the window that opens, go to the "Settings" settings section, this is where you can change the name, icon and specify a custom link to Workspace.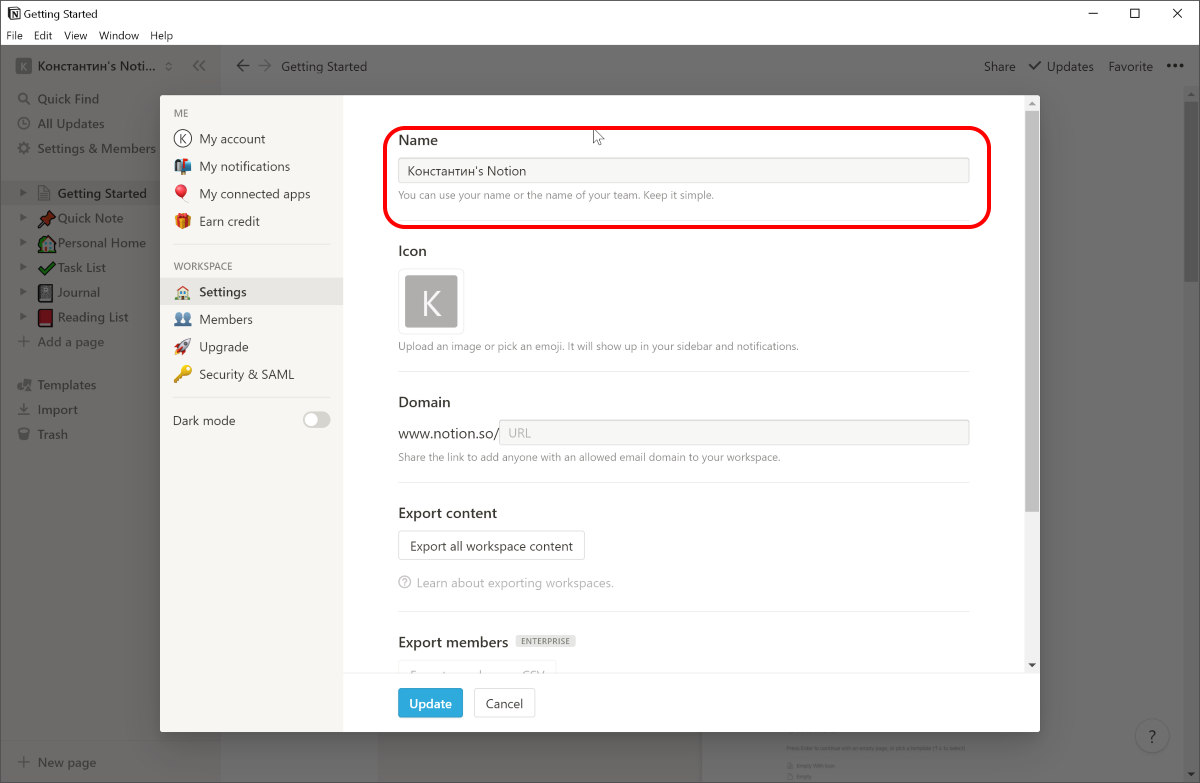 It would seem obvious to open the settings. But without Google's help, I can't find the field with the project name, even after 10 minutes of digging in this window. Why not make a context menu?
What is interesting when creating a shared Workspace, you are immediately offered to give it a name. You can also add a logo, indicate the size and occupation of the team.
In the next step, you will be asked to share a link to "Space" or add colleagues to the mail address.
Depending on the selected occupation of the team, a different set of notes is created by default.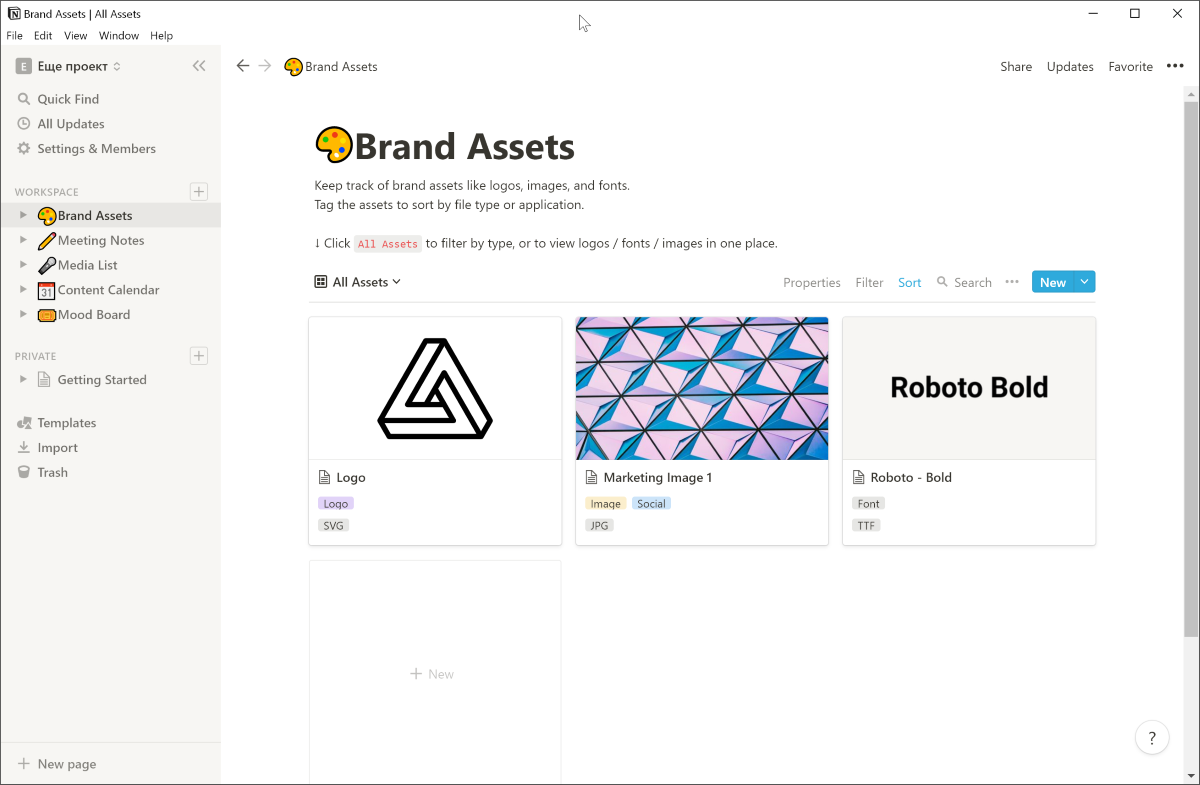 There are two types of access to notes in the free tariff. The first is Admin with full rights, the second is Member with read-only rights. For a thin differentiation of rights, you need a Team or Enterprise tariff.
In the space settings, you can enable integration with Google Drive, Evertnote, Trello and Asana. You can choose the method of receiving notifications: push on a smartphone or desktop, mail.
Editor Features
The Notion Editor is essentially a web page. That is, it can store any type of content in any structure. Therefore, here you are not creating notes, but pages. Pages can be added inside other pages.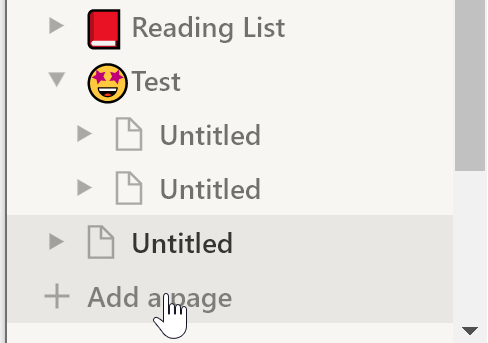 You can set a page name and select an icon. Icons can be selected from a predefined set or download any other.
The editor itself seems very simple. Even in the menu there are not many tools available: text style, size, location, adding to favorites, history.
By default, Notion offers to create a simple note, import data from another service, create one of the database types.
Notes have many options for editing them.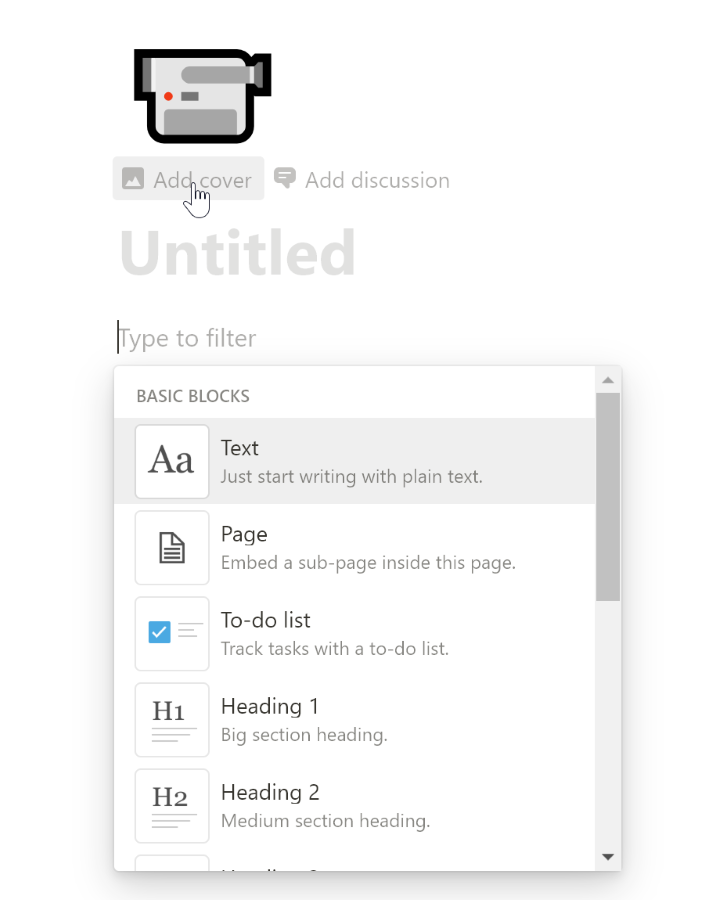 In addition to the name and icon, you can add a cover and even a discussion to the note. The cover image can be any image.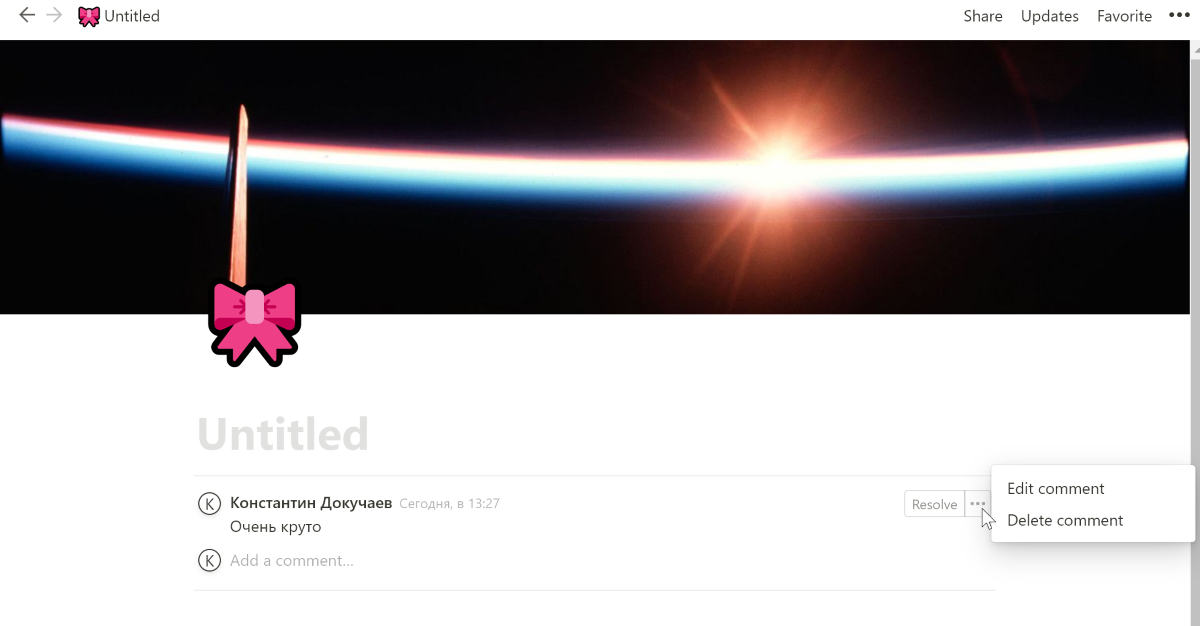 Comments can be marked as resolved. It is impossible to do any complicated manipulations with them. Maximum - mention another team member.
In the body of a note, you can add one of the types of formatted text through the "+" button or by typing "/". There are several options:
just text;
embed another page in the current page;
check list (to-do list);
headers
list;
numbered list;
a drop-down list;
delimiter;
link to another page;
callout (highlighted text);
mention another person or page;
date and time;
a table;
the calendar;
view from the database;
various types of media;
embed some data from the web;
buttons, headers, mathematical formulas and more.
Thanks to this set of tools, you can create almost any type of note. And from the notes, if desired, even create something like a site. Look, for example, at the "Help" section on the site , it is made entirely on Notion.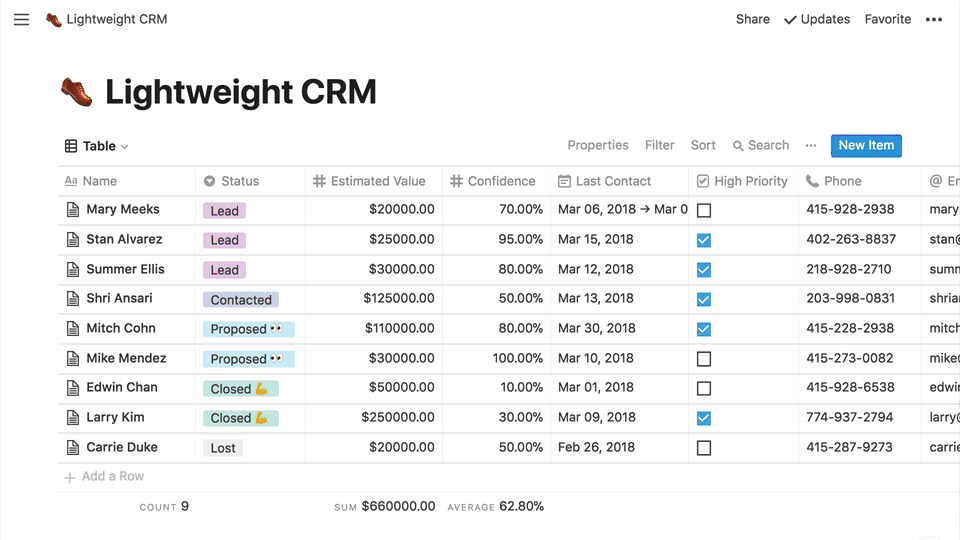 What's the coolest, all of these same features are available in mobile clients.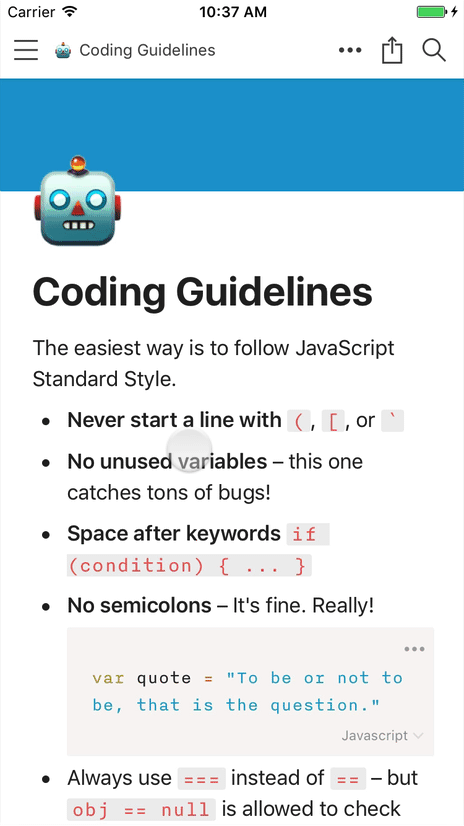 Web clipper
Either I'm not riding, or the skis do not work. Notion's web clipper is a useless thing that simply saves a list of links to the selected note.

Prices
The cost of the paid version of Notion for home use is $ 4 per month.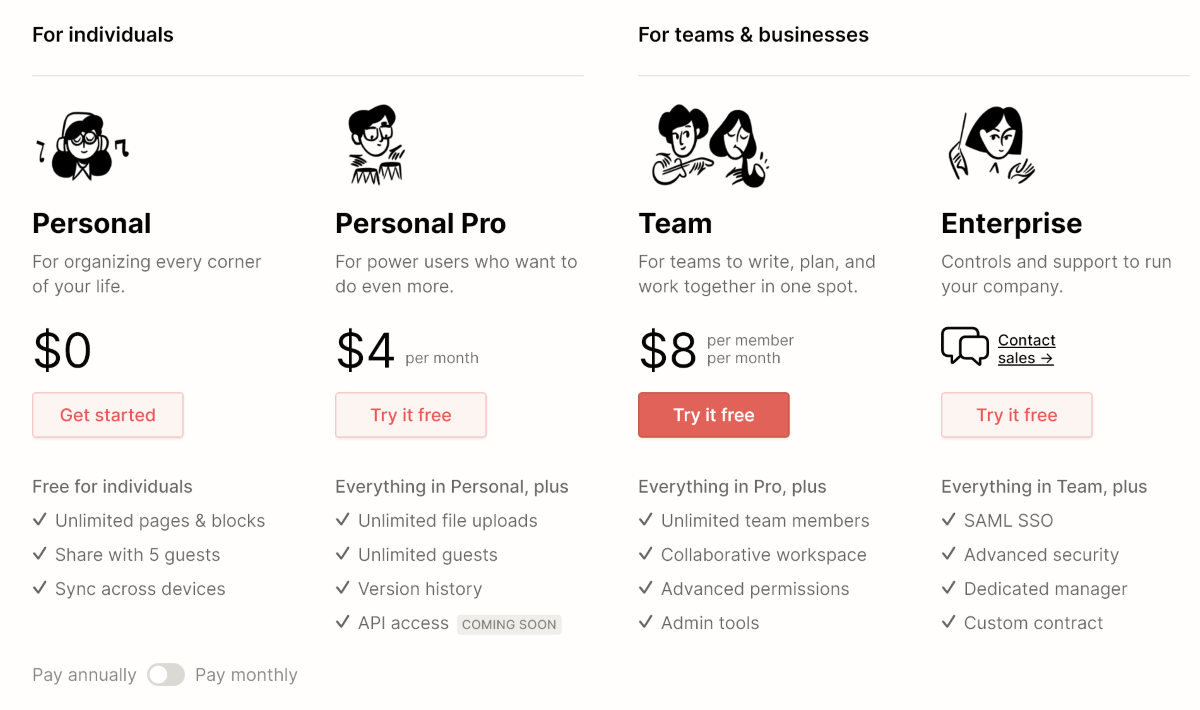 In the free version, you have no restrictions on pages and synchronization between devices. You can share data with five people. Of the important, it is worth noting the limitation of 5 MB for downloaded files.
There are no such restrictions in the paid version, but you can read about all the differences on this page .
---
I understand why everyone loves Notion so much. At one time, Evernote showed that it can store almost any type of data and quickly search for information.
Notion went even further in data types. Here you can store anything at all. Tables, calendars, generate view from databases, take data from external sources. Really cool stuff.
But still, in many ways, this service loses to Evernote. There is no web clipper, and handwriting searches on images do not work.
If you have never used Evernote or you lack the capabilities of notes in it, then Notion is indeed the very alternative. And with the new tariffs it's also free.
If you, like me, often use handwritten notes search and often work with scans and images, Evernote is your friend forever.