Review of Taskheat. Visual task manager
I love learning about various task managers. Unfortunately, in the end, they all offer more or less the same set of possibilities. But there are some that give you a fresh perspective on a boring to-do list. This application will be discussed in today's post.
What is Taskheat
Taskheat is a task manager for macOS and iOS that enables visual organization like mind maps.
When installed on a computer, the version for smartphones is installed automatically, which is good news. And task sync starts working automatically without any settings. Therefore, you can immediately go to the organization of your life.
How does it work
Unfortunately, Taskheat does not offer any demo project to quickly familiarize yourself with the application's capabilities. Therefore, you will have to enter everything yourself.
To get started, you can right-click anywhere in the application and choose to create a task, project, or tag. Naturally, the best place to start is with a project.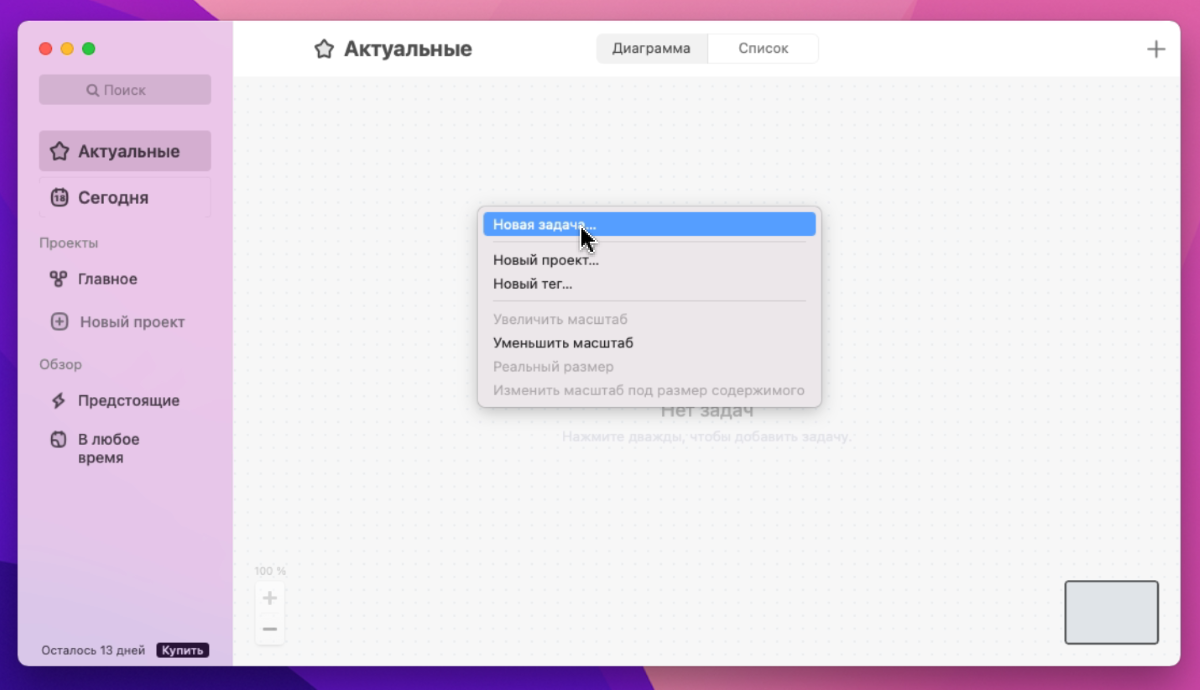 Thereafter, you can start creating case cards in the project. Each card can be assigned its color, title, description, tag, due date, frequency, location. You can also delegate the task.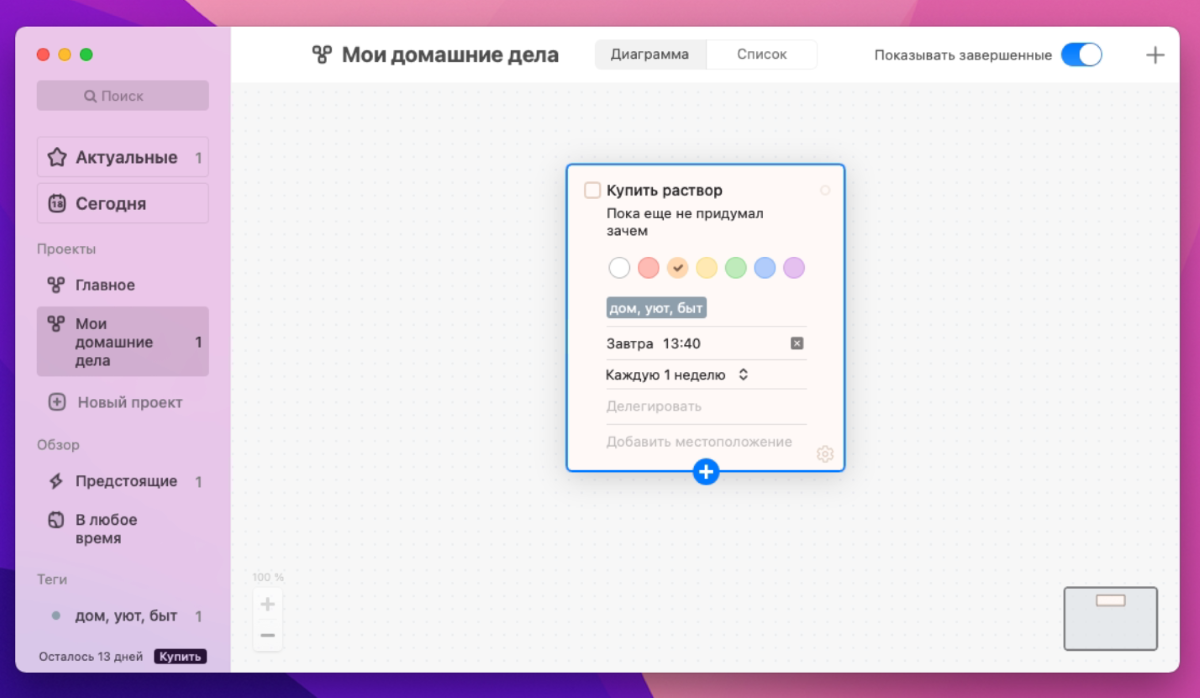 At this point, it becomes clear what is unusual about Taskheat. Here, you create not your usual to-do list, but a mental map of tasks. They can be linked together to ultimately get a visual representation of all the tasks to achieve the main goal of the project.
The visual display of the project can be selected in the form of a diagram or a list.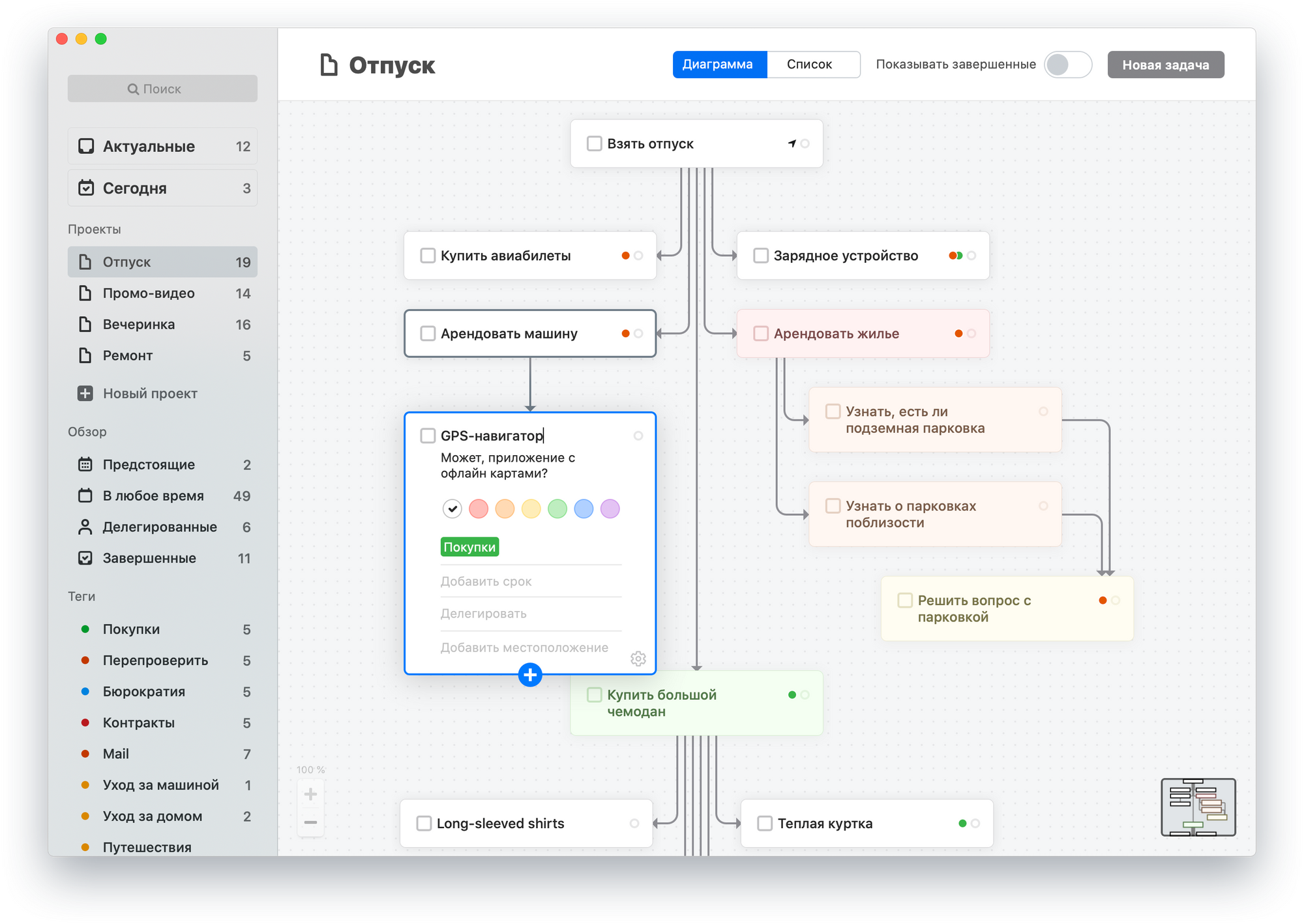 After successfully adding all projects and tasks to Taskheat, you can quickly switch between different filters for displaying tasks: view current tasks, tasks for today, upcoming or for any date, tasks by project or tag. Of course, nobody canceled the usual search.
Everything that you have done on one device is automatically synchronized with the rest. In my case, it's an iPhone.
While the desktop and mobile versions are no different in features, the iPhone version has a flaw. Viewing tasks in the form of diagrams is inconvenient: they simply do not fit on one screen. Naturally, there is no such problem on the iPad.
Price
You can try all the features of Taskheat for free for 14 days. Then you need to purchase a license. And this can be done in two ways.
If you have a Setapp subscription, then Taskheat is already available to you at no additional cost.
The AppStore version costs $9.99. The application does not provide for subscriptions, so the payment is one-time.
---
I cannot apply Taskheat for my tasks. Primarily because my main devices are Windows and Android. But in the case of the "apple kingdom", I simply would not be able to organize my affairs in the form of a mental map.
But for those of you who love this rendering mode, Taskheat can definitely do the trick. Using the application is as simple as possible. The design is minimalistic, with no unnecessary buttons or distractions. Plus – a one-time payment or the ability to use as part of a subscription to Setapp.
In general, I recommend paying attention to this application.