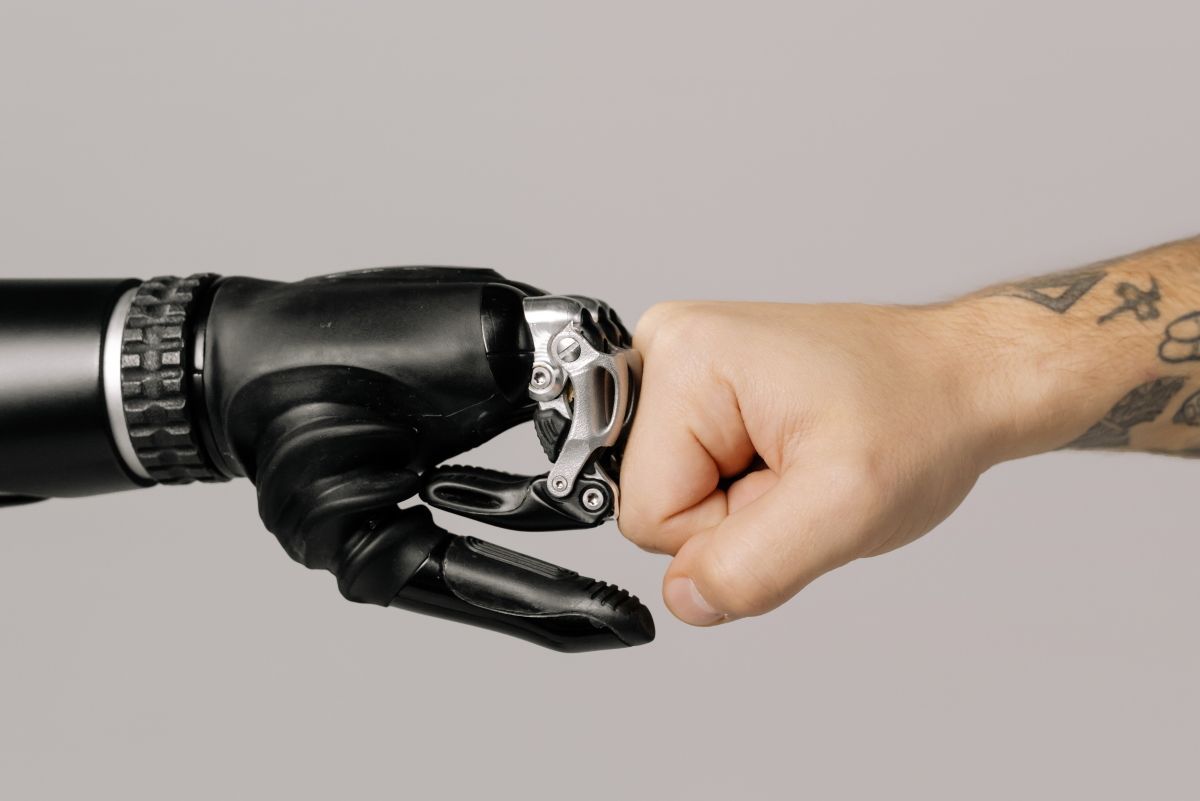 SnatchBot Review. Powerful platform for creating chatbots
Today, almost all calls and messages from users are primarily processed by chat bots or their analogues. Sometimes it's cool, for example, the Tinkoff bot answers the most florid questions for me without any problems. And sometimes it infuriates when you need to ask a question to the operator, and you are forced to press the menu buttons.
In any case, the end result depends on the specific implementation of the bot. And if you haven't found a solution to this issue yet, then this review may help you.
SnatchBot is an online constructor for creating complex chat bots with support for various channels (from website to email). There is also an open API for developers.
What are the advantages
The main advantage of this platform lies in supporting the entire life cycle of a bot, from creation and testing to hosting and publishing. Any of the created bots can be either completely autonomous or with support for a chat with a person. Well, or you can cheat NLP, machine learning and voice recognition.
In addition, flexible administration of access rights to the bot and corporate-level security are provided.
If you do not want to create a bot from scratch, you can use a template store and create a bot yourself based on them.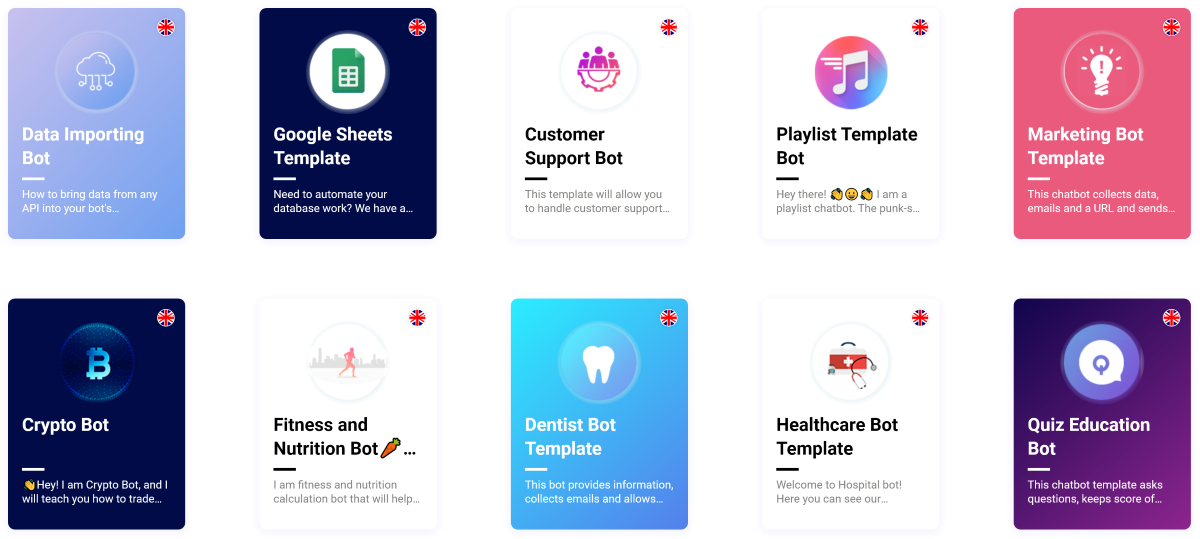 SnatchBot has hundreds of features ranging from basic to the most incredible and advanced. Therefore, below I will try to tell you about the most interesting of them.
Bot shop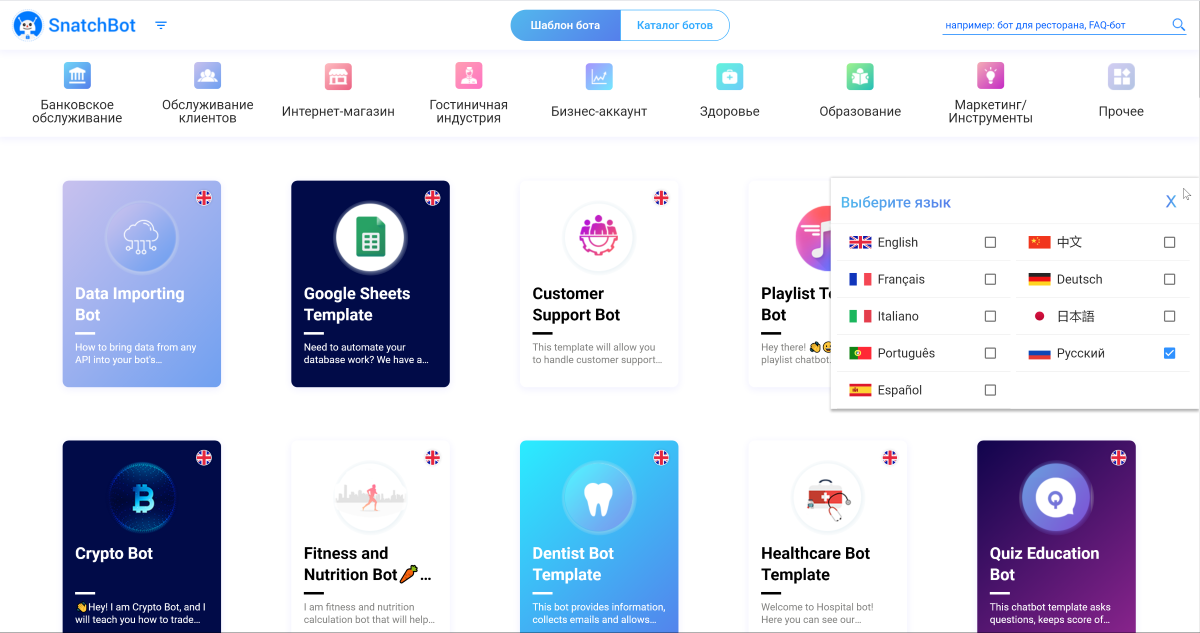 SnatchBot has a store (although everything inside is free) of templates and ready-made bots. The catalog includes several dozen different bots, and in order not to get confused in them, there is a convenient search, division into categories and a choice of the bot language.
Before using a template or bot, you can watch its demo. In such a demo, you can view brief information on the bot, as well as a list of channels where you can add it.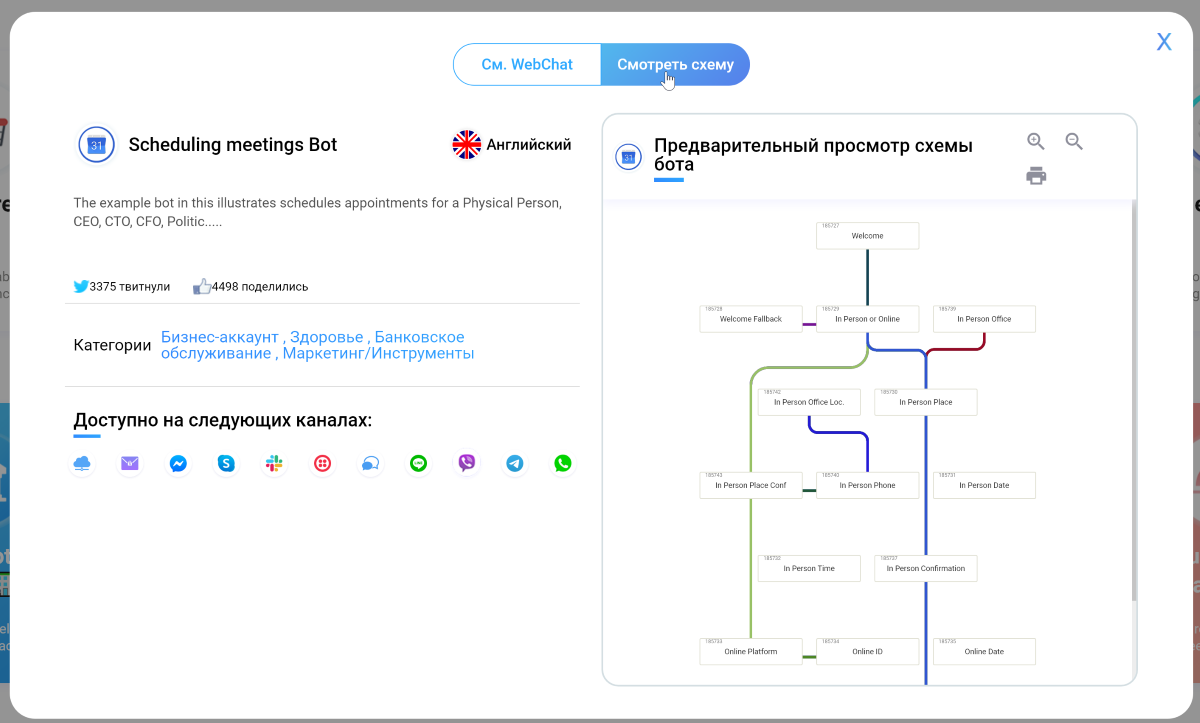 The demo is also divided into two tabs. In the first one, you can just chat with the bot and check its work. In the second, you can view a detailed diagram of the bot's work and see if it can integrate into current business processes.
If everything is OK, then you can go straight to editing the bot. Thanks to this, it will be added to the editor in your personal account.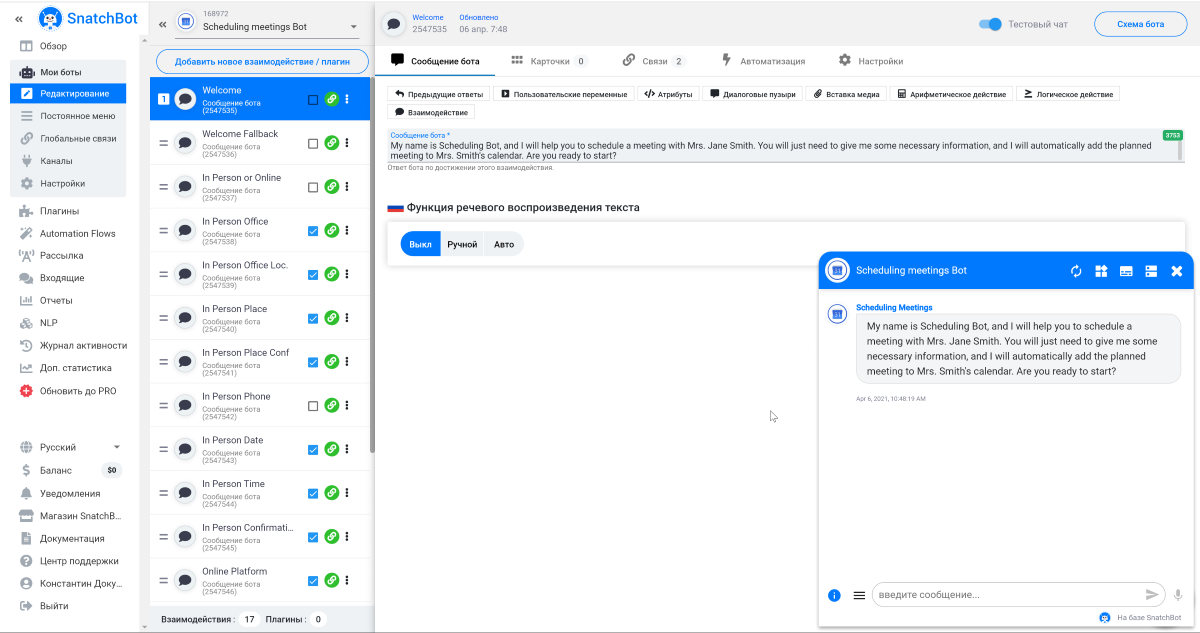 Bot editor
At first glance, editing a bot is scary, and you want to immediately close the tab and work in the old fashioned way. In order to figure everything out, you will need to study the help section, having spent, perhaps, more than one day.
Since the set of features may differ for different bots, I will go through the main ones.
There are four options available in bot management: Editing, Persistent Menu, Channels and Settings. It is the first point that is needed to configure the bot's actions. And the editor itself is very similar to mail clients.

Interactions or plugins are added on the left side of the editor. The list of interactions consists of 12 options. For example, a bot phrase, extract an email address, link or phone number, and much more.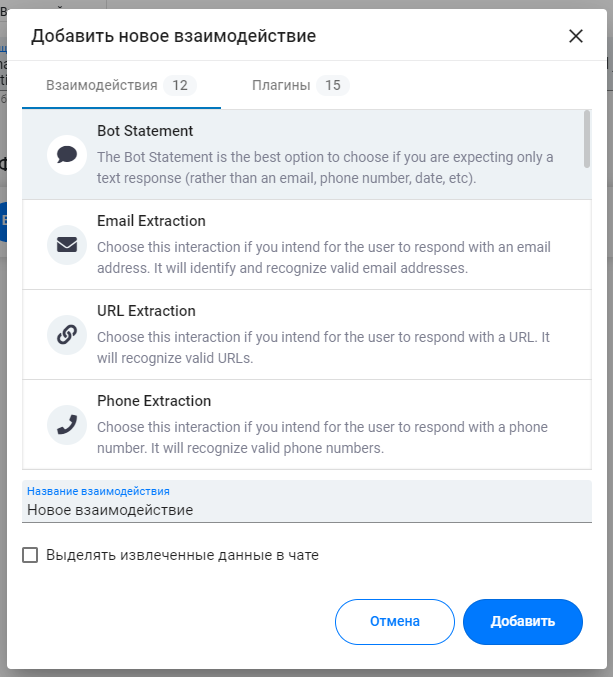 Plugins are a kind of connectors to the outside world. For example, you can integrate an eBay product search or make an appointment with Google Calendar. There are 15 different plugins to choose from.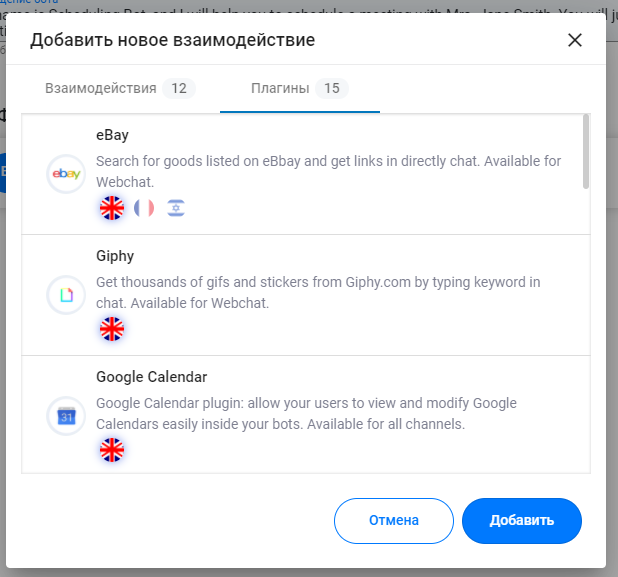 I suspect that the number of actions and plugins depends on the type of bot being created.
When you click on the added interaction, you can edit it. Again, this can change for another type of bot.
You can add a message from the bot with support for various variables, including custom ones. You can change attributes, add media, perform logical and arithmetic operations, and much more.

Additionally, you can create cards, set up various connections between interactions and automate the whole thing.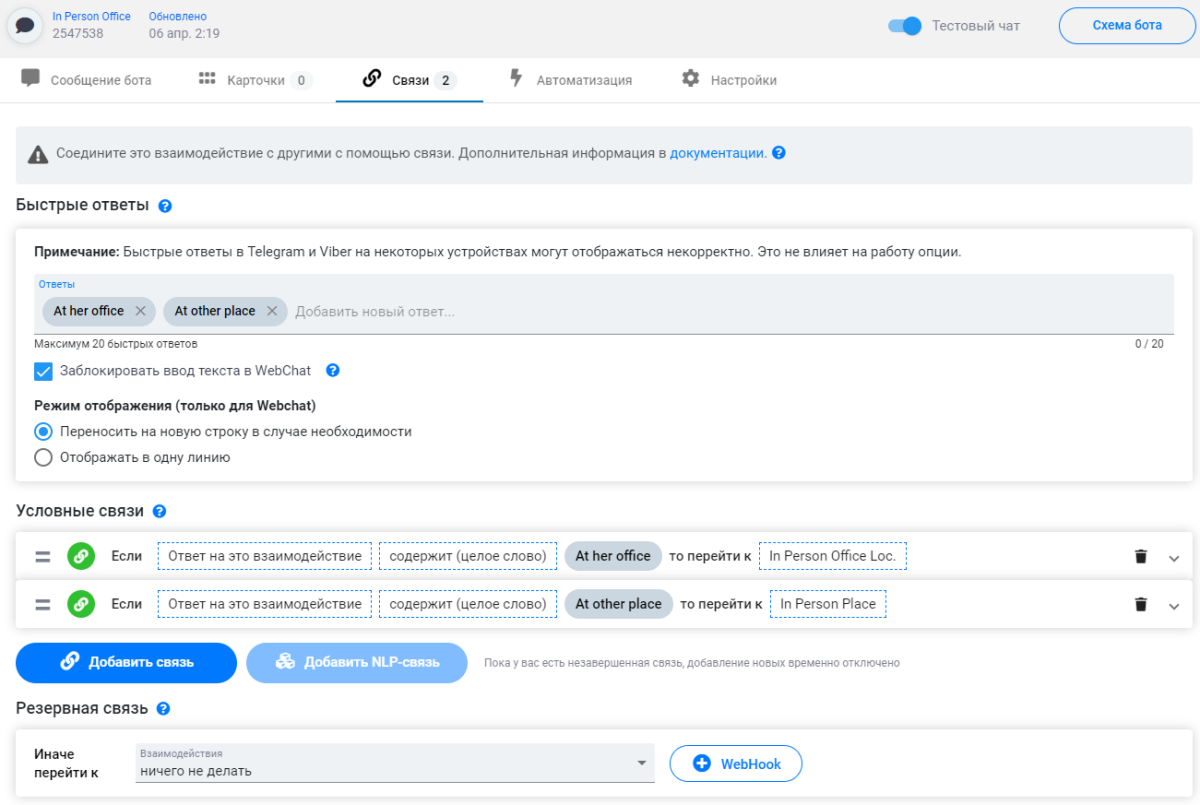 The Persistent menu item simply allows you to edit the menu items available to the user when communicating with the bot. But the Global connections item allows you to ignore the current settings of the bot and switch to a new global thread of the dialogue. And here you can add a link to your own NLP model for natural speech processing or voice recognition.

The Channels section is responsible, let's say, for the sources from which the bot will interact with the client. That is, you can add a bot not only to your site, but integrate it into one of such sources. In this case, the client can, for example, send you a message in Viber or by mail, and the request will be processed by the bot.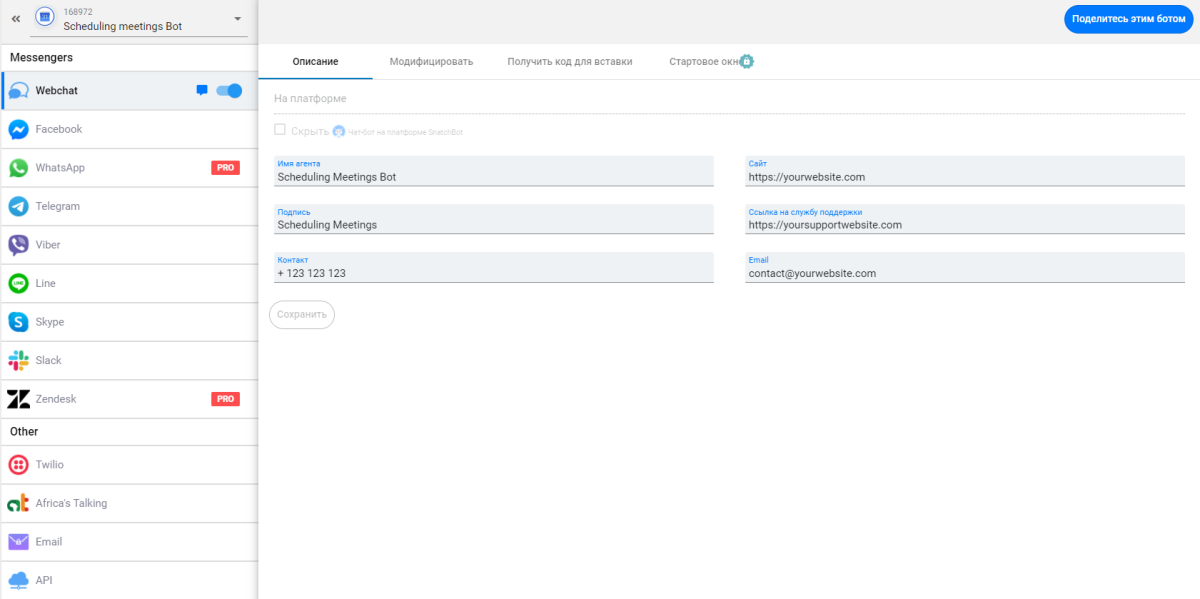 Sources include Webchat, Facebook, WhatsApp, Telegram, Viber, Line, Skype, Slack, Zendesk, Twilio, Africa's Talking, and mail. If this is not enough for you, then you can always configure API integration with any service you need.
Automation Flows
AutomationFlows is a kind of analogue of the Zapier and IFTTT we are used to. Here, in the same way, you can configure interaction with various online services to automate actions between them.
Newsletter
In this section, you can create mailings for users of your bots. You can choose exactly who needs to send the message and at what time.
Inbox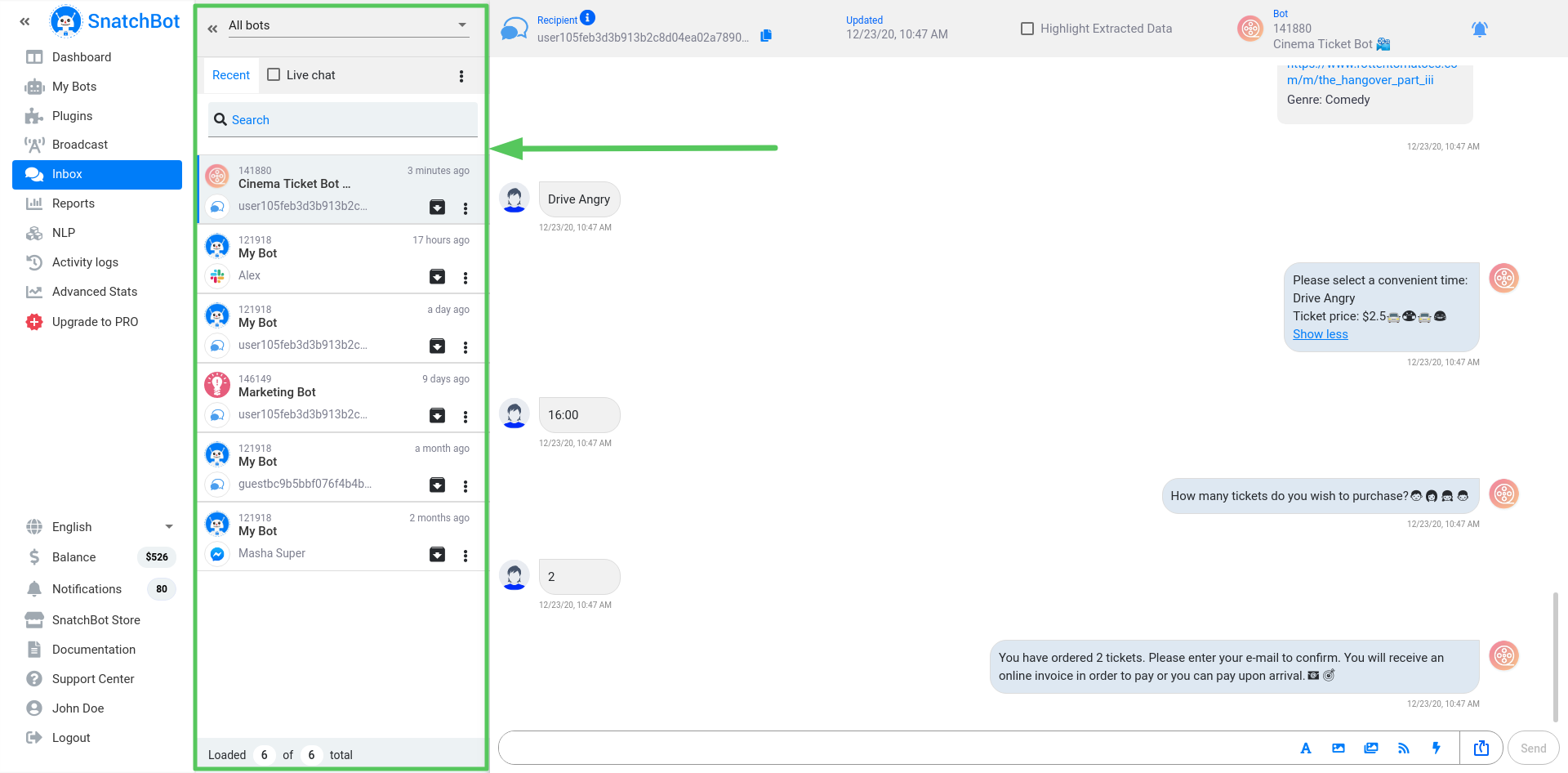 This is a built-in messenger that displays the entire history of your bot's correspondence with the client. Including in real time.
All conversations can be archived, deleted and exported.
Reports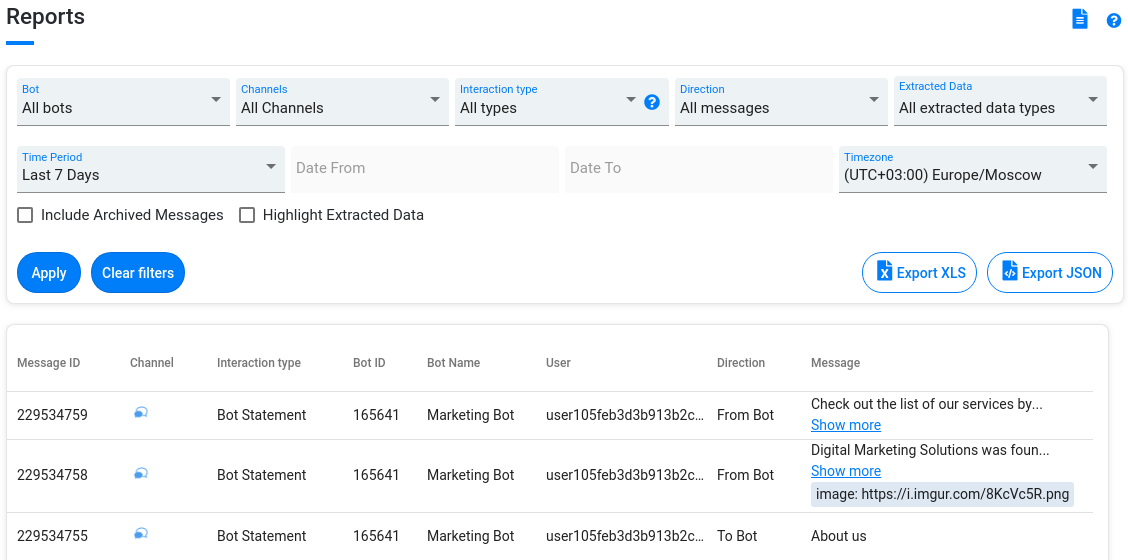 As the name implies, reports on each received and sent message, including archived ones, are stored here. Using filters, you can collect all messages from a specific channel for the required period and upload a copy of them for analysis.
Tariffs
SnatchBot has a free plan with a basic set of features: bulk mailing, NLP, text-to-speech and vice versa, dialogue export, reporting, channels and store.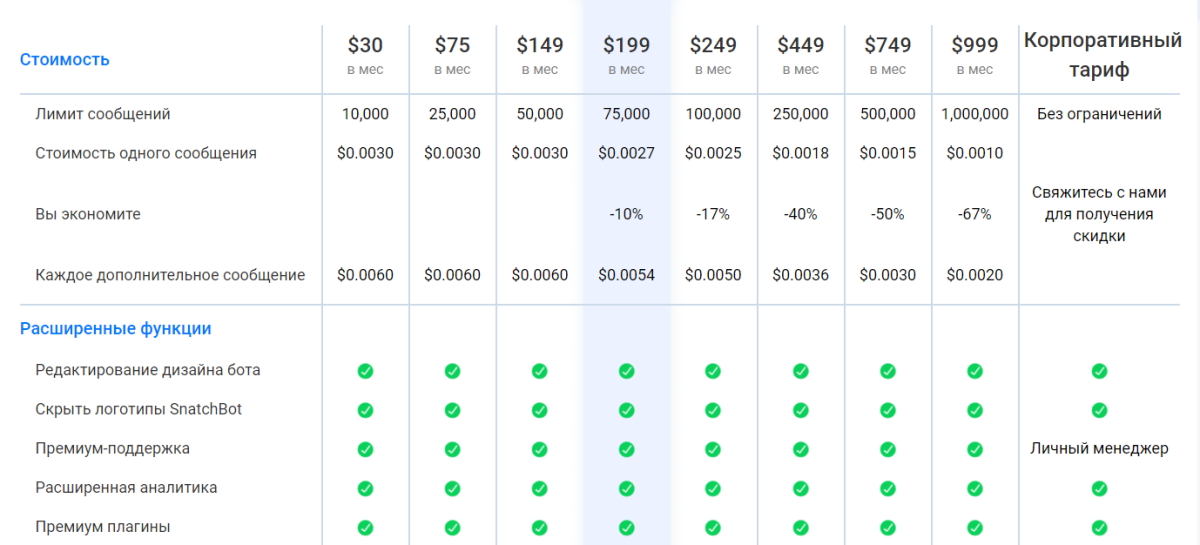 The paid version from $ 30 per month adds a lot of features and integrations.
---
Of course, I talked very superficially about SnatchBot, and first of all I recommend that you familiarize yourself with all the platform's capabilities on your own. Fortunately, there is a free plan.
If you have a desire to figure it out, then here you can definitely make the bot of your dreams for any platform by automating communication with customers. But this will definitely take time and resources.