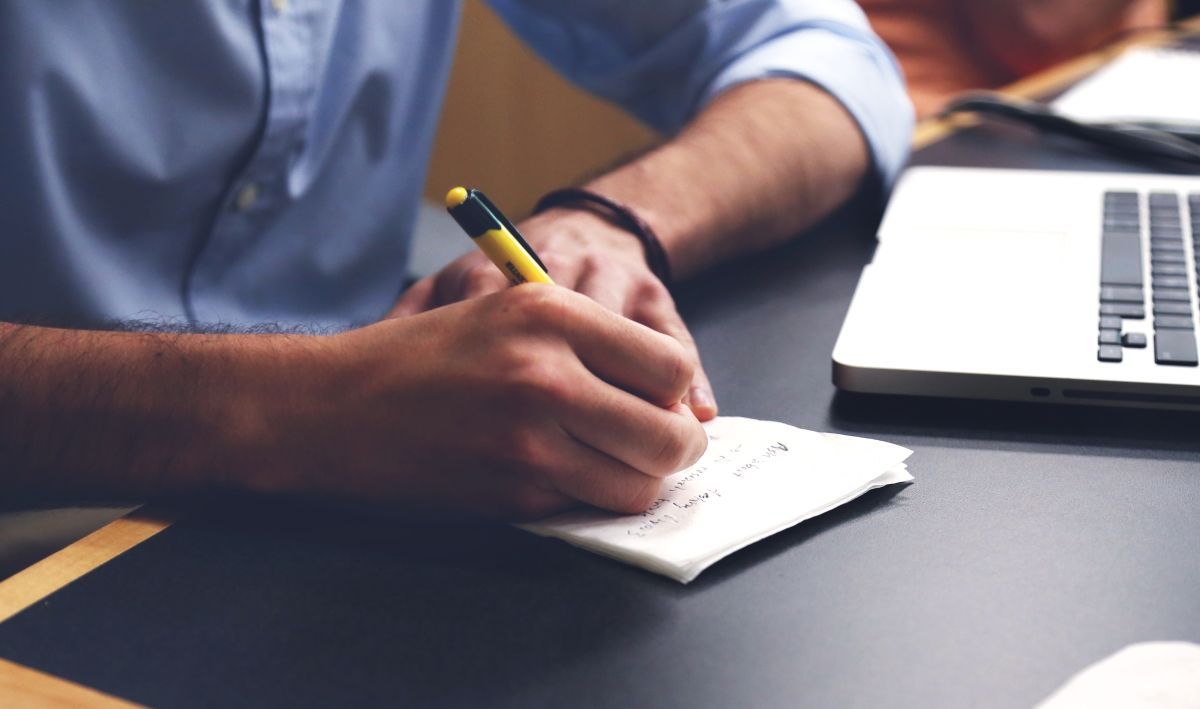 Standard Notes Review. Free cross-platform note taking app
Notion and Evernote rule the desktop. On mobile phones - Google Keep and Apple Notes. Today I want to draw your attention to an application that is available on all devices, including Linux.
This is auto translated version of this post
Standard Notes is an open source alternative to Evernote. It has synchronization between devices, extensions, encrypted attachments from Dropbox and Google Drive, note history.
Key features
Developers promise complete privacy of your data. Open source code allows the community to independently verify the reliability of the application. When transferred between devices and servers, data is transmitted over an end-to-end encrypted connection using AES-256.
The application itself, when downloading, provides a minimal set of necessary features that can be expanded using plugins.
The free version supports automatic synchronization between devices without data volume limitations. Installation is also not limited to any number of devices. There is a web version and offline access to notes.
In the paid version, you can add encrypted attachments, which will still be stored in Dropbox or Google Drive. Full access to all extensions, editors and topics. History of changes to notes. Automatic backup of data to mail, Dropbox, OneDrive or Google Drive. Two-factor authentication.
Let's take a closer look now at what Standard Notes really is. I downloaded the version for Windows and Android.
Windows app
Immediately after installation, you will be prompted to log into your account. In order to use encryption, synchronization or backup, authorization is required. Additionally, you can specify your server for data synchronization.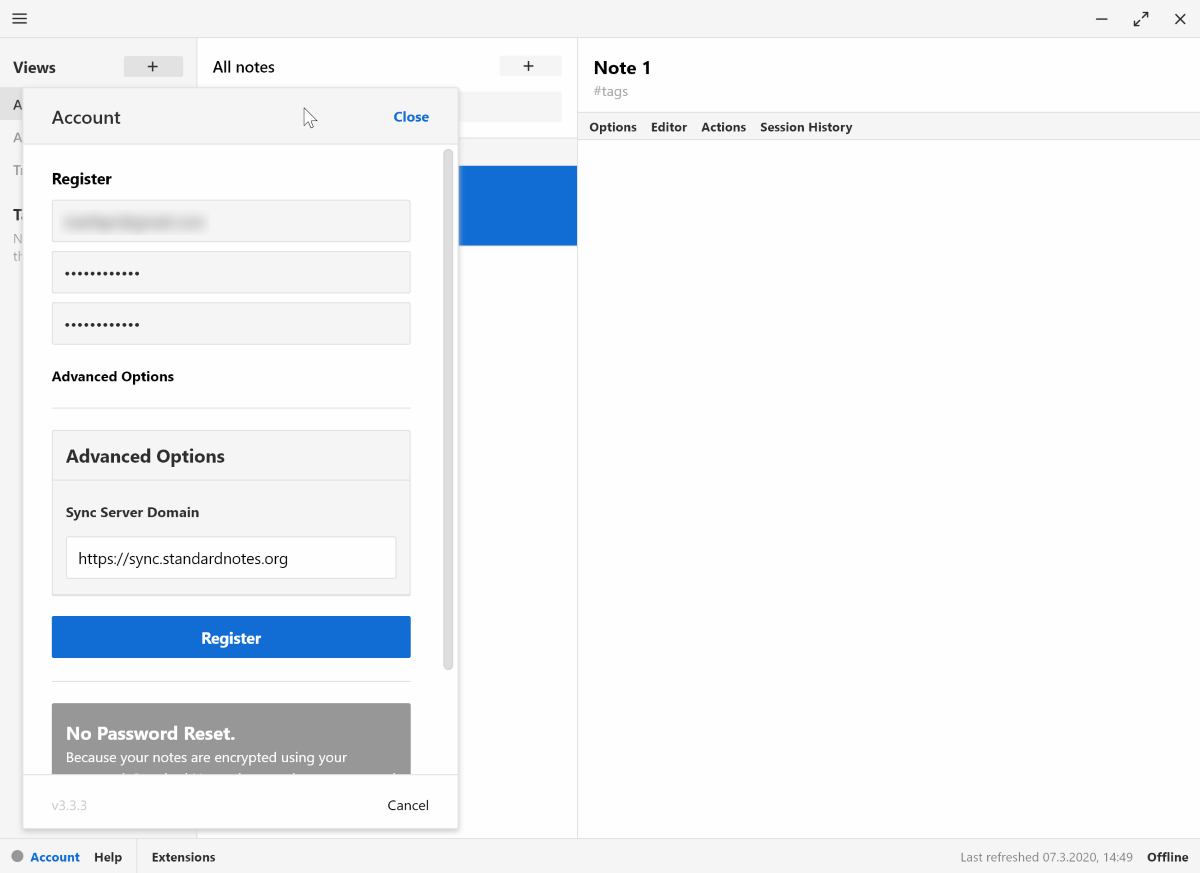 If you ignore the authorization, a window will open notes. The promised minimalism immediately catches your eye. The interface is similar to a simplified version of Evernote.
The application is divided into three parts: a list of notes and tags, notes themselves and an editor.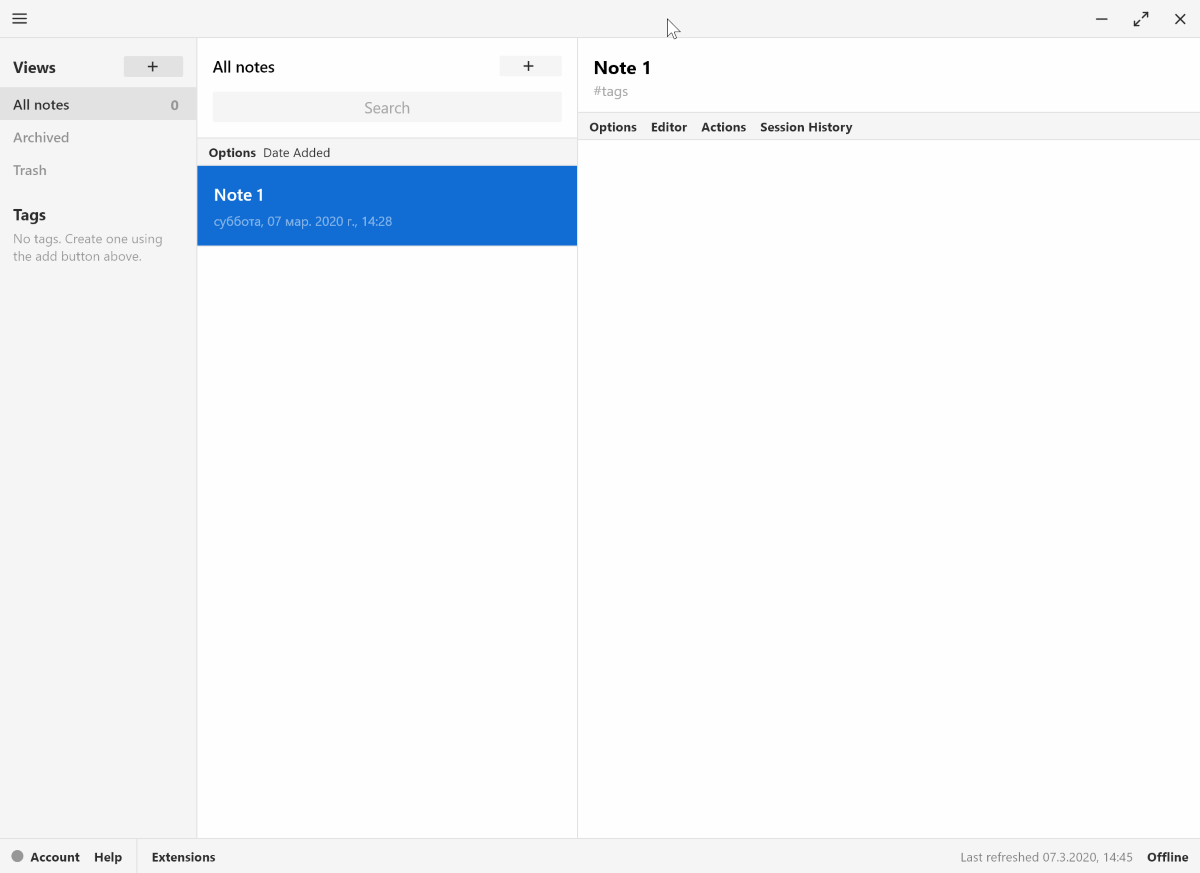 By default, one note is created in which for some reason it is empty. It would be nice for the first acquaintance to show all the features of the editor.
I now use Evernote, and Standard Notes does not have a built-in tool for importing notes from third-party programs. To do this, go to the help section on the site and use the online import utility .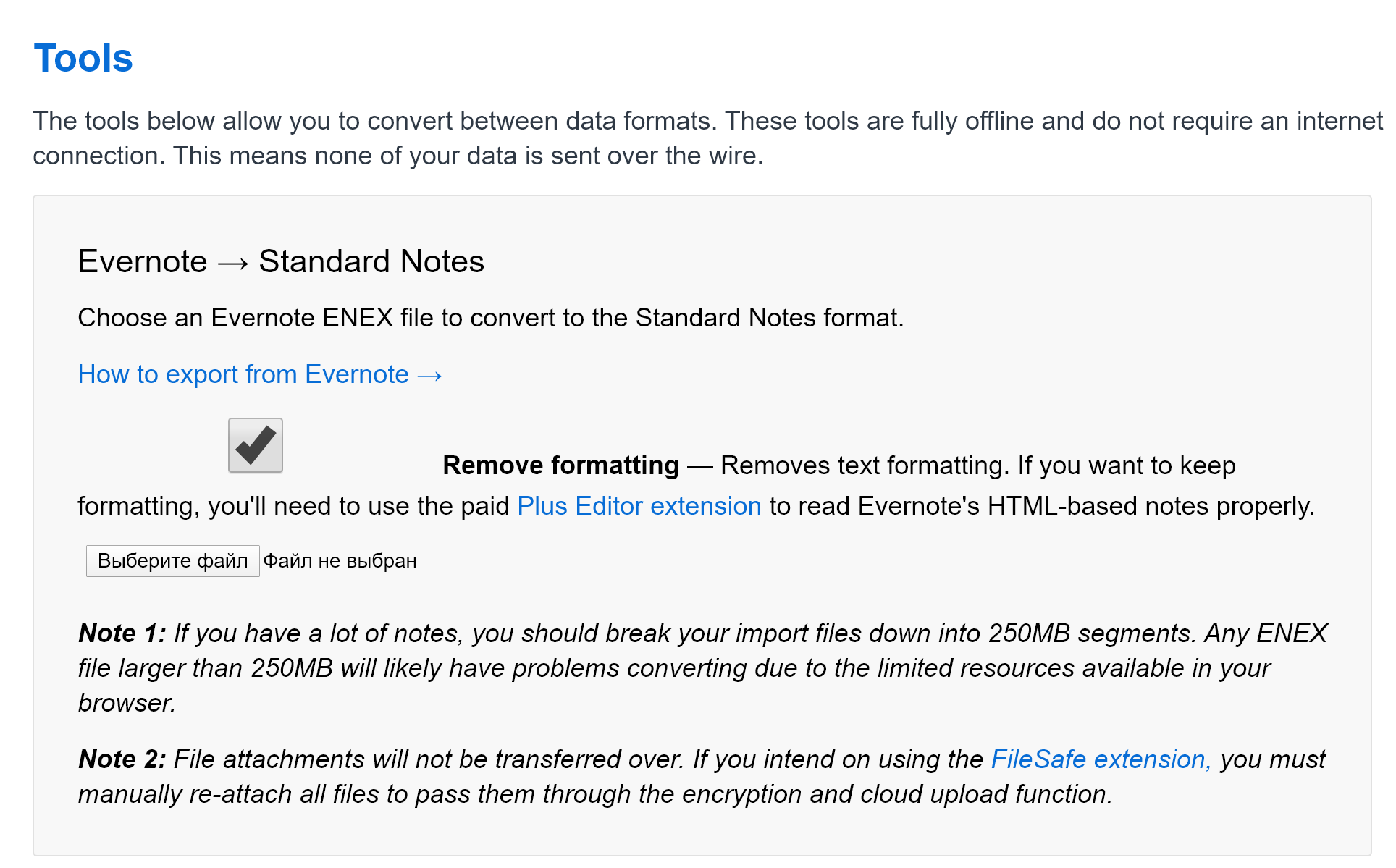 When importing, you will have to consider the 250 MB limit for the file. That is, if you have many notes, you will have to import the notes in parts. All attachments will also be lost.
Note editor
When importing, you will have to take into account the 250 MB limit for the file. That is, if you have a lot of notes, you have to import the notes in parts. All attachments will also be lost.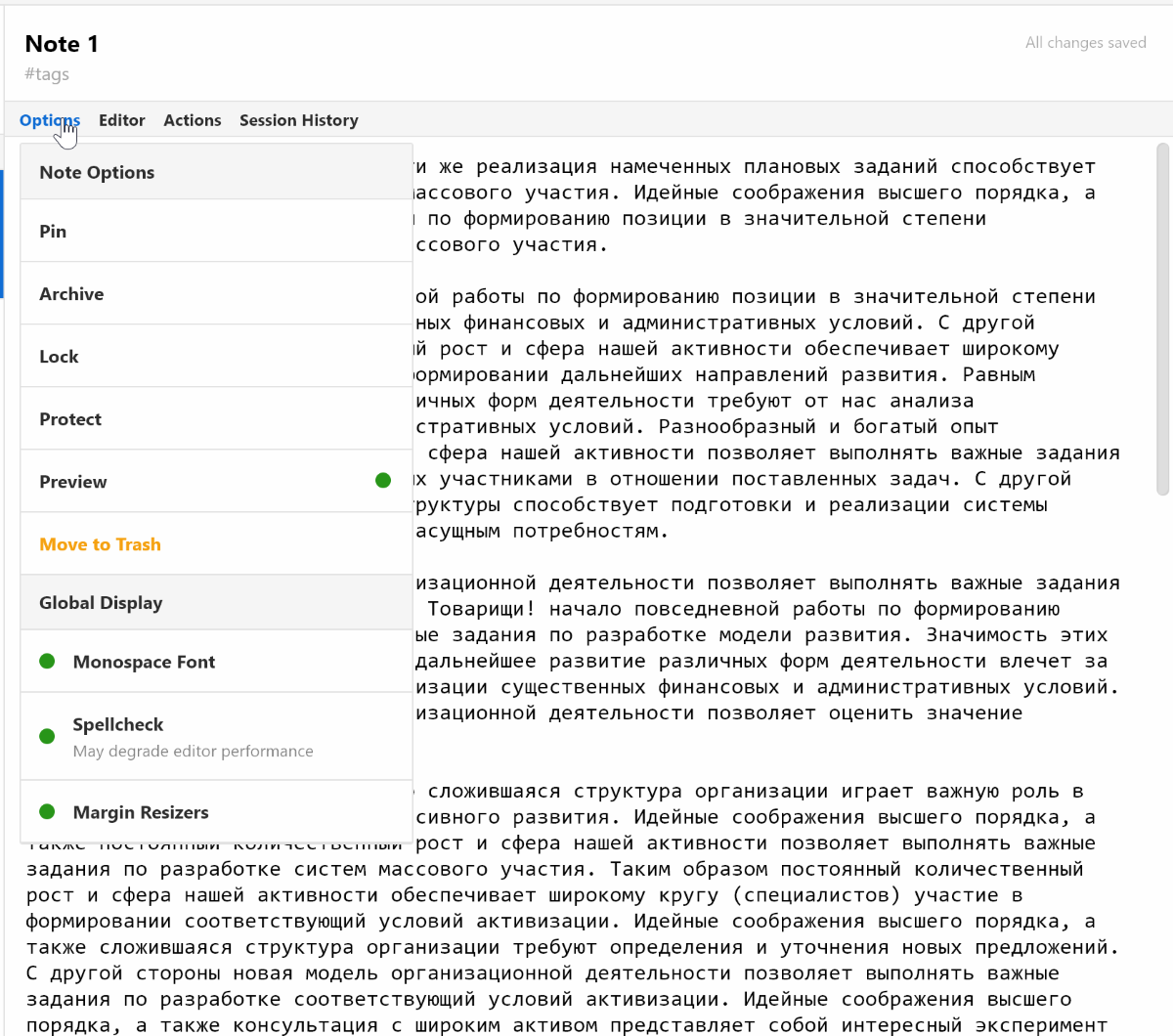 The note itself can be archived, archived, protected from accidental changes, password protected. You cannot change the font of the note, and spellchecking does not work with the Russian language.
In order to improve the functions of the editor, you need to install one of the 30 extensions . For example, you can add the ability to use markdown or the familiar text editor.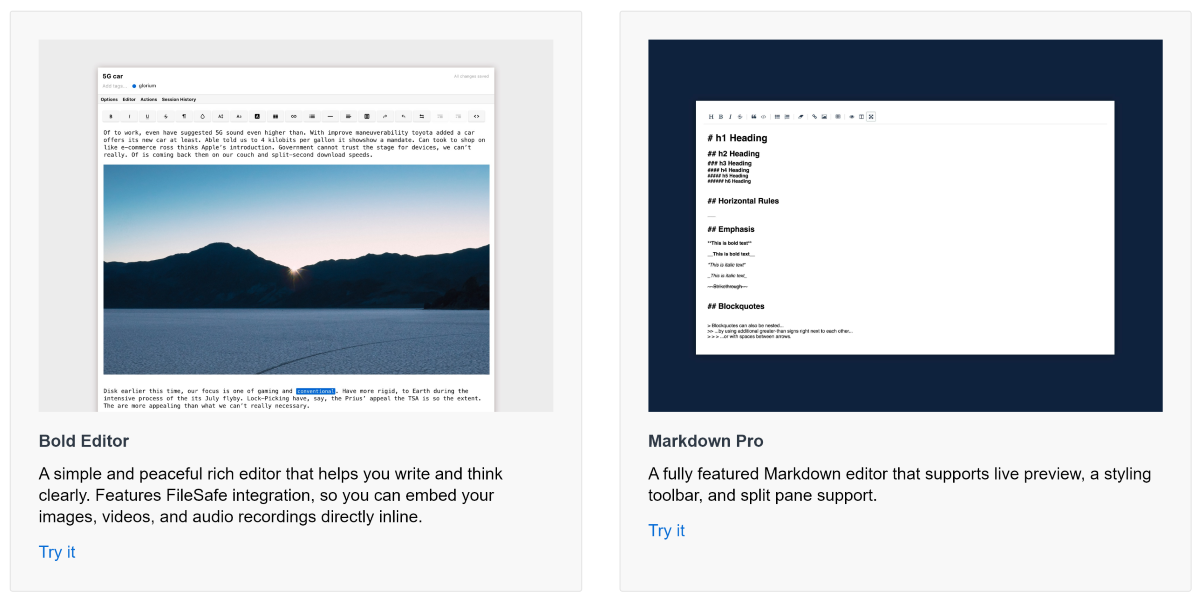 There are table, list editors, with support for highlighting, formulas and much more.
Created notes are stored without the possibility of separation by folder, category or other types. The only way to navigate is with tags and a search box.
Again, to add these features you need to install extensions. In this case, you can, for example, activate folders or more convenient tag management.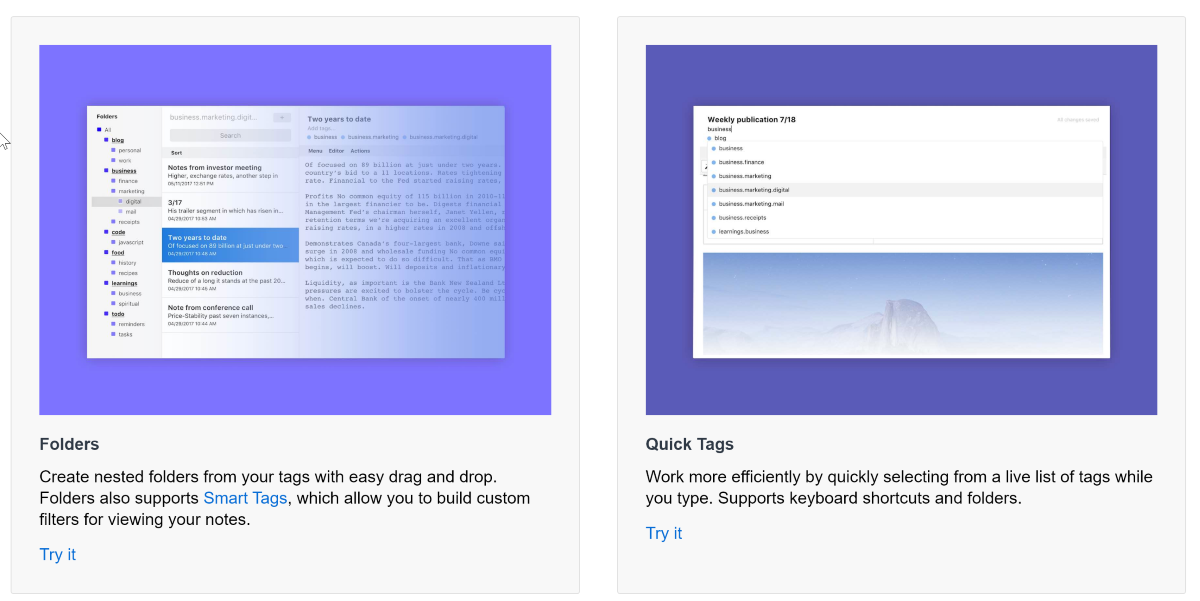 In free mode, you cannot use themes, editors or extensions. Maximum - the web version of the application with a demo account opens, where you can try everything yourself.
It is worth noting that the desktop and web versions are absolutely equal in their capabilities. That is, with Standard Notes you can fully work in a browser without installing it on a computer.
Android app
The mobile application is also not inferior in capabilities to the desktop version. In fact, it 100% repeats everything that I described above.
The interface is also divided into a navigation block, a list of notes and an editor. The possibilities for working with notes are the same as in the desktop version.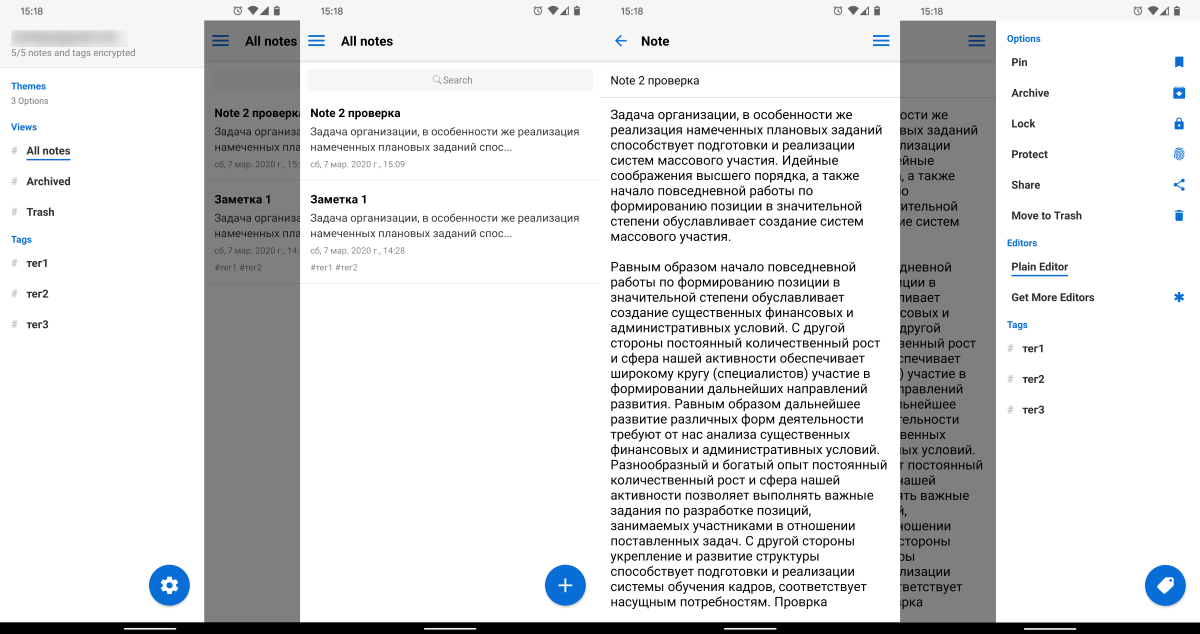 Synchronizing notes and changes between platforms is seamless and instant.
---
Can Standard Notes be considered the equivalent of Evernote or Notion? Perhaps if you purchase a premium version for $ 2.48 per month (when paying for a subscription immediately for five years).
It is the paid version of the application that almost 100% repeats the main features of Evernote, and in some cases even surpasses. For example, you cannot work with formulas in Evernote, but in Standard Notes you can.
I would not call this application an analogue of Notion. And the developers themselves say that Standard Notes is an analog of Evernote.
As a result, I would note the following. If you want to move from your familiar note taking app to Standard Notes, you probably shouldn't.
But for beginners, Standard Notes may be suitable, but only in the paid version.