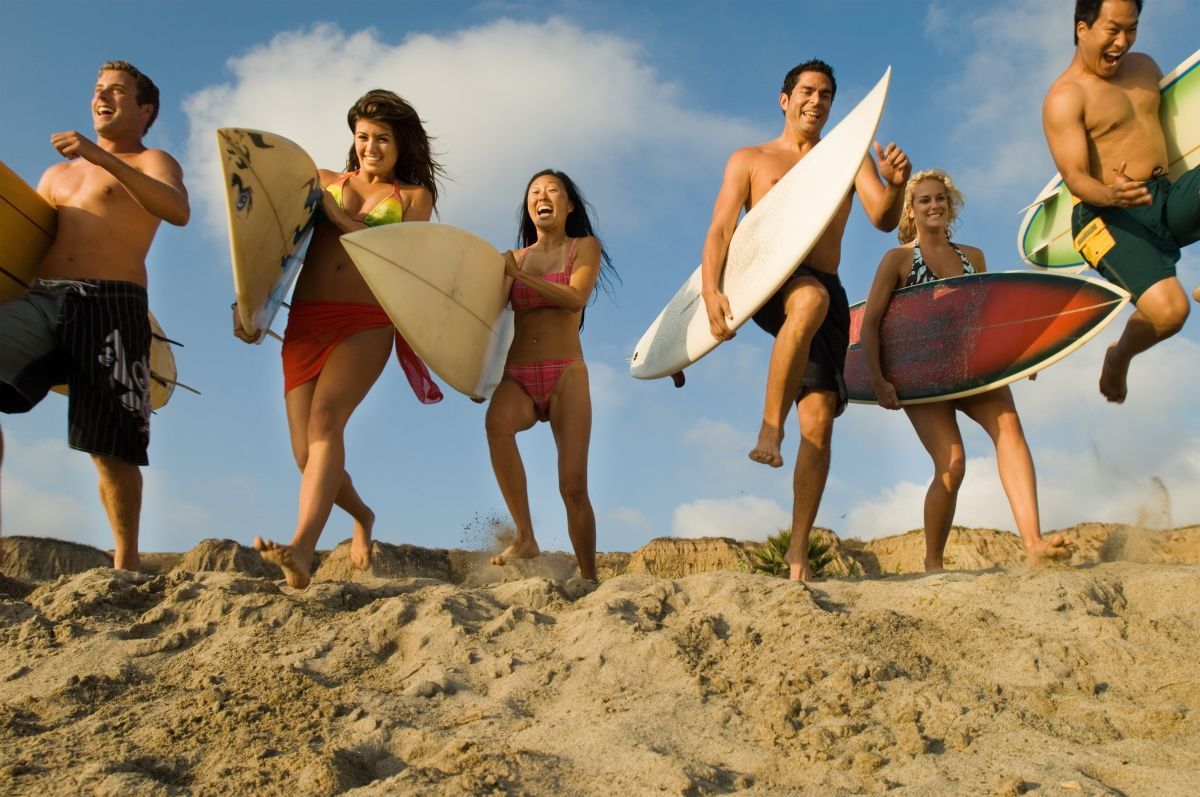 These apps for Android will help you automate all
Android is open platform and developers can create apps with features you can't find in any other mobile OS. For every task on your phone you can have an app. This time I will talk about several apps to automate actions on your smartphone.
Tasker
Of course, I should start with Tasker. Tasker is one of the most powerful, advanced and popular programs in this category.
With its help it is possible to automate sensors of the smartphone, add custom scripts and many other tasks. You can manage smart devices in the home. Here is just a small list of examples of such problems:
Lock apps;
Managing your smartphone's settings depending on the conditions;
Reading the message out loud;
Auto-start apps when connected to external devices;
Management of sound profiles, and phone calls.
In addition, the program can be expanded by using a huge set of plugins. The only downside — Tasker is worth as much as $1,5 😳.
AutomateIt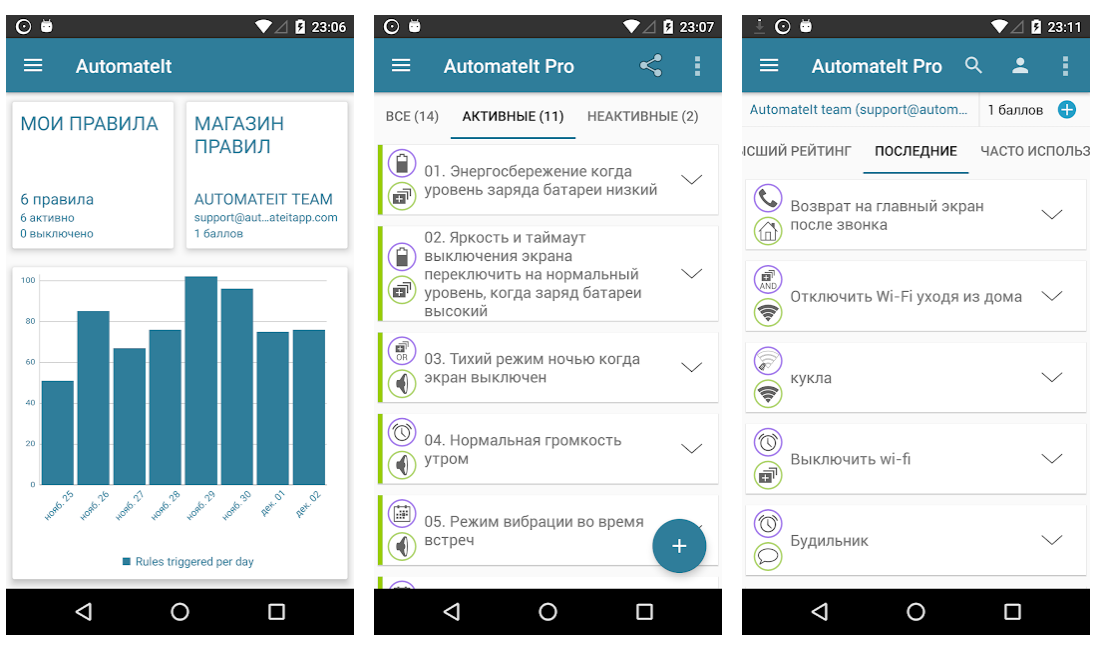 AutomateIt I would recommend to those who wants to have all the power of Tasker, but doesn't want to deal with complicated settings. AutomateIt, as its competitor, supports custom plugins and can manage the settings of the smartphone in certain scenarios.
I prefer this program to other alternatives. Simple and clear setup of scenarios and a variety of operating parameters.
The program itself is free, but for premade rules you will have to pay. If you are too lazy to configure them.
Automate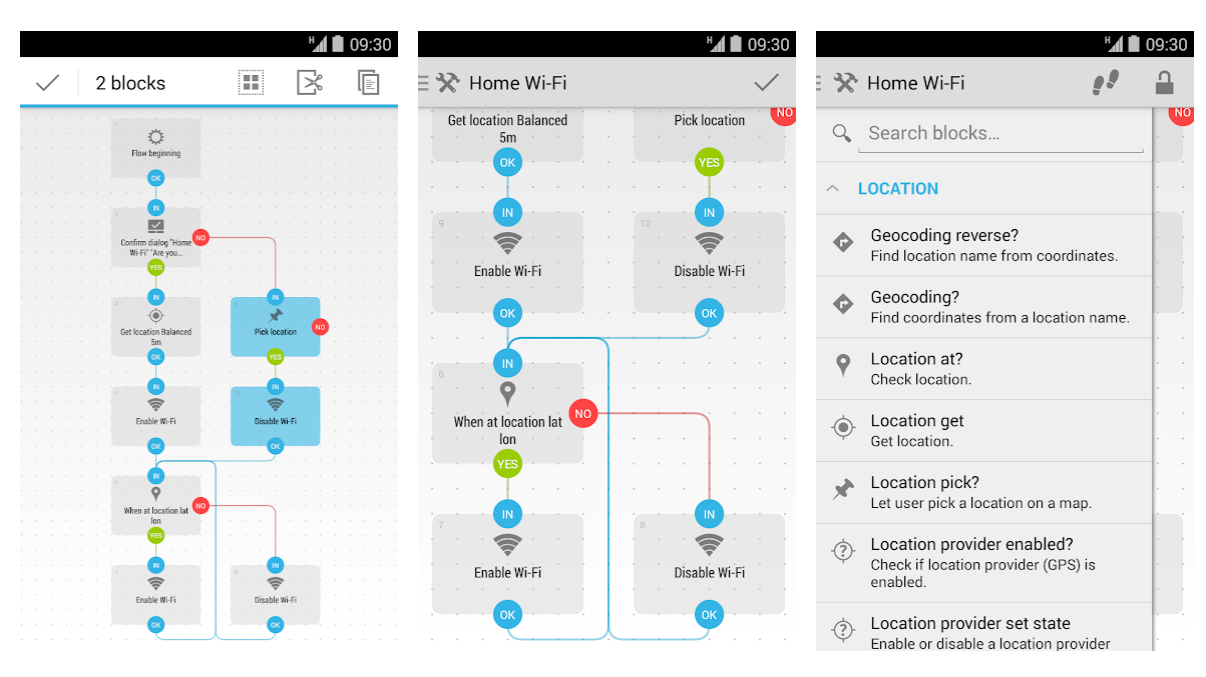 Automate — a good alternative to the programs above. Its main peculiarity lies in the fact that the rules are configured in the form of a diagram. This visual representation can be for someone more straightforward. Thus, for each block of the chart, you can set up multiple branches and merge the various steps depending on conditions.
The program is still free and supported plugins from Tasker and Locale.
Droid Automation
Droid Automation comes in two versions: Pro for $3, and free. The free version can not work with root device.
There are no special features in this app. You can create different automation scripts, to manage the sensors and software. But all the scenarios is divided into sections, and not lumped together. Profiles may be activated automatically or by using widgets on the home screen.
Root-boys will have scenarios, including actions for rooted smartphones.
MacroDroid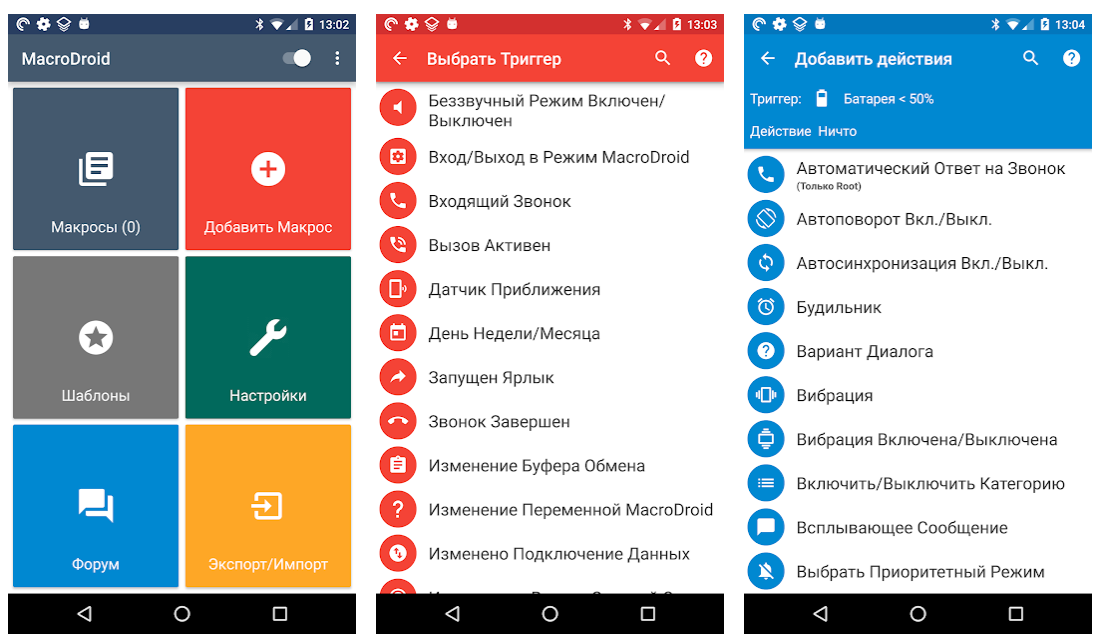 MacroDroid is probably the most user-friendly program of all. Beautiful and intuitive interface helps you quickly configure scenarios with a special wizard that guides you through the steps.
In addition, for the popular scenarios the program immediately provides templates. Advanced users can extend the capabilities of MacroDroid with plugins and scenarios like IF, THEN, OR and others.
Automagic * Automation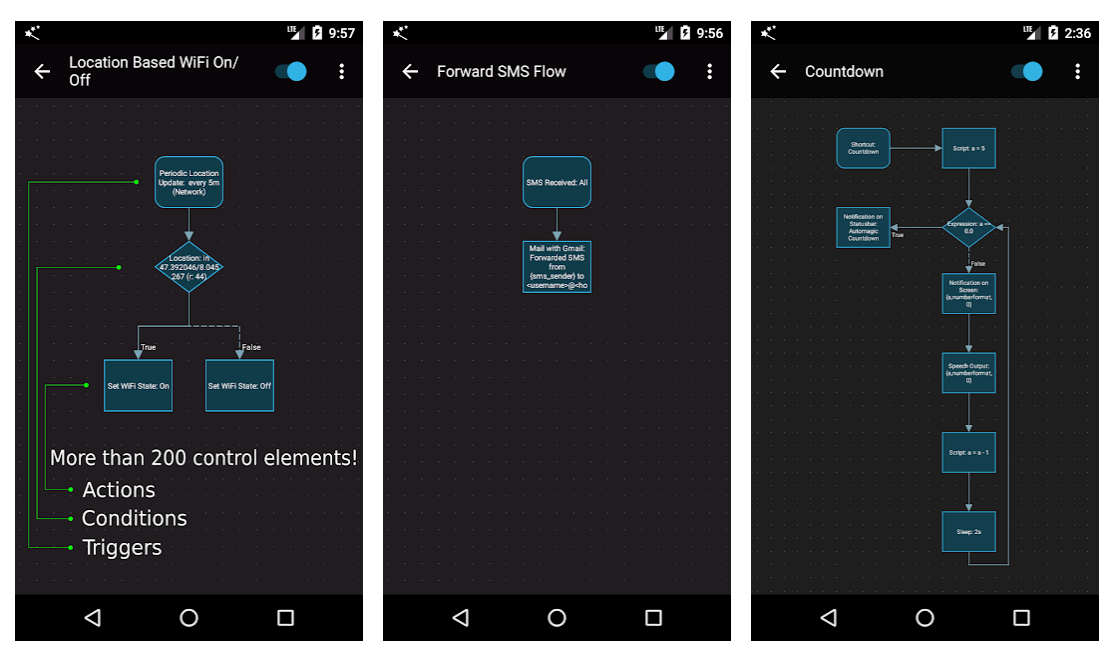 Looking for an alternative to Automate? Automagic * Automation — the alternative for $1,8. And there's nothing to say more. You can set up scenarios that specify conditions and actions. All this is presented in the form of diagrams with branches.
Contextual App Folder (C. A. F.)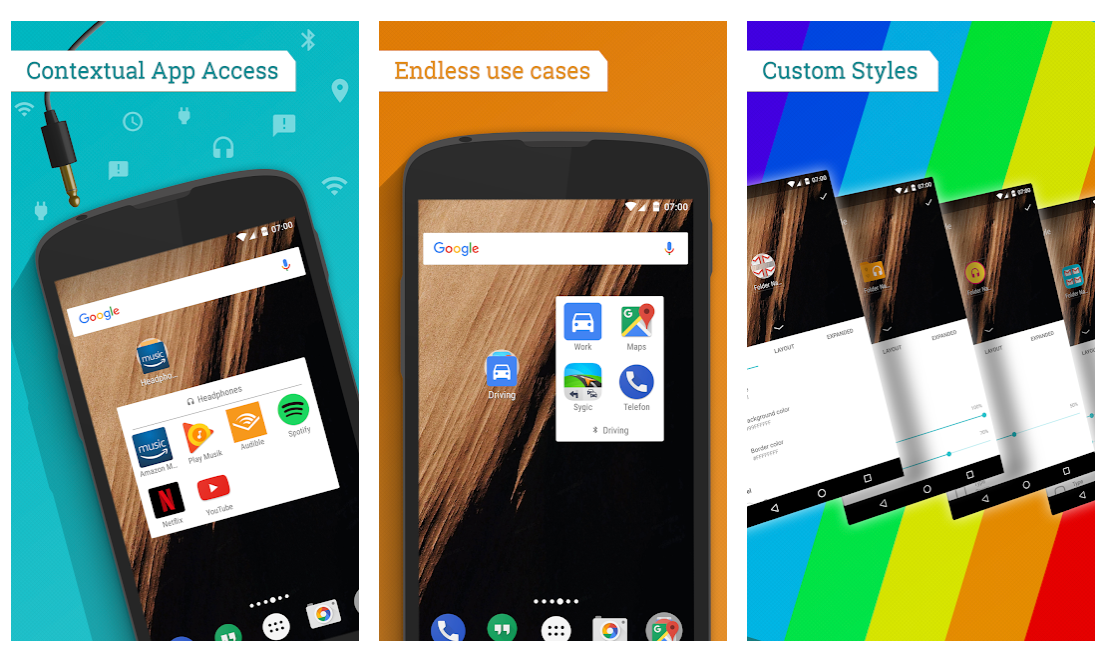 C. A. F. is not a program to automate actions and the operation of the device. This application operates with context-dependent folders and apps.
During initial setup you specify all (desired) applications on the smartphone by category. For example, at home you need a single set of programs, at work and during sports — another. After this Contextual App Folder by using one of the triggers (geolocation, Wi-Fi, Bluetooth) will automatically create a desktop folder with the desired applications.
E-Robot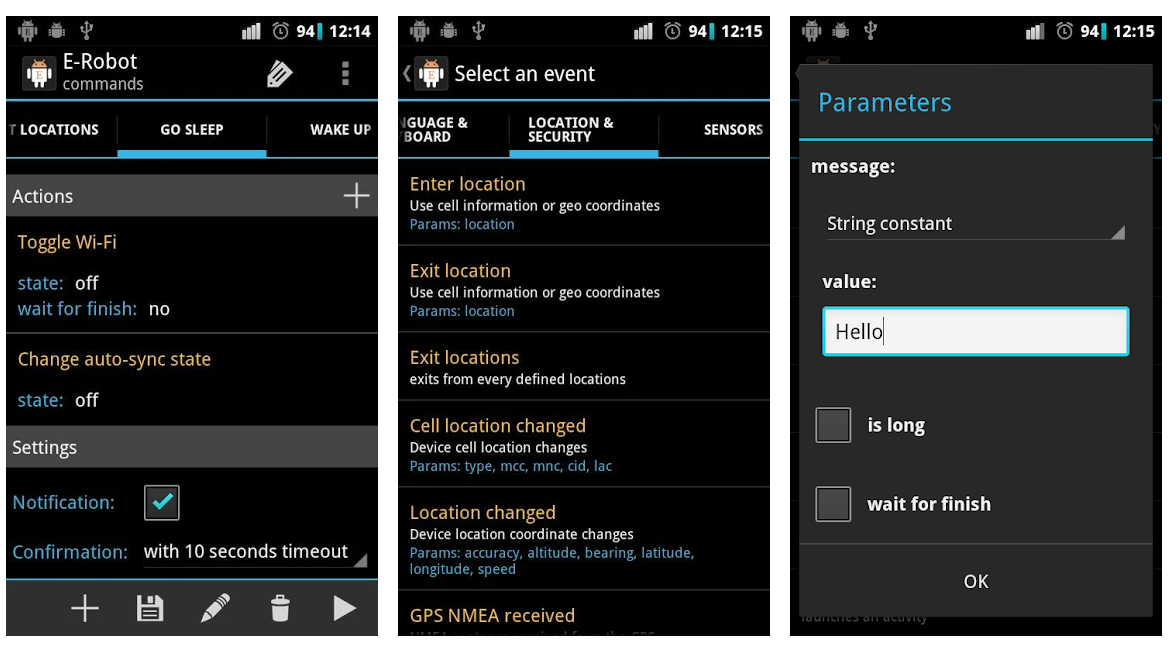 E-Robot is a direct alternative to Tasker and AutomateIt. But, unlike them, the scripts operate on such a concept as a command. You still need to create different scenarios depending on upcoming events.
Command need only those who are familiar with JavaScript. Yes, the E-Robot can execute scripts.
---
If you dig into Google Play, you can find a dozen of similar programs. In my post I have included only the most popular or the best of them. Besides, I relied on the possibility of creating complex scenarios with different outcomes and maximum automation.
But if you just want to turn on the music automatically when headphones are connected, turn off calls at work, you can download a simpler program. Which in one tap set up. For Example, Profile Manager.