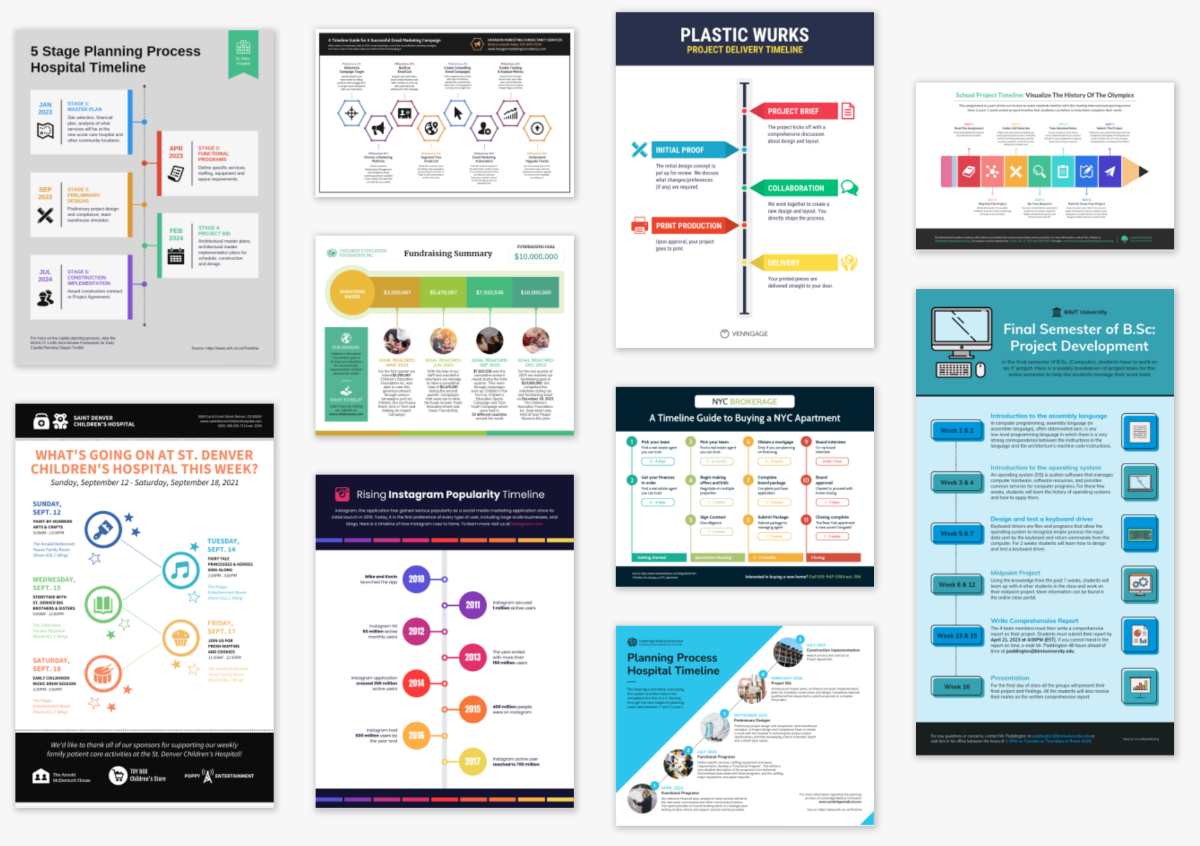 Venngage Review. How to create infographics online
If you can't get it across in words, then cool infographics will definitely solve this problem. But where to create it so that it was easy even for a beginner? This is what I'm going to talk about in today's post.
Venngage is an online service for creating professional infographics, mind maps, roadmaps, posters, presentations, and the like.
Choosing a template
When you first log into the service, you will have to go through a small survey, the results of which will affect the issuance of recommended templates further. Then you can choose the appropriate template and start creating your infographic based on it.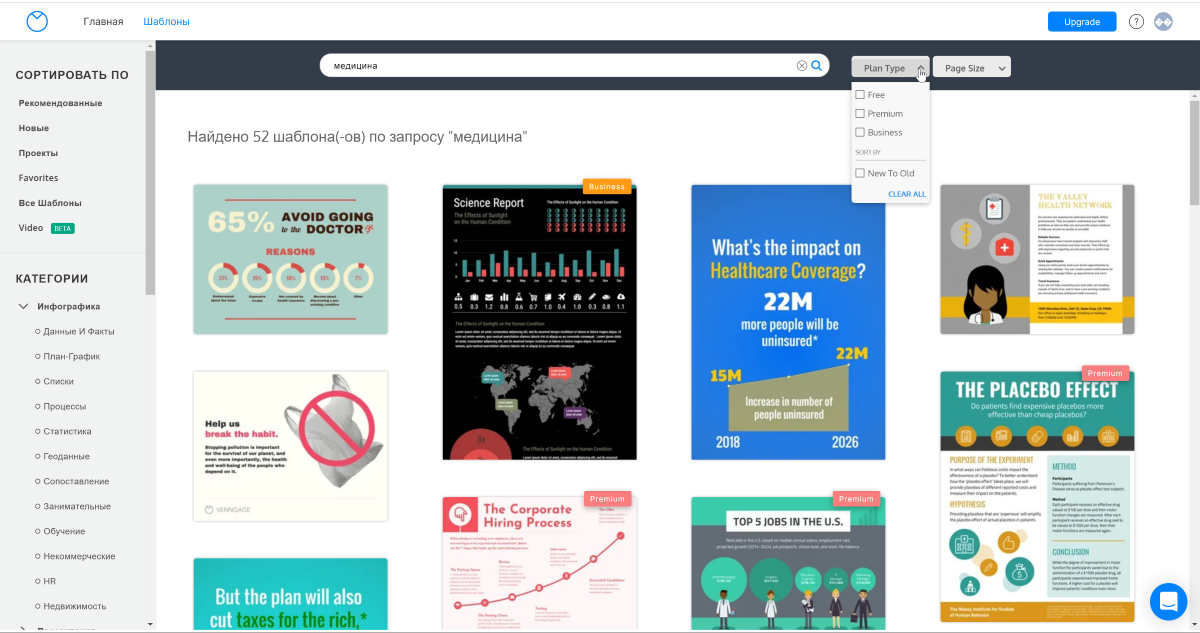 On this tab, you can use the search and various filters to find the very same design. There are filters not only by categories (topics), but also by the cost of the template or the page size.
The suggested options can be added to favorites or opened in a pop-up window for preview.
Template editor
The editor of the template itself will be familiar to everyone who has worked with such services. In the left pane, you have a selection of items to add. And on the top panel there is a set of additional editing tools, which depends on the selected layer.
Working in the editor itself is simple. It's like working in any graphics editor. Items can be dragged, deleted, added and edited. There are Cyrillic fonts, which are rare for this kind of services.
What are the elements
The branding kit will help you choose and remember the logo and colors of your brand. This way, you don't have to re-choose the appropriate color palette for each new infographic.

In the Text section, in addition to ordinary text, you can add various designs of text elements: plates, buttons, html-text and much more.

Similarly, in the Icons section, you can add various icons to the template using a search or by selecting a theme.
What is infographics without diagrams? Therefore, in the corresponding section, you can add any type of chart, quickly configure its display parameters and load the data based on which it needs to be built.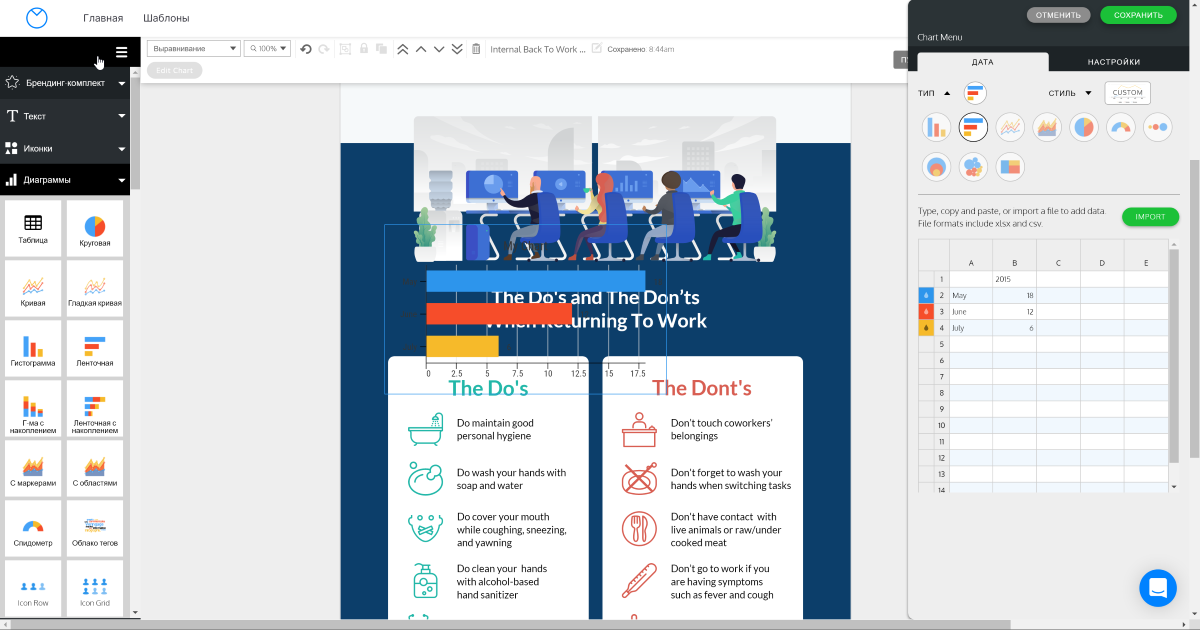 In the Maps section, you can find geographic maps of all countries of the world. By the way, Venngage also cannot decide whose Crimea. Therefore, there are both options for Russia.

In the Background section, you can add and apply different colors, gradients, and patterns for your future infographics.

And there are three more small sections where you can add your images, choose a stock photo, or add various interactive elements (YouTube video, survey, registration form).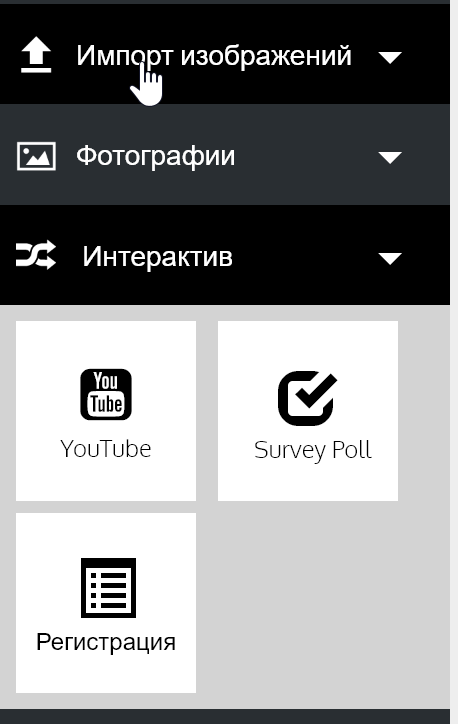 Any of the elements described above can be edited to suit your taste. These are not just some templates with a preset design, but editable infographic elements.
The finished project can be embedded on the site or saved in png, pdf, PowerPoint and html formats.
The infographics themselves can be found in the Main section, where you can quickly go to editing them or creating a new one. Moreover, designs can be stored in different folders. There is also the possibility of teamwork while editing.
Price
Venngage offers four data plans, including a free one. Of course, in this case, some limitations await you: five designs to select from, no export to file, only free design elements, six images to download.
You can remove the restrictions with a paid subscription, which starts at $16 per month. The Premium plan gives you full access to Venngage functionality, apart from teamwork and branding. To activate them, you need a Business plan.
---
Venngage free is great for content creators who rarely need to make infographics. You can quickly create the desired design from the preset options and embed it on your site or share a link.
But for a more or less professional approach, you cannot do without paid tariffs.
It should also be borne in mind that offline applications still have more options than Venngage. Here you will find a wide, but basic set of tools.