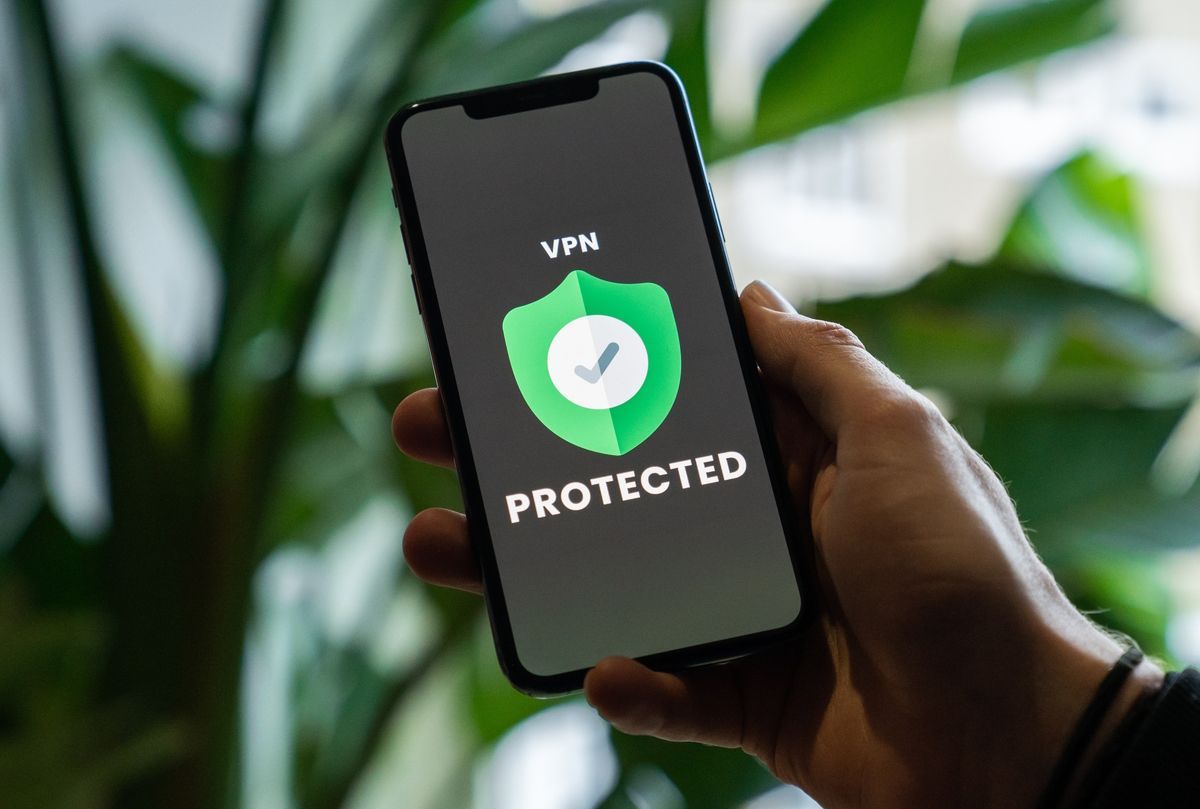 ZoogVPN review. VPN with free traffic and DPI bypass
I often see questions about working and free VPN services. Of course, it always confuses me what people who are searching for such services are counting on. Free VPNs cannot be reliable or secure by definition.
But still in this article I will talk about such a service. Yes, and it has a paid version, which I will also talk about. In general, I will sit on both chairs at once.
What will be discussed
ZoogVPN is a cross-platform VPN service with free traffic up to 10 GB and servers in more than 50 locations.
The app itself is available for Windows, macOS, iOS, Android, Android TV, Blackberry, Linux, routers. If you wish, you can get SOCKS5 Proxy.
Installation and getting started
To use the VPN, you will need to register on the site. Separately, I note that at this stage, you will not need any data besides email and password. That is, you can use the free ZoogVPN tariff without giving out any unnecessary information.
Well, download the client for the desired platform. In my case, these are Windows and Android. If necessary, you can connect via OpenVPN. But I will tell you about the default work through the official client.
With the installation of the application itself, there are no difficulties. Unless at the end, you will need to restart the computer. And at the first start, you will be required to log in with the account that you created above.
In the Preferences section of the authorization screen, you can specify a special IP address to connect to the service if ZoogVPN addresses are blocked on your network. You can get the address by contacting support.
After authorization, a minimalistic application awaits you, where on the connection screen you can immediately connect to a random server. Or select a server manually.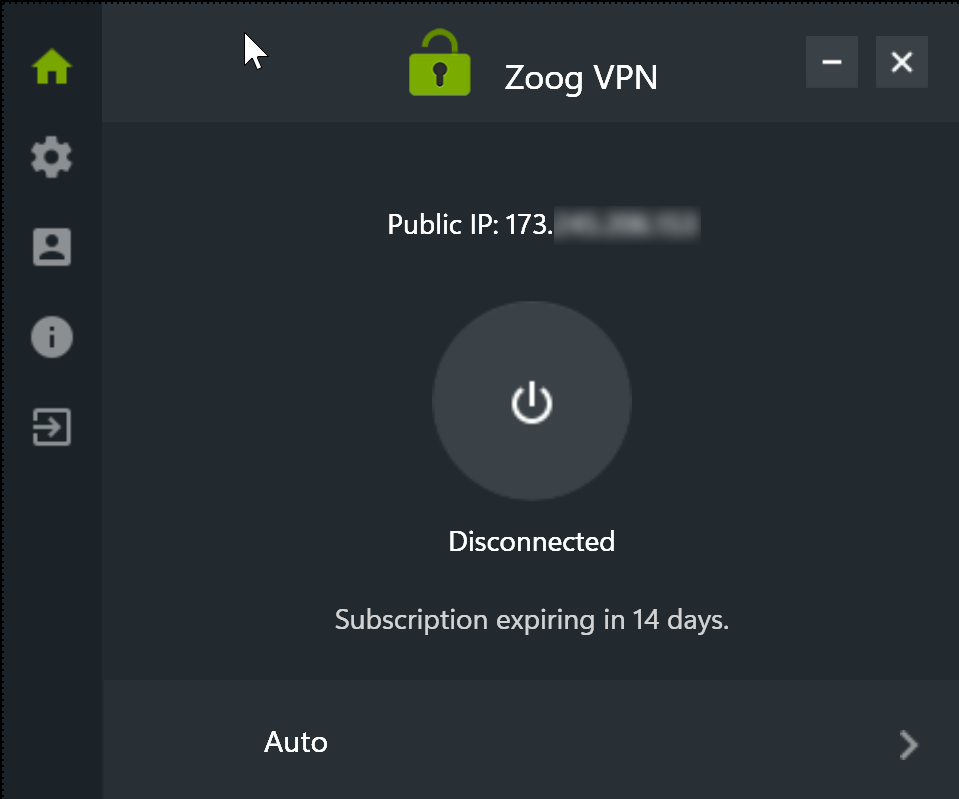 Next to the servers there are various icons that hint to us about the specialization of a particular server: streaming, torrents, ZoogShadowing support. Some servers are available only on a paid plan.
In the ZoogVPN settings, you can choose to auto-launch the application and activate the VPN on Windows startup, Kill Switch, ZoogVPN Shadowing (more on that below). And also select one of the VPN protocols: WireGuard (paid version only), IKEv2, OpenVPN UPD/TCP. The set of protocols may differ depending on which operating system you have.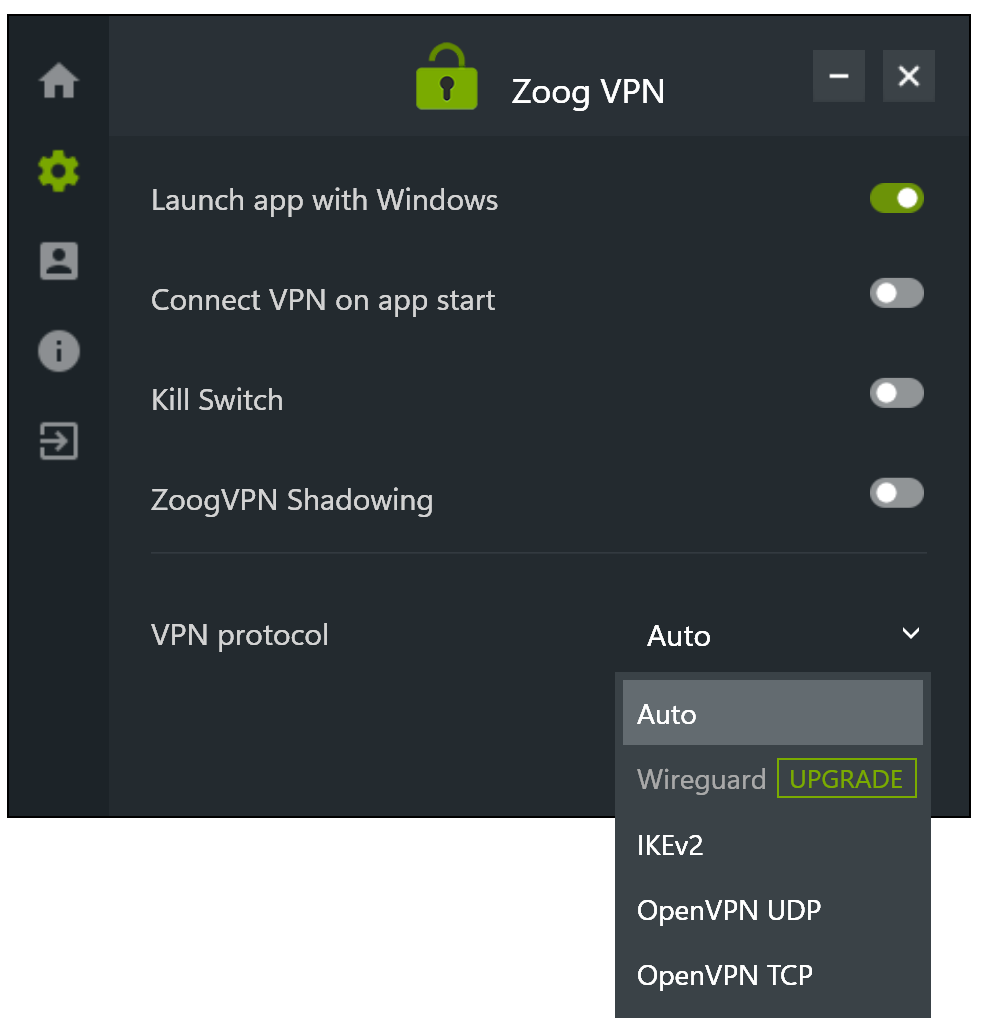 You will not find any other settings. Unless on the account tab, you can see how much free traffic is left this month.
I have two corporate VPNs that I use to access work resources. Because of this, ordinary VPNs very often do not want to work for me, even if the working VPN is turned off. Well, do not forget about the blocking from the ISP. ZoogVPN connected with default settings without any problems at all.
The Android version can be downloaded from Google Play or directly from the ZoogVPN website as an APK. Android 10+ supported.
The Android version is practically no different from the desktop version. Of the minuses—only support for OpenVPN protocols. Of the benefits—there are statistics on the consumed traffic.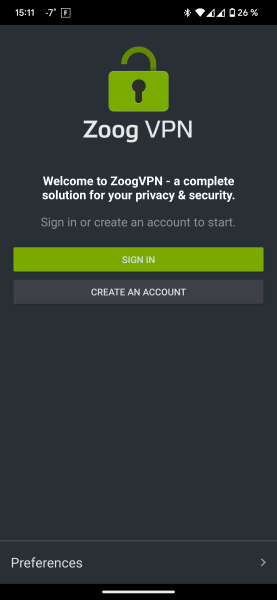 Opportunities
I'll immediately tell you about the main disadvantage of ZoogVPN - there is no support for Split Tunneling. That is, you will not be able to run some applications through the VPN, and some directly. Also, if it is important for you to connect to the RF server, then you will have to pay for the service.
As I wrote at the beginning, depending on the operating system and tariff, the following protocols will be available to you: IKEv2, OpenVPN, L2TP / IPSec, PPTP and WireGuard.
If the VPN connection is lost, the application may automatically disconnect from the network. That will help to avoid various leaks. In addition, ZoogVPN has taken special care to protect against DNS leaks by using its own DNS server.
ZoogShadowing is a feature to obfuscate a VPN connection to work properly in countries that ban VPNs. Moreover, it even protects against DPI packet analysis. Also, sites that detect a connection through a VPN will not be able to do anything to you.
ZoogShadowing hides popular VPN markers, protocols, signatures, and other signs of VPN use. For ISPs and others, your connection will be no different from regular HTTPS traffic. But I note that such a feature is not available on all servers and is available only in a paid plan.
Connection to free servers is protected by AES-128 encryption. To paid—AES-256.
ZoogVPN does not store any logs and does not require you to use a real email address when registering. The headquarters is located in Greece, which is not part of the alliance of 14 and other number of eyes.
The list of countries where there are servers can be found in the screenshot below:
SOCKS5 Proxy addresses can be obtained in your account on the ZoogVPN website when paying for a subscription.
Price
There are four different pricing plans, including a free one. On the free one, only five locations are available to you, connection from one device, 10 GB of traffic per month, 128-bit encryption.
Paid plans remove all restrictions, add 256-bit encryption and differ only in the payment period. The cheapest option at the time of this writing is $1.87 per month when paying for two years at once.
Available for payment: PayPal, BTC, Visa, Mastercard, American Express, JCB, Qiwi and Paymentwall (as well as popular crypto).

---
To be honest, I really dislike writing VPN reviews. Most services differ from each other only in names, and there is no difference between them. All unique features are just different names for the standard features.
And about ZoogVPN, before the review, I thought that I would not see anything interesting here. In fact, it turned out to be a very cool service, which is relevant in the current conditions. I have not seen a single service that promises to bypass DPI on the main page.
Even the free version works great and does not fill half the screen with ads and calls to pay for the service.
The only negative that I saw was the lack of the possibility of separate traffic for applications.