[Discount] Xeovo VPN review. For those who care about privacy
In the past Xeovo used to be a hosting company and most of the customers used it to deploy private VPNs. Now they are a VPN provider and early WireGuard adopter. In this review, I will go thought all details and review Xeovo VPN.
Why Xeovo?
Xeovo's main goal is to prevent ISP companies and 3rd parties from tracking your internet activity. They can see what you are doing and sell your data.
Xeovo is not using unethical marketing strategies, huge discounts or long period subscriptions. On the main page, you can find short and simple explaining of all the features Xeovo offers.
Xeovo is not your typical VPN provider which will start working by pressing one button. It's for people who care about their privacy, use open-source software and like to keep everything in control.
Xeovo is based in Finland and it's not required by Finnish law to keep any logs. All the connections are secure and encrypted by AES-256 (OpenVPN) and ChaCha20 (WireGuard).
In total, they have 7 countries. Each location has unlimited bandwidth with 1 Gbps network. You can connect simultaneously from 5 devices.
Installation process
Xeovo does not provide own client and offers to use official clients for WireGuard and OpenVPN. Instead of building own software, they invest in infrastructure. This gives the ability to achieve fast speeds and stable connection.
You might have heard about OpenVPN, but WireGuard might be new. Let's see what is the difference between these protocols.
WireGuard is a young protocol which appeared in 2016. That is the date then the first snapshot of the code appeared. This new protocol solves many problems with OpenVPN and IPsec.
For example, OpenVPN contains over 600 000 lines of code, uses outdated ciphers and works slowly. It's harder to find backdoor and vulnerabilities, because of the amount of code.
WireGuard has around 4 000 lines of code. They use the most secure and up-to-date ciphers. Setting up WireGuard is easy and quick.
Xeovo VPN providers both protocols, which gives you the ability to use it on any device or router.
Connecting with OpenVPN
You can find step-by-step guides on the website for Windows, macOS, Linux, iOS, and Android.
All you need to do is choose your operating system, protocol UDP/TCP and country.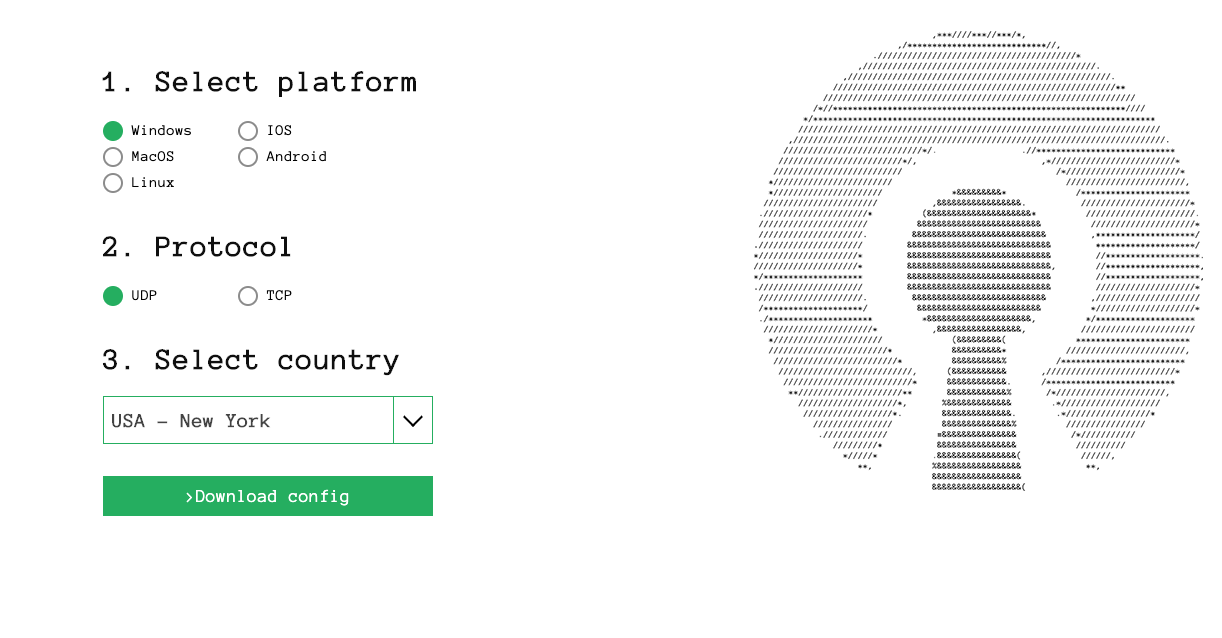 After that, you need to install the official OpenVPN client. Next copy configuration files to the OpenVPN folder. Now you can connect to the server by using your username/password.
If you still experience problems, there is a step-by-step guide and even video.
Connecting with WireGuard
The process is easier compared to OpenVPN. All you need to do is choose the country and your IP type, if you are unsure, click "Both".
Leave the public key field empty and press the "Save key" button. Now Xeovo system will generate keys for WireGuard.
Now add generated key to the WireGuard. Then add the key to WireGuard and press the "Activate" button.
Pricing
Prices start from $4,99 if you decide to pay for one month. One year subscription is cheaper and costs $2,99/mo. Xeovo VPN accepts credit cards, PayPal and cryptocurrencies.
Using code themarfa will give you a 10% discount for any plan.
---
Your first impression might be that Xeovo VPN is not for non-technical people, but that's not true. All you need to do is install the official client for your operating system and add a configuration file.
I use often other VPN providers and to be honest, I have never used OpenVPN or WireGuard. The whole process took me less than 5 minutes. There was no need for guidance and establishing a new connection will take two clicks.
I can't say that Xeovo VPN is more complicated than other competitors. It might take more time, but you have more freedom. You are using open-source clients, which are always up-to-date and secure. You can use them on any device/router and have a wider community for support.