Executor - an analogue of the command line to perform any action
There are several command line analogs for Windows. Or how to call them correctly - launchers. A kind is an input line from which you can start the execution of the desired task or application.
Executor is a multi-functional launcher for advanced Windows users. With it, you can quickly launch other applications, search the Internet, open folders and documents, and much more.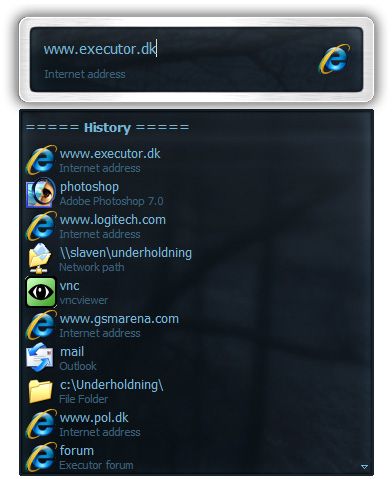 The utility looks like a normal input field and at first glance it is unclear why this might be useful. In fact, the list of features and user cases is almost endless.
Key features :
You can use any folders and shortcuts on your computer as keywords. Drag and drop them into Executor and assign a command to run;
autocompletion for keywords, files, paths and input history;
auto-recognition of links;
parameter support for keywords. For example, you can enter "Google applications for Android" and a search will open for this request;
You can use start menu items, control panels, drop-down lists as launch parameters;
parameters for launching programs by keywords. For example, launch on behalf of the administrator;
hotkeys can be used instead of keywords;
integration with popular services like GMail, Twitter, GCal, RTM and many others;
In fact, the list is much more, I'm just tired of writing. You can get acquainted with all the features at this link.
Using Executor, you can speed up the launch of programs, files, shortcuts, folders, sites in various combinations among themselves. You can work with the clipboard history. Write text in notes made in a train, make mathematical calculations, send letters, set reminders, timers, and more.