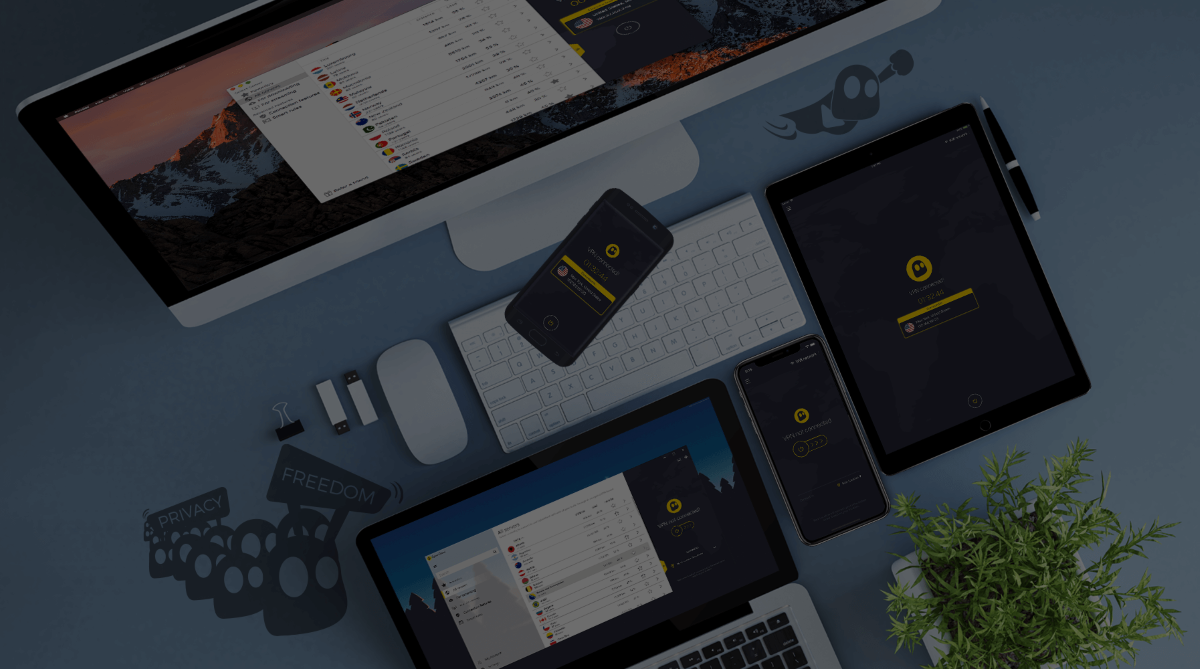 CyberGhost review. Configurable VPN for all devices
All VPN developers promise the same benefits. It's almost impossible to find unique and useful differences between services. This time I will talk about the VPN, which provides deep configurations.
CyberGhost is a cross-platform VPN service that is available on almost all devices with flexible configuration and affordable prices.
The CyberGhost client is available on the following platforms: Windows, macOS, Linux, Android, iOS, extensions for Google Chrome and Firefox, Amazon Fire TV and Fire Stick, Android TV, and also supports routers using the OpenVPN, L2TP, and IPSec protocols.
Most of the functions are available on any platform, and working with the service will not differ depending on the device. Therefore, I will give a shortlist of the main features of CyberGhost below.
In the Smart Rules section, you can tune rules for VPN. You choose what the service should do when connected to certain types of networks (you can even specify specific names for access points). Depending on the rules, the VPN will turn on or off automatically.
The connection server is automatically selected depending on what you do on the network. Besides, you can assign your favorite servers to your tasks.
Connection settings are also available for configuration. For each protocol, you can select the appropriate parameters. You can change ports, connection types, and more.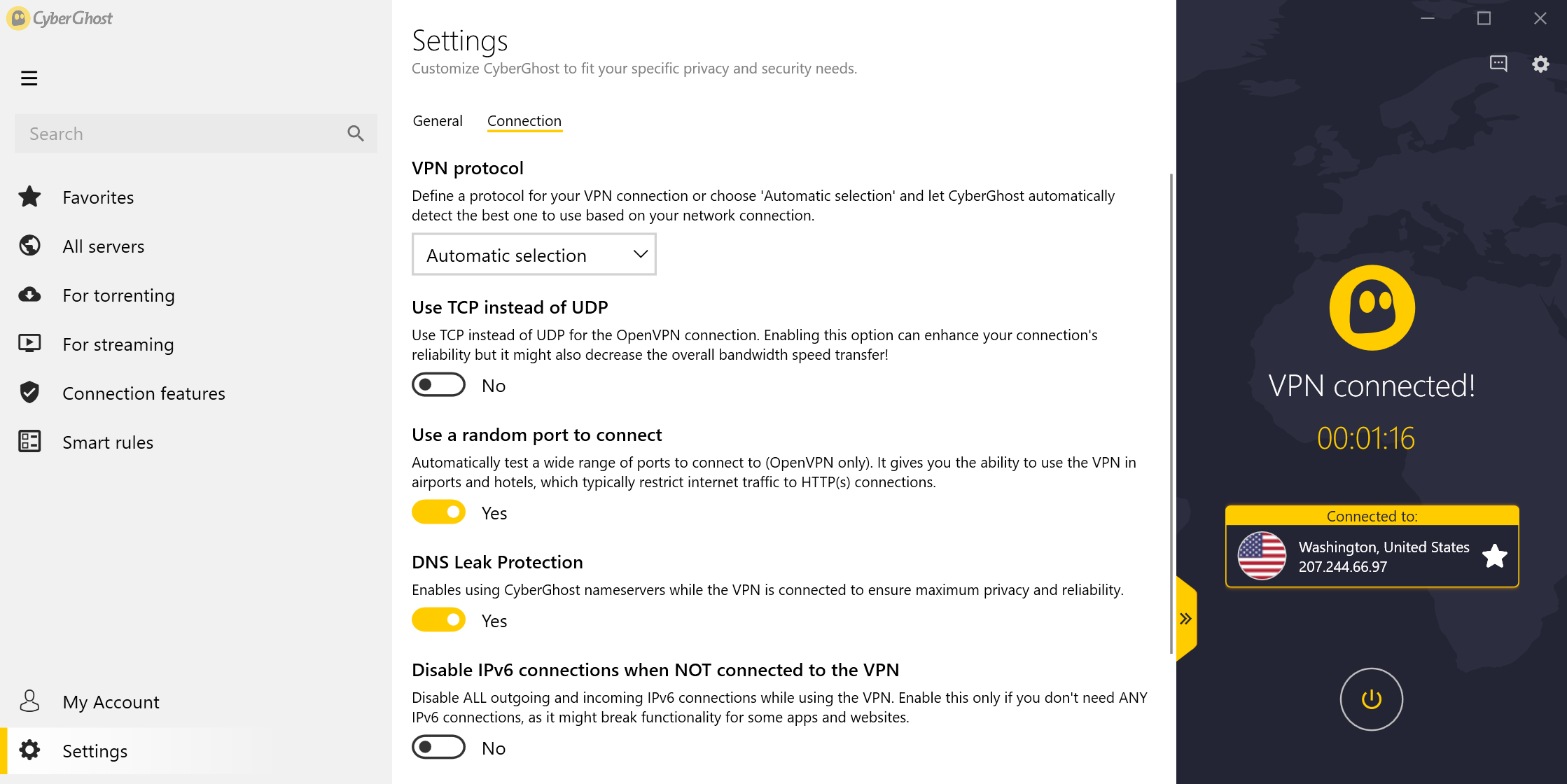 And now I'll talk about more standard features for VPN services. Most of the described features you can get with competitors. But CyberGhost has perhaps the most complete set.
Hide Your IP
Your real IP is hiding from third parties, and they see one of the addresses of the VPN service. That allows you to hide your online activities. Also, IP addresses are allocated to all users of the service, so it is difficult to track certain actions back to you.
A High degree of encryption
CyberGhost servers are configured and optimized for maximum protection of the connection, regardless of the type of your device.
For example, when connecting from an iPhone, the native IKEv2 encryption method will be used. And if you run VPN on Raspberry PI with Linux on board, OpenVPN will be used.
No logs
Developers do not store any logs about your activity. Therefore, to get some information about you is simply impossible.
Servers around the world
CyberGhost has over 4900 servers worldwide. Therefore, you can choose the most suitable country with maximum connection speed. Or choose the geolocation in which the resources you need will not be blocked.

Developers also have special NoSpy servers. Such servers are outside the jurisdiction of the countries of "5 and 14 eyes". Which does not make it possible to legally request data or to begin surveillance of such servers.
Adblocker
The VPN has built-in automatic adblocking. It works on the same principle as standard ad blockers. But filtering occurs at the server level, which saves traffic.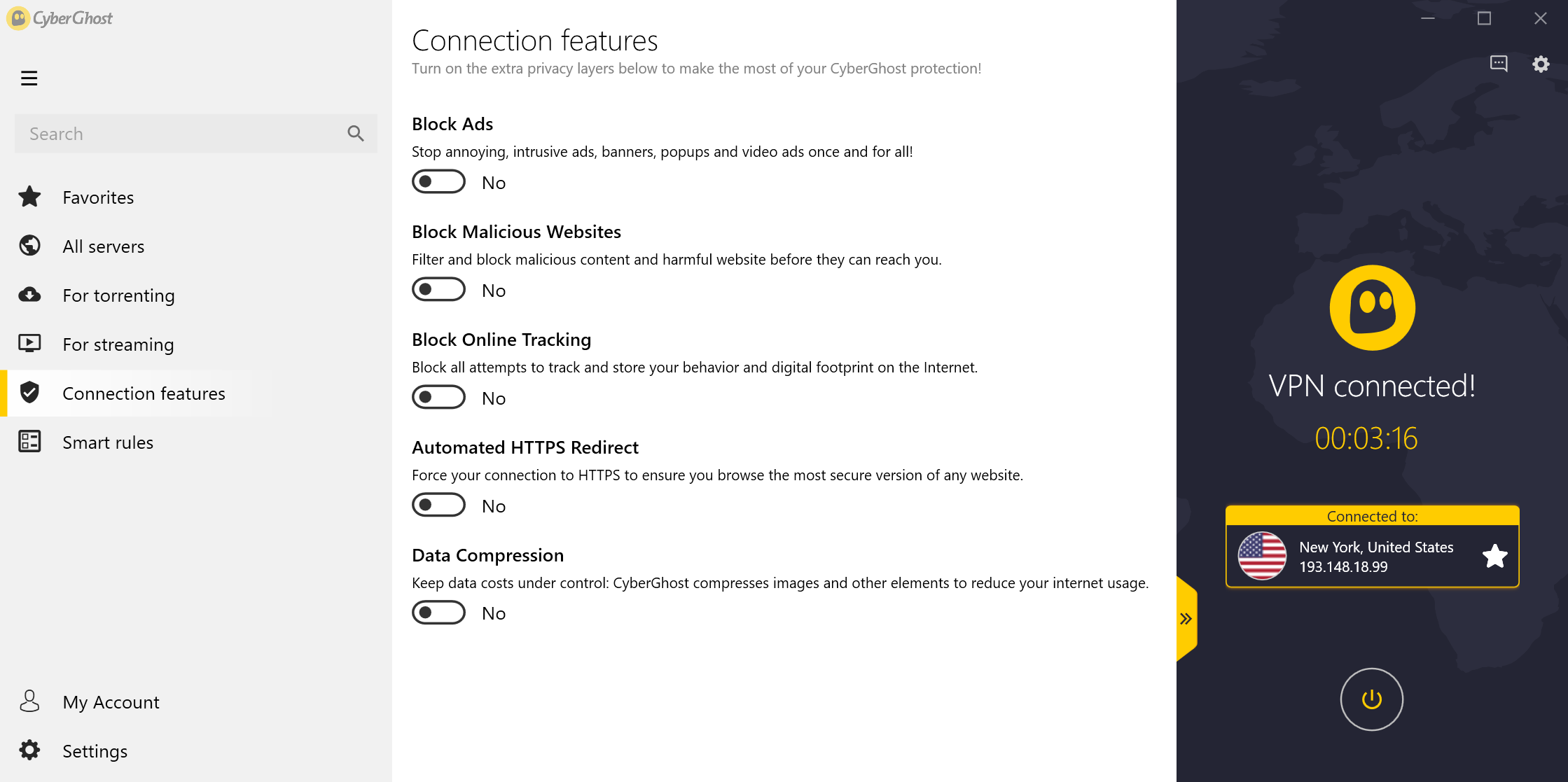 Malicious Content Blocker
Similarly, virus protection works. CyberGhost has an integrated address filter that verifies the resources visited and prevents you from clicking on the infected link.
Block Online Tracking
Block Online Tracking option automatically blocks tracking scripts on all visited resources.
Other features
The developers have not forgotten about other important functions. For example, Kill Switch will automatically disconnect all connections when you lose your VPN connection. IP and DNS leak protection are included.
Maximum speed and no restrictions on the volume or type of traffic. Do you like to download torrents? No problem.
You can connect up to seven devices on one account at a time.
---
CyberGhost is an interesting VPN service with a wide range of features that can be customized to your own needs. And the cost starts from $ 2.75 per month when paying for the year. Additionally, for five dollars you can get a dedicated IP. If you didn't like the VPN, you can return the money within 45 days.